An open and shut case: Meet the toy-shop entrepreneur who puts Christian values before profit
Gary Grant will not be raking in those last-minute pounds in the rush to buy those final Christmas presents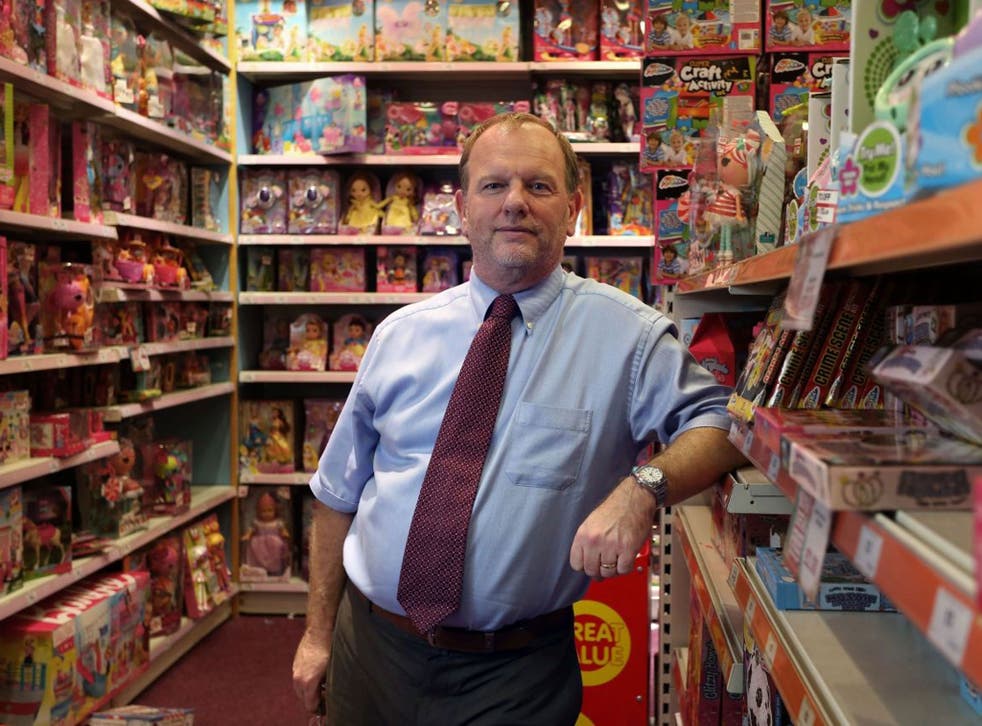 A small fortune will be spent by millions of Britons today, as the last weekend before Christmas draws to a close. But forget trying to buy anything from one of Britain's biggest chain of toy shops, The Entertainer: its doors will be firmly closed.
"This business will never open on a Sunday whilst I'm a shareholder.... If this business ever needs for its survival to trade on a Sunday, it's up for sale," said Gary Grant, the founder.
The entrepreneur, who is a born-again Christian, is sticking to his principles even though "if we were open I would expect we could probably take a million and a quarter". He added: "I'm accountable to God.... I'm not accountable to shareholders."
Mr Grant left school with one O-level, in maths, and opened his first toy shop at the age of 23. He had been sacked from his job in a bike shop and with his wife, Cath, managed to borrow enough money to buy a failing toy shop in Amersham. Now he has more than 90 shops and recently opened his first overseas franchise, in Dubai.
The family home is still used as security against business loans, something which keeps him "very focused".
The 55-year-old entrepreneur found religion by chance, in 1991. He had been invited to a "men's breakfast" at his local church on a Saturday. Nothing specific happened, but "it all fell into place". By the end of that weekend, his life was "turned completely upside down". He describes himself as a "charismatic evangelical" and admits his business has "religious fingerprints".
When it comes to Sunday working, he is clear: "I really felt God saying to me: 'Gary, Sunday is a day that your staff need off'.... I don't need to worry. In the past 10 years, something like eight chains of toy shops – all trading seven days a week, all stocking whatever they chose to stock – have gone bust."
Why did those fail and his succeed? "I'm really happy to give God all the honour for that."
There's no denying the success of The Entertainer: pretax profits have soared from £1.3m in 2012 to £5.5m in its latest accounts.
But don't expect to see any Harry Potter toys in his shops. "I want to sell wholesome toys to children and therefore as a Christian I am concerned about anything that's to do with the occult, witchcraft. We just choose not to stock that." And he refuses to sell toy machine-guns.
His company tithes 10 per cent of profits to charity, and he encourages his staff to follow his lead. But Mr Grant floundered when I ask if his workers are paid a "living wage": "No, unfortunately. That is something we are striving to achieve. It might take us five years." But he added: In this year's accounts we deliberately put another quarter of a million pounds over and above the inflationary increase into the pockets of our lowest paid staff."
Businesses need a "new dose of honesty" and to accept that "you have good years and you have years that aren't so good. Our profits this year won't be as good as last year, but we know we've paid our staff better, we know we've done the very best we can. It's not all about money, money, money."
What does he think about the commercialisation of Christmas?
"If children's expectations of the amount of love that parents have for them this Christmas is the size of the box, then we've got a huge amount of work to do on parenting.
"The best gift in that box from a parent to a child is quality time. It isn't about the value of the box, it's about the time that parents can give to their children."
And people should not get into debt to buy presents. "I would say to every parent this year: 'Buy only what you can afford. Spend time with your children.'"
Join our new commenting forum
Join thought-provoking conversations, follow other Independent readers and see their replies