Oscars 2016: Can you predict winning films without even watching them?
Two tech firms have claimed that you don't even need to watch the movies to predict the winner, after they worked out a formula using analytical data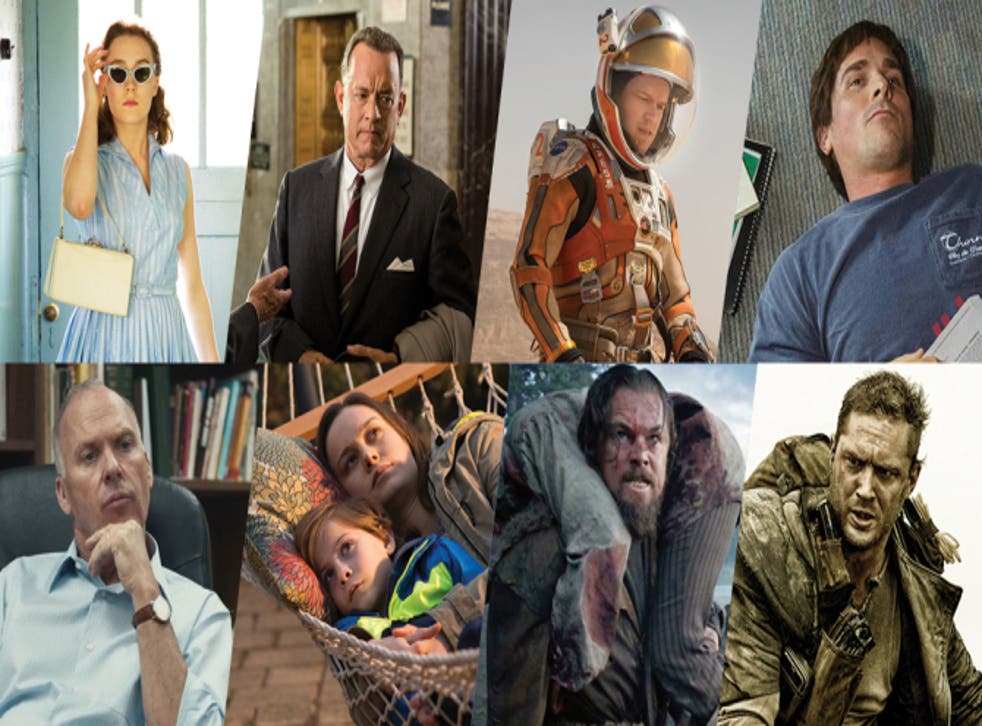 Predicting Oscar winners is a longstanding tradition among movie fans and media pundits.
Two tech firms have claimed that you don't even need to watch the movies to predict the winner, after they worked out a formula using analytical data.
The Revenant, starring Leonardo DiCaprio, will be named Best Picture at the 88th Academy Awards ceremony this Sunday, according to Clarabridge, a consumer research company and Cognizant, an IT consultancy.
"The Revenant's audience skews more male, and has a 39 NPS [Net Promoter Score], one of the highest scores of all Oscars movies, and second highest this year. That, coupled with its high box office gross of $361 million, means we can say with 64% confidence that The Revenant will prevail," Susan Ganeshan, Clarabridge CMO told the Independent.
The movie also scores a high proportion of Oscar "worthiness" comments, at 128 per cent more often than the average 2016 best picture nominee and a 281 per cent higher proportion in "cinematography" comments, Ganeshan said.
The companies have analysed IMDb and reviews on Rotten Tomatoes, a film aggregator, for every Oscar nominated movie from the last 15 years, which amounts to an average of 150,000 text reviews and more than 38 million star ratings from IMDb.
"With the prior awards less predictive than usual this awards season, we decided to dig deep into historical Oscars trends and use sentiment and text analytics to build a predictive mode," Ganeshan said.
A 90 per cent positive critic rating seems to be the magic number for best picture winners. The seven movies that scored an 89 rating did not win best picture.
Reviews from the audience also need to be positive at 11 out of 15 or higher on average.
Powerful feelings generated by a film are also likely to influence the outcome of the competition.
Actors you think have won Oscars but haven't

Show all 14
Winning films induce much less humour, and lesser amounts of love and sadness. Instead, they are more emotionally explosive with anger and violence, the study said.
"We found that an intense negative sentiment, such as anger, plays a bif part in whether a film win the Oscar," Nirav Patel, head of global markets, media and entertainment at Cognizant told the BBC.
"If people feel a particularly strong emotion associated with a character's struggle within the story, they feel like they were there," he added.
The negative emotions associated with the injustices highlighted in 12 Years A Slave, awarded best picture in 2014, resonated with audience and critics alike, the study shows.
"It used to be about positive word versus negative word, but now artificial intelligence can understand the nuances and connotations of phrases," Mr Patel told the BBC.
Data scraped from IMDb illustrates that a heavy genre bias prevails when it comes to both the types of films that is nominated and the average scores they accumulate.
Some 90 per cent of nominated films fall into the drama category.
The second most prevalent genre is the biopic (biography), which claims 26 per cent of nominees. Romance films are the third most common nominated genre but most film receive low box office revenues and average rating on Rotten Tomatoes.
Comparatively, sports, family movies, musicals, animation films, and westerns rarely receive a nod from the Academy Awards.
Films most likely to win the Oscar for Best Picture, according to Clarabridge and Cognizant
The Revenant - 64%
Mad Max: Fury Road - 19.2%
Brooklyn - 13.6%
Bridge of Spies - 11.2%
Room - 7.2%
Spotlight - 7.2%
The Martian - 7.2%
The Big Short - 4%
Join our new commenting forum
Join thought-provoking conversations, follow other Independent readers and see their replies