MP blasts watchdog for failing to crack down on rogue pension advisers who 'circle like vultures'
FCA chooses not to ban 'contingent fees' blamed for mis-selling scandal that may have caused thousands of savers to lose money
Ben Chapman
Thursday 04 October 2018 16:55 Comments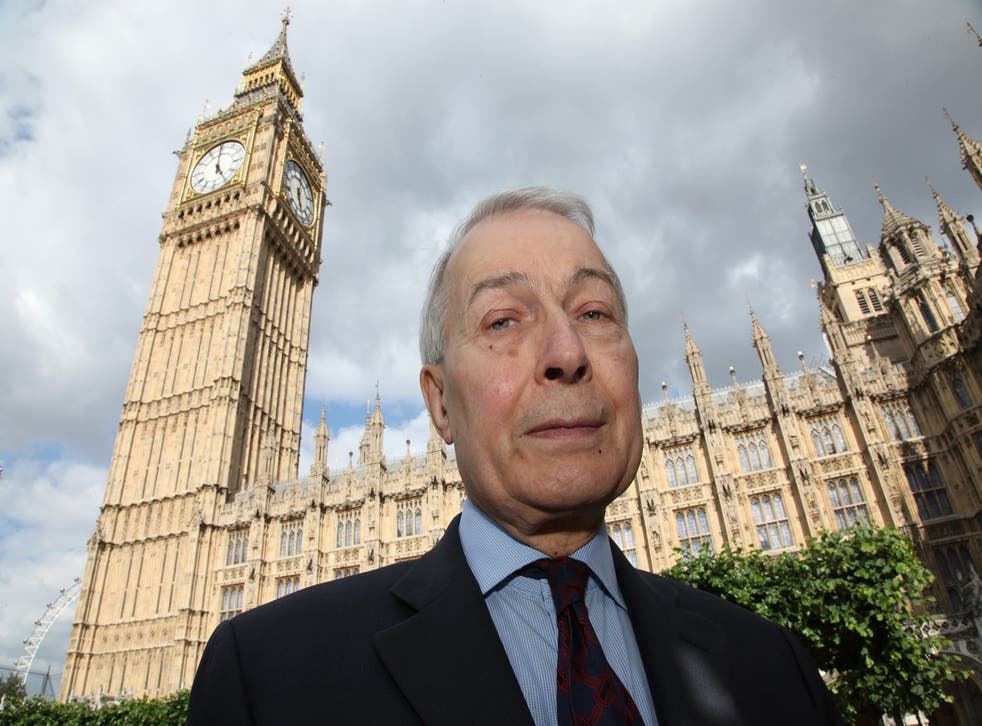 Frank Field has blasted the City regulator for again failing crack down on rogue financial advisers who "circle like vultures" around pension savers.
The independent MP, who is chair of the Work and Pensions Committee, said the Financial Conduct Authority (FCA) should have banned so-called contingent selling fees which can give advisers a financial incentive to offer bad advice.
The FCA issued its final rules on transfers of defined benefit pensions today, which included some new safeguards but failed to put an end to contingent fees.
The fees mean a supposedly independent financial advisor is only paid if they advise a customer to switch their pension into another scheme, potentially creating a conflict between their client's best interest and their own prospect of financial gain.
The committee found that tens of thousands of consumers could be at risk of losing large chunks of their retirement savings because of bad advice.
in February the committee called on the FCA to act urgently after a major mis-selling scandal emerged that had seen thousands of savers in the British Steel Pension scheme "swindled" out of their defined benefit schemes.
"Pensioners were swindled out of their savings yesterday, are being swindled out of those funds today, and still will be tomorrow," Mr Field said on Thursday.
Instead of banning the fees, the FCA had "buried this in the long grass, even as unscrupulous advisers are circling like vultures around consumers", Mr Field said.
The FCA's inaction comes despite the damning assessment of MPs in February. The committee said "dubious" advisers and "parasitical" introducers, had "shamelessly bamboozled" thousands of pension scheme members.
In the British Steel case, savers moved £1.1bn of pensions out of the company's "gold-plated" defined-benefit scheme into riskier funds with high management fees as a result of bad advice.
The true scale of the scandal is not yet known but estimates suggest billions of pounds of savings could be affected. Only half of advice on defined-benefit transfers meets required standards, research by the FCA found.
Explaining the decision not to ban contingent fees, the FCA said it was a "complex area" and that the evidence did show that the payments were not the main cause of bad outcomes for customers.
Some changes were announced on Thursday including a requirement for all pension transfer specialists to hold a specific qualification for providing advice on investments by October 2020.
The FCA said it also expects advisers to consider their client's attitude to, and understanding of, the risks of giving up safeguarded benefits for flexible benefits.
Jonathan Camfield, a partner at pension consultants LCP, welcomed the improvements but said he was disappointed at the lack of action on contingent charging.
"There are significant concerns around some of the contingent charging practices of IFAs, concerns that are increasingly being expressed by our clients, trustees and sponsoring employers of DB schemes," he said, adding that it is important that the regulator tightens rules as soon as possible in order to protect pension savers.
Christopher Woolard, FCA's executive director of strategy and competition said: "Any changes to our rules on contingent charging could have implications for the supply of advice.
"Because of the significance of this issue to all stakeholders in the market, we will carry out further analysis and consult on new interventions if appropriate in the first half of next year."
Register for free to continue reading
Registration is a free and easy way to support our truly independent journalism
By registering, you will also enjoy limited access to Premium articles, exclusive newsletters, commenting, and virtual events with our leading journalists
Already have an account? sign in
Join our new commenting forum
Join thought-provoking conversations, follow other Independent readers and see their replies