Pirelli tyres, pizza and property: China's European shopping spree shows no signs of slowing
The sale of the Italian tyre maker Pirelli is the latest in a string of Chinese investments in Europe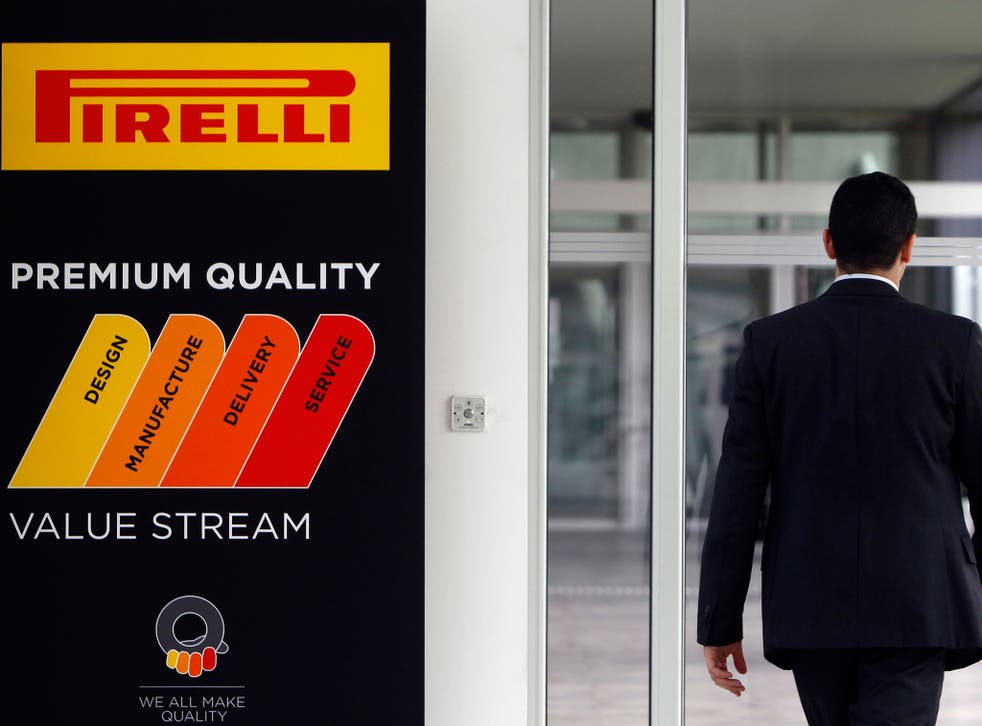 A planned takeover of the Italian tyre maker Pirelli by ChemChina is the latest in a string of Chinese acquisitions in Europe, topping up total foreign investment from China worth £12 billion ($18 billion) in 2014, double 2013.
Pirelli, the world's fifth largest tyre maker, will be in Chinese hands after ChemChina confirmed a £5.1 billion ($7.7 billion) bid on Sunday. The deal will give Pirelli a slice of the Chinese tyre market and could see its global market share rise to 10 per cent.
It's one of the biggest European acquisitions by a Chinese company yet. But that's unlikely to be the case for long. Chinese investors have shown increasing interest in Europe as a centre for investment in the last year, spurred on by the cheap euro and the opportunity to invest in legacy brands.
"Chinese investment in Europe has become much more diverse in recent years and is now extending into all parts of Europe." said Thomas Gilles, Chairman of the EMEA-China Group at Baker & McKenzie. "What we're seeing is the maturing and normalization of Chinese investment processes in line with the international economy."
The UK is top of the list. Last year, Chinese investors acquired several billion-dollar British investments. Pizza Hut went for a cool £940 million ($1.4 billion), while property bought by Chinese firms includes Chiswick Park for £875 million ($1.3 billion) and 10 Upper Bank Street for £497 million ($740 million).
Last week it emerged that a Chinese company backed by billionaire Guo Guangchang is looking acquire 18 buildings in Berlin's Potsdamer Platz square, in what could be the biggest German property sale since 2007. Last year France sold Peugeot for £740 million ($1.1 billion).
ChemChina, a state-owned company that sells 20 million tyres a year, does not necessarily need to own Pirelli. Some investors have suggested that the deal is to give the Chinese company a European stage.
It's not just state-owned Chinese companies that are cashing in: more liberal investment rules have allowed an increasing number of privately owned entities to make acquisitions in Europe, which they see as a good long-term investment proposition.
Other countries such as Russia have met resistance from UK regulators when bidding for assets in the country - a Russian oligarch's bid for North Sea assets was blocked in March in light of sanctions on Russia. But George Osborne has been a friend to China, even when it has raised the ire of US allies.
No wonder, when Chinese investment in real estate has created serious numbers of jobs - over 80 per cent of which are in London.
With the euro likely to stay low against the dollar on the continent and Osborne committed to taking a accommodating stance in the UK, it would take something else to put a stop to the Chinese shopping spree in Europe: a significant slowdown of the Chinese economy.
Register for free to continue reading
Registration is a free and easy way to support our truly independent journalism
By registering, you will also enjoy limited access to Premium articles, exclusive newsletters, commenting, and virtual events with our leading journalists
Already have an account? sign in
Register for free to continue reading
Registration is a free and easy way to support our truly independent journalism
By registering, you will also enjoy limited access to Premium articles, exclusive newsletters, commenting, and virtual events with our leading journalists
Already have an account? sign in
Join our new commenting forum
Join thought-provoking conversations, follow other Independent readers and see their replies