Airlines have registered all these weird plane designs in 2015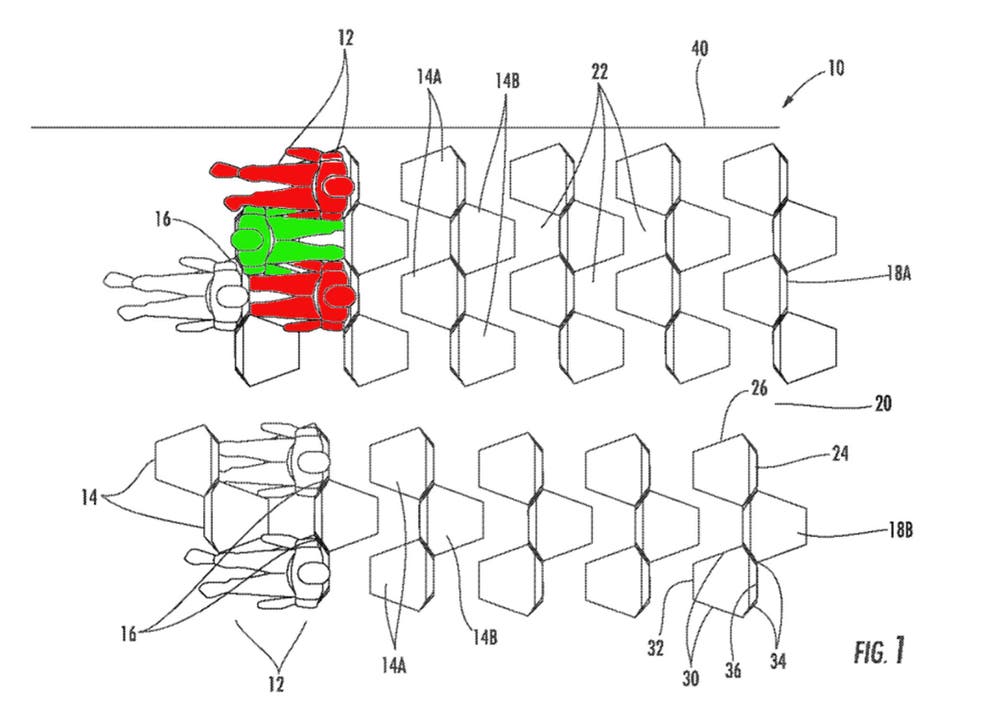 There is nothing an airline won't try to fit more people on a plane, judging by some of these designs.
Airbus, one of the biggest plane companies, files hundreds of patents every year covering everything from the direction seats face to what the window looks like.
Most of these will never go into production. But all of them offer a glimpse at what is going on at the sharp edge of plane technology - and of what the future could look like in air travel.
Here are some of the best - and the worst - we saw in 2015.
Five of the best
1. SkyDeck
Windspeed Technologies, a "premier aerospace engineering services company", released details of a system called SkyDeck that allows passengers to observe the view in-flight from on top of the plane.
SkyDeck could mean big bucks for airlines if they charge on a pay-per-view basis, putting a huge premium on the experience.
2. The 'removable cabin pod'
Airbus has patented a design that allows a plane's cabin to be detatched and suspended at the gate via a series of crane-like arms. The design allows passengers to climb aboard the plane from the boarding gate - and could help disabled passengers as they would no longer have to scale any steps.
3. Emirates fits in an extra 98 seats
Emirates has found a way to fit 98 extra seats into its new Airbus A380-800 planes: by doing away with first class. It still looks pretty roomy though.
4. Interactive windows
Airbus has patented windows that work like a giant iPad. The patent is for a "semi-transparent screen" with eye tracking software and technology that can acquire a "representation such as an image of an environment outside the aircraft cabin window".
5. Faster than Concorde
This patent is for an Airbus design for a successor to Concorde will fly at 4.5 times the speed of sound and get passengers from London to New York in one hour flat.
Five of the worst
1. The windowless plane
Zodiac Aerospace has released plans which will see the lower deck of the proposed jumbo jet being converted into passenger seating. Storage has been moved to the side of the plane in smaller "cubbies".
2. Stacked seating
Airbus patented a mezzanine seating design that piles passengers on top of one another. In this design, passengers are able to recline into a lying position, but the seats are also stacked on top of one another, so that another set of passengers can fit just a few feet above the first.
3. Hexagonal seating
Zodiac has engineered a hexagonal seating arrangement whereby the middle seat of each row faces backwards and allows more paying customers to be packed like sardines into the space.
4. Sleeping box
Airbus have patented a sleeping box for passengers with feet facing towards the centre of the plane. They would still be required to buckle up during take off and landing - and they would still be served meals.
5. Even more seats
At the Aircraft Interiors Expo 2015, Airbus unveiled a version of its A380 jumbo jet with 11 seats per row - one more than is installed currently. But the plane isn't getting any bigger, so that means the seats may get smaller: just 18 inches across. The design could be available from 2017.
Join our new commenting forum
Join thought-provoking conversations, follow other Independent readers and see their replies