The Independent's journalism is supported by our readers. When you purchase through links on our site, we may earn commission.
Pound sterling continues to trade near 2017 high after Theresa May calls for general election
Tuesday's jump of just over 1.6 per cent was the currency's biggest one-day rise since March last year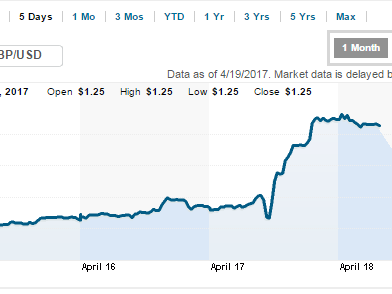 The pound held onto gains against both the dollar and the euro on Wednesday, a day after surging to its highest level in months on the back of Theresa May calling for a general election on 8 June.
In late afternoon trading, the pound was at around $1.202 and €1.196, close to its highest level since last December. Tuesday's jump of just over 1.6 per cent was also the currency's biggest one-day rise since March last year.
Analysts said that investors had been buying the pound on hopes that a general election would hand the Prime Minister more control as the UK braces for Brexit - something that could make the process smoother.
A poll for The Independent on Saturday indicated a 21-point lead for the Conservatives over Labour, the biggest gap since 1983, with political analysts forecasting that Ms May's party would win a majority of up to 100 seats.
Commenting on the pound on Tuesday, Chancellor Philip Hammond said that the jump demonstrated "the confidence that the markets have in the future for this country under a Tory Government with a new mandate".
Deutsche Bank analysts in a note called the general election a "game-changer" for both the UK's Brexit negotiations and sterling.
"We argued last year that an early general election was the only way to resolve the political impasse the UK Government faces in conducting Brexit negotiations. The 2020 general election imposed a hard deadline on delivering Brexit on an unrealistic timeline as well as making the Prime Minister reliant on a small euro-sceptic majority," they wrote in a note.
"Both of these factors would have required political and market pressure to impose the appropriate political shifts that would have allowed a realistic deal to emerge."
They said that they had been "structurally bearish on sterling for the last two years", implying that they had preferred to sell it in favour of other currencies. But in the light of Wednesday announcement, they said that they are changing their view and would review their forecasts for the currency over the coming days.
See how much you could save on international money transfers with HiFX: sign up and make a transfer
Register for free to continue reading
Registration is a free and easy way to support our truly independent journalism
By registering, you will also enjoy limited access to Premium articles, exclusive newsletters, commenting, and virtual events with our leading journalists
Already have an account? sign in
Join our new commenting forum
Join thought-provoking conversations, follow other Independent readers and see their replies