Pound sterling slumps after Theresa May's latest Brexit comments
The Prime Minister has said Britain will not attempt to cling on to 'bits of EU membership' in her New Year TV interview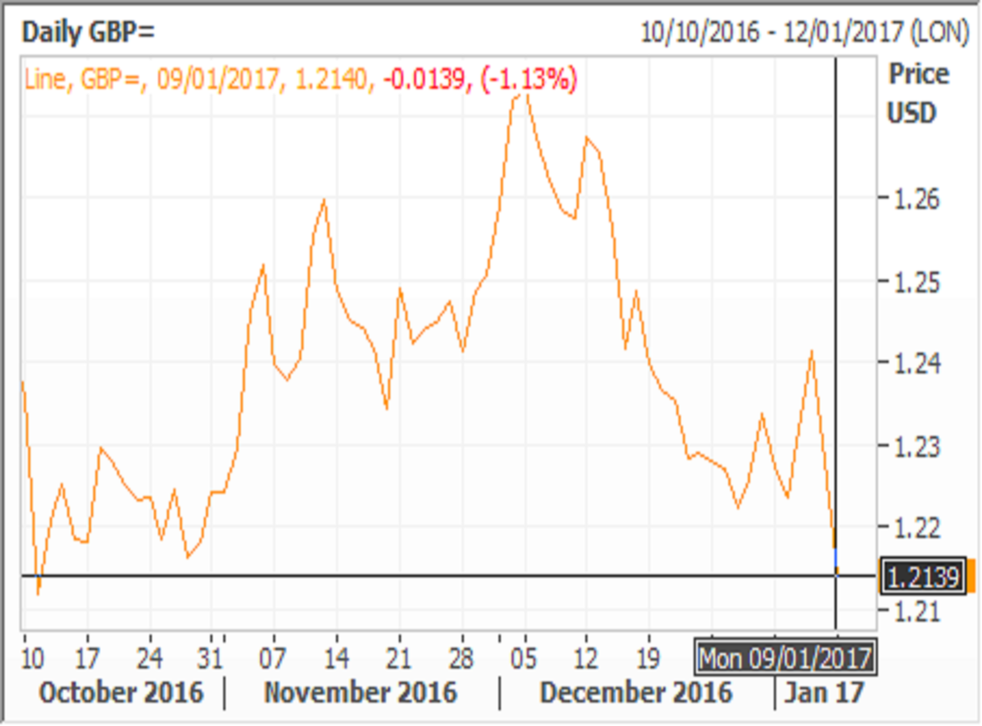 Theresa May's fresh hints that the UK is heading towards a hard Brexit have sent sterling to its lowest level for two months.
In her New Year TV interview on Sunday, the Prime Minister said Britain will not attempt to cling on to "bits of EU membership".
In her first major interview of 2017, Ms May told Sky News: "Often people talk in terms as if somehow we are leaving the EU, but we still want to kind of keep bits of membership of the EU. We are leaving. We are coming out. We are not going to be a member of the EU any longer.
We will be able to have control of our borders, control of our laws."
Sterling was down by more than 1 cent at below $1.22 in late trading Monday, its lowest level since 31 October as markets resign themselves to the fact the UK is to exit the single market.
What does the falling pound mean for you?
The pound is also suffering against the euro, shedding almost 1 cent as it slips to €1.155.
Analysts at RBC Capital Markets said: "Comments from UK PM Theresa May in a TV interview broadcast Sunday are being interpreted as an indication that the UK Government will prioritise immigration control over single market access in its negotiations on exiting the EU."
Sterling has already dropped by nearly 20 per cent against the dollar since the UK voted to leave the EU, becoming the world's worst-performing currency in October and many economists suspect the pound may have even further to fall in the months ahead.
Fears among currency traders and investors that the UK is heading for a hard Brexit – in which access to Europe's single market would be sacrificed in favour of tighter controls over immigration – have tended to weaken the pound while suggestions that the UK could retain access to the EU single market have helped it to recover.
The pound is likely to drop around 5 per cent to $1.15 against the dollar after Theresa May triggers Article 50 in March, starting the two-year countdown to leaving the EU, according to a Reuters poll of more than 60 foreign exchange strategists.
Brexit Concerns

Show all 26
This would be a new 31-year low, including the flash crash that sent the pound plunging more than 6 per cent to $1.18 on 7 October.
Some forecasters said the pound may reach or fall below parity with the dollar. This is the first time anyone has made that forecast in more than 20 years of Reuters polls on the currency.
Join our new commenting forum
Join thought-provoking conversations, follow other Independent readers and see their replies