Pound value falls back below $1.22 as analysts warn it is acting like an 'emerging market currency'
Sterling fell to $1.216, having lost more than 5% in the past two weeks after May raised the spectre of a 'hard' Brexit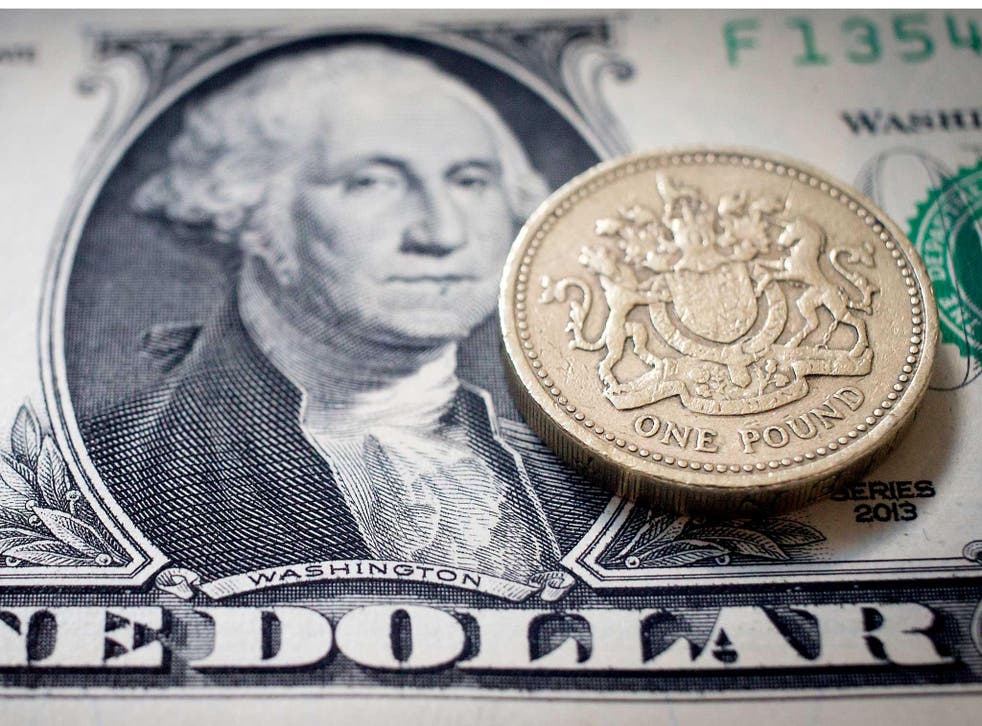 Sterling has come under renewed pressure, amid reports of tensions at the heart of the UK government over a Brexit strategy.
The pound latest selloff came as investors were disconcerted by claims that Chancellor Philip Hammond had angered cabinet Brexiteers by failing to be helpful enough in pursuing the UK's withdrawal from the European Union.
The pound fell back below the $1.22 mark, trading at $1.216 and €1.107 on Monday morning.
Sterling has lost more than 5 per cent in the past two weeks after Prime Minister Theresa May raised the spectre of a "hard" Brexit against the dollar.
It is currently weaker against every other major trading currencies.
Kathleen Brooks, research director at City Index, said the pound is starting to act like an emerging market currency.
"To put this month's fall into context, the pound is weaker against the majority of emerging market currencies, including the resurgent Mexican peso and the Malaysian ringgit," she said.
"The South African rand managed to eek out a gain against the pound, even thought its finance minister was recently hit with charges of criminal misconduct," she added.
Brooks said that the risks of a break up of the United Kingdom and further signs of tension in Downing Street over the Prime Minister's handling of Brexit, are the chief concerns of the currency market.
"Until these issues go away the pound is likely to remain the market's favourite whipping boy," Brooks said.
"Investors are increasingly casting UK assets in an emerging-market light, amid a fundamental re-appraisal of the country's medium- to long-term economic fortunes," Chris Scicluna, London-based strategist at Daiwa Capital Markets, said last week.
US rating agency Standard & Poor's warned the pound might fall out of the International Monetary Fund's elite basket of reserve currencies if the UK fails to secure full access to the single market as it prepares to negotiate its way out of the EU.
Speaking to the BBC, Bank of England deputy governor Ben Broadbent said that sterling's weakness would fuel inflation, but that controlling prices with tighter monetary policy could hit growth and jobs.
Brexit Concerns

Show all 26
The deputy governor, echoing remarks by the Bank's governor Mark Carney last week, said that letting inflation run ahead of the 2 per cent target might ensure the economy does not suffer
The Bank's most recent inflation forecasts from August predicted consumer price inflation would hit 2 per cent in the third quarter of 2017 and rise to 2.4 per cent in the second half of 2018.
Other economists expect prices to rise even more rapidly.
Register for free to continue reading
Registration is a free and easy way to support our truly independent journalism
By registering, you will also enjoy limited access to Premium articles, exclusive newsletters, commenting, and virtual events with our leading journalists
Already have an account? sign in
Register for free to continue reading
Registration is a free and easy way to support our truly independent journalism
By registering, you will also enjoy limited access to Premium articles, exclusive newsletters, commenting, and virtual events with our leading journalists
Already have an account? sign in
Join our new commenting forum
Join thought-provoking conversations, follow other Independent readers and see their replies