£8bn hole in public finances to embarrass Osborne
Low tax receipts blamed as forecasts made in December fall badly short in Budget week
Russell Lynch
Monday 18 March 2013 01:00 Comments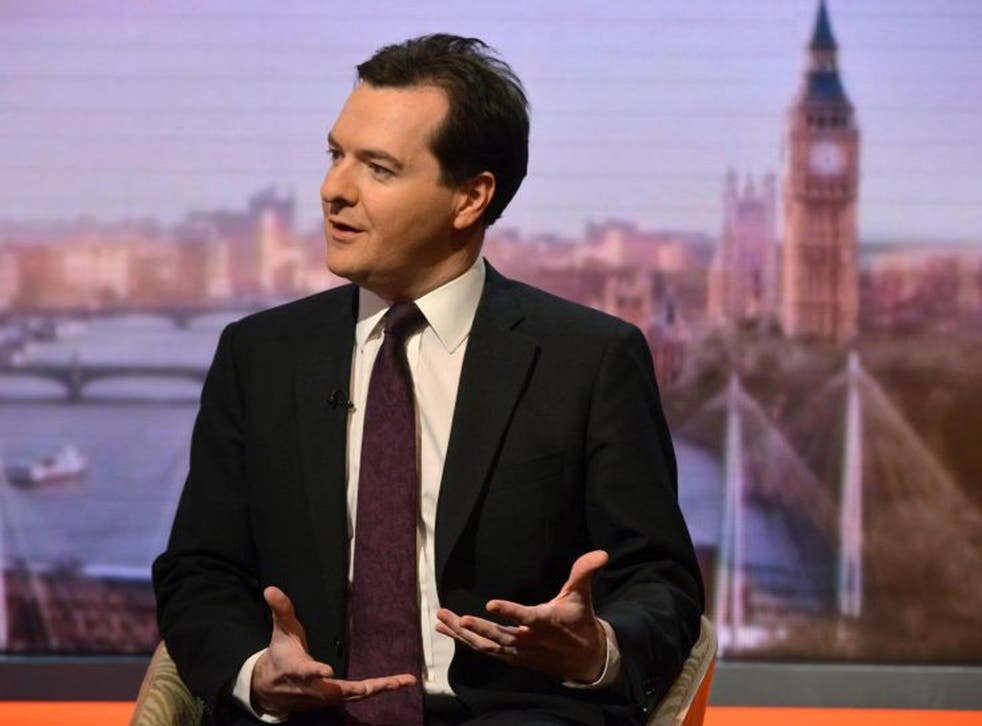 George Osborne, the Chancellor, faces political humiliation this week with public borrowing figures in the Budget expected to be £8bn higher than official estimates made just three months ago, a leading economic forecaster has warned.
The Ernst & Young Item Club says the UK's borrowing bill – stripping out one-offs such as the transfer of £28bn in Royal Mail pension fund assets to the public coffers – could jump to £88bn for the current financial year, up from the £80bn forecast by the independent Office for Budget Responsibility in December.
The forecaster pins the blame on lower tax receipts and disappointing revenues from the sale of the 4G spectrum, which raised £2.3bn instead of the £3.5bn pencilled in three months ago by the OBR. A limit imposed by the Office of National Statistics on the accumulated interest payments racked up by the Bank of England on its holdings of government gilts under quantitative easing has also created another black hole in the accounts.
Andrew Goodwin, the Ernst & Young Item Club's senior economic adviser, said: "Yet again borrowing is going to come in higher than forecast. The Chancellor is faced with having to backtrack on his earlier claim that borrowing will fall between 2011-12 and 2012-13 if the statistical fudges are excluded. Economically this is of little importance, but politically it will prove to be very embarrassing."
The borrowing blow for the Chancellor comes just weeks after the ratings agency Standard & Poor's stripped the UK of its AAA rating due to rising public debt and sluggish medium-term growth prospects.
With the economy on the verge of an unprecedented triple-dip recession, the Item club expects the OBR to trim growth forecasts from an already weak 1.2 per cent to just 1 per cent this year.
The forecaster is also calling for a £10bn infrastructure boot for the economy, financed initially by borrowing. This would in itself represent a huge U-turn for the Chancellor, despite his own fiscal rules allowing him to borrow for investment. The forecaster added that such a move would boost the economy by 0.6 per cent in both 2013 and 2014.
Mr Goodwin said: "To provide a short-term economic boost, government needs to look at projects where the planning and logistics have already been completed. It could be repairing potholes, building roads or even maintaining schools, but they need to be up and running quickly."
In Wednesday's Budget, Mr Osborne is expected to tell the House of Commons that the UK's monetary policy framework will be reviewed to see whether it could be made more effective.
Officials are believed to be looking at granting the Bank explicit leeway to bring inflation down to the 2 per cent target over an extended period of time if economic growth is weak, while also giving the Bank a supplementary employment target.
Register for free to continue reading
Registration is a free and easy way to support our truly independent journalism
By registering, you will also enjoy limited access to Premium articles, exclusive newsletters, commenting, and virtual events with our leading journalists
Already have an account? sign in
Join our new commenting forum
Join thought-provoking conversations, follow other Independent readers and see their replies