Qatar crisis: First batch of dairy cows airlifted to sidestep Saudi-led blockade
The high-flying herd was imported by a private company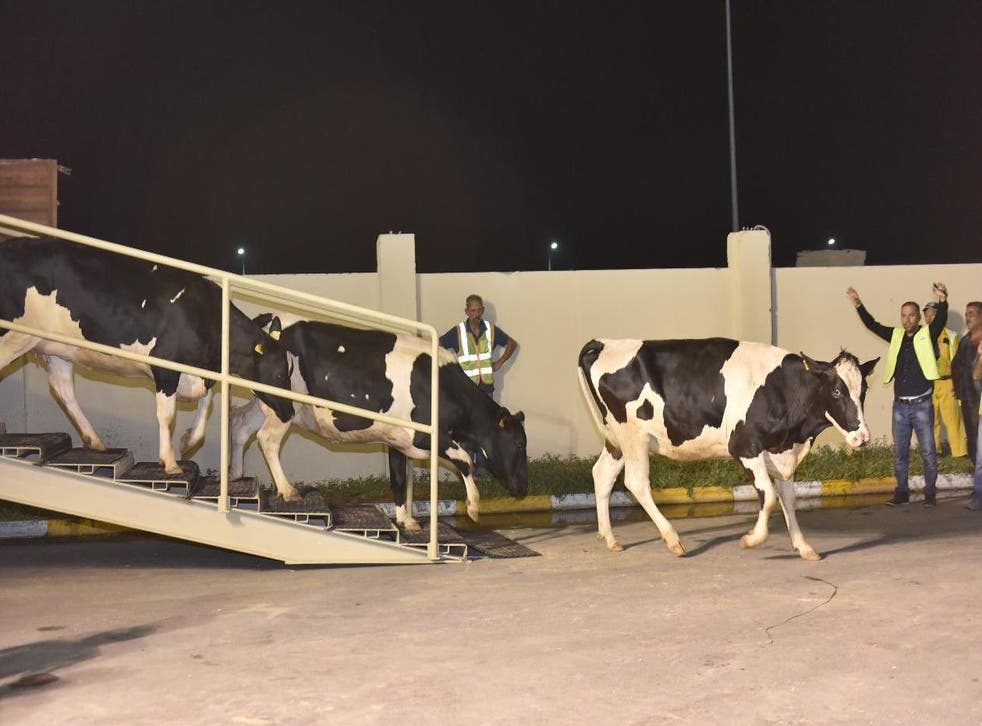 The first batch of an anticipated 4,000 dairy cows was flown into Qatar Tuesday, five weeks after the start of a Saudi Arabia-led boycott of the Gulf country.
A shipment of 165 cows, sourced from Germany and flying via Budapest, are ready to produce milk immediately and the product should reach local markets this week, according to a spokesman for Power International Holding, which is importing the animals.
Other shipments will include cows from Australia and the US, and should arrive every three days, the company spokesman said Tuesday. In total, the bovine airlift is expected to bring in the 4,000 cows within about a month.
Led by Saudi Arabia, Qatar has been accused of supporting Islamic militants, charges the sheikdom has repeatedly denied. The boycott that started on 5 June has disrupted trade, split families and threatened to alter long-standing geopolitical alliances. The showdown has forced the world's richest country per capita to open new trade routes to bring in food, building materials and equipment for its natural gas industry.
As part of its response, Qatar has imported Turkish dairy goods along with Peruvian and Moroccan fruit.
Until last month, most of the fresh milk and dairy products for Qatar's population of 2.7 million was imported from Saudi Arabia. When all the cows purchased by Power International Chairman Moutaz Al Khayyat are flown in, his brand of milk will supply about 30 per cent of the country's needs, he said in an interview last month.
Bloomberg
Register for free to continue reading
Registration is a free and easy way to support our truly independent journalism
By registering, you will also enjoy limited access to Premium articles, exclusive newsletters, commenting, and virtual events with our leading journalists
Already have an account? sign in
Register for free to continue reading
Registration is a free and easy way to support our truly independent journalism
By registering, you will also enjoy limited access to Premium articles, exclusive newsletters, commenting, and virtual events with our leading journalists
Already have an account? sign in
Join our new commenting forum
Join thought-provoking conversations, follow other Independent readers and see their replies