RBS helped bankroll Europe's last dictator
Outcry forces state-owned bank to sever Belarus ties
Jerome Taylor
Monday 29 August 2011 00:00 Comments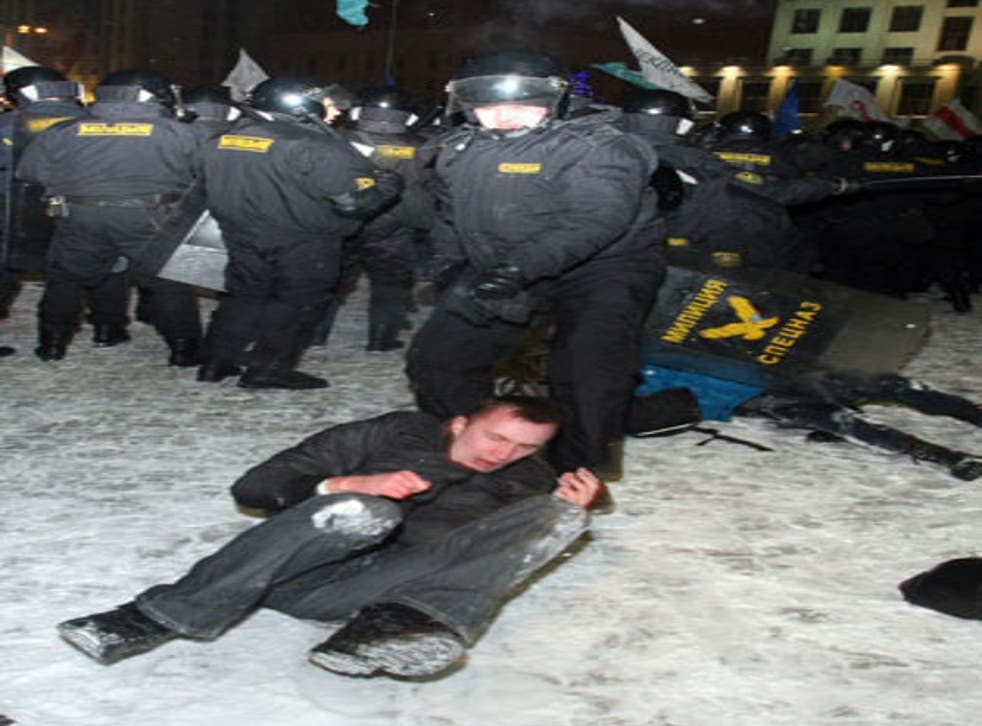 The Royal Bank of Scotland faces more damaging revelations about its ethical record after it emerged that the bank was part of a deal to issue more than $800m (£489m) in Belarusian government bonds earlier this year, a month after the country's leader, Alexander Lukashenko, ordered the brutal repression of pro-democracy campaigners.
The majority state-owned bank has now agreed to abandon doing any more deals with Mr Lukashenko after it was shamed by dissidents over its role in organising the bond issue, The Independent can reveal.
While many international enterprises refuse to invest in the country and its repressive regime, RBS became involved in January this year, alongside the Russian bank Sberbank, BNP Paribas and Deutsche Bank. At the time, hundreds of people had just been arrested by Mr Lukashenko's KGB secret police and allegations of torture were widespread and credible.
RBS has also recently come under fire for continuing to invest in American arms manufacturers that make cluster bombs.
In Belarus, hundreds of opposition activists were arrested and many of those who stood against Mr Lukashenko in last December's disputed elections have since been thrown in jail after a series of show trials that have been condemned by international observers.
The EU and the United States have since expanded individual sanctions against Mr Lukashenko and hundreds of his lieutenants, but there are currently no prohibitions on doing business directly with the Belarusian state. Nonetheless many pro-democracy groups have urged Western businesses to shun the regime until their demands for reform are met.
A previous bond deal done by the same syndicate of banks last October, two months before the crackdown, netted the Belarusian government a further $1bn. The deals were a lifeline for a country that has been struggling to stay afloat amid widespread government corruption, economic mismanagement and consistent human rights violations. Belarusian bonds have some of the lowest credit ratings available, worse than Greece's, while its foreign currency reserves are all but depleted. Minsk is hoping to be bailed out by the IMF who will decide today whether it will finance a new loan.
Belarusian activists from Free Belarus Now confronted RBS executives last week in Edinburgh alongside Index on Censorship, which has campaigned against British businesses conducting deals inside Belarus while Mr Lukashenko remains in power. Following the meeting, the bank issued a statement saying it would no longer do business with Minsk.
"Given sanctions, the deteriorating political situation in Belarus and the fact that it has reneged on key elements of the IMF programme, RBS has ceased any type of capital-raising for or on behalf of the Belarus republic," the statement read. "In assessing where we do business, we have a responsibility to consider a number of factors, including social and ethical issues and compliance with the letter and spirit of all international sanctions."
RBS is the only British bank to have recently done financial deals directly with the Belarusian government. The revelation is embarrassing as it comes at a time of growing concern over the bank's ethical investment record.
Earlier this month The Independent revealed how British high street banks, including RBS, were continuing to invest hundreds of millions of pounds in companies that manufacture cluster bombs – despite a global ban outlawing the production and trade of the weapons.
RBS, which was bailed out by the taxpayer in 2008 and is now 84 per cent owned by the Government, was part of a banking syndicate that provided the American arms manufacturer Alliant Techsystems with a $1bn five-year credit facility, with RBS itself loaning $80m. It has also underwritten $110.1m in bonds to Alliant Techsystems and Lockheed Martin. Both companies have been criticised by arms groups for making vital components for cluster bombs.
RBS claims that it takes human rights violations seriously. On its website, the bank states: "The Royal Bank of Scotland Group is committed to respecting and upholding human rights in all areas of our operations and within our sphere of influence." However, bank executives only agreed to turn their backs on Belarus after six months of intense lobbying.
Dissidents welcomed RBS's decision last night. Natalia Koliada, from Free Belarus Now, said: "When British businesses invest in Belarus, or RBS sells their government's bonds, it helps support an authoritarian regime. In Belarus the KGB is torturing and kidnapping people." Mike Harris, head of advocacy at Index on Censorship, added: "This couldn't come at a more crucial time. RBS has sent a clear signal not to risk investing in a regime that violates fundamental human rights."
RBS and Belarus
June 2010 President Alexander Lukashenko announces that he will run again for president in December's election.
August 2010 RBS, alongside three other banks, financially backs a $1bn (£610m) Belarusian bond deal.
September 2010 Campaigning begins. For Belarus, the campaign is comparatively open and free. But suspicions are raised when Oleg Bibenin, a former journalist and press secretary to Mr Lukashenko's chief rival Andrei Sannikov, is found hanged.
December 2010 After winning 80 per cent of the vote in an election that fell far short of international standards, thousands of Belarusians protest. Mr Lukashenko responds with a violent crackdown.
January 2011 As the arrests continue, RBS and the same three banks, announce a new government bond deal worth $800m.
February 2011 The first sentences are handed down against pro-democracy campaigners. International observers and rights groups condemn the trials as unfair.
March 2011 Ales Mikhalevich, an opposition politician who ran against Mr Lukashenko, is released from KGB custody. He flees the country and alleges widespread torture.
April 2011 Explosion hits a metro station in Minsk, killing 11. Mr Lukashenko says it is a plot to destabilise the country; opposition groups suspect that the attack is used as a pretext to a wider crackdown.
May 2011 Andrei Sannikov, the main opposition candidate, is convicted of "organising a mass riot" and sentenced to five years in prison. The EU and US place sanctions on Mr Lukashenko.
Register for free to continue reading
Registration is a free and easy way to support our truly independent journalism
By registering, you will also enjoy limited access to Premium articles, exclusive newsletters, commenting, and virtual events with our leading journalists
Already have an account? sign in
Join our new commenting forum
Join thought-provoking conversations, follow other Independent readers and see their replies