Samsung leader arrested for bribery and embezzlement as corruption scandal deepens
South Korean President Park Geun-hye has already been impeached amid allegations of multimillion dollar payments to aides in exchange for political influence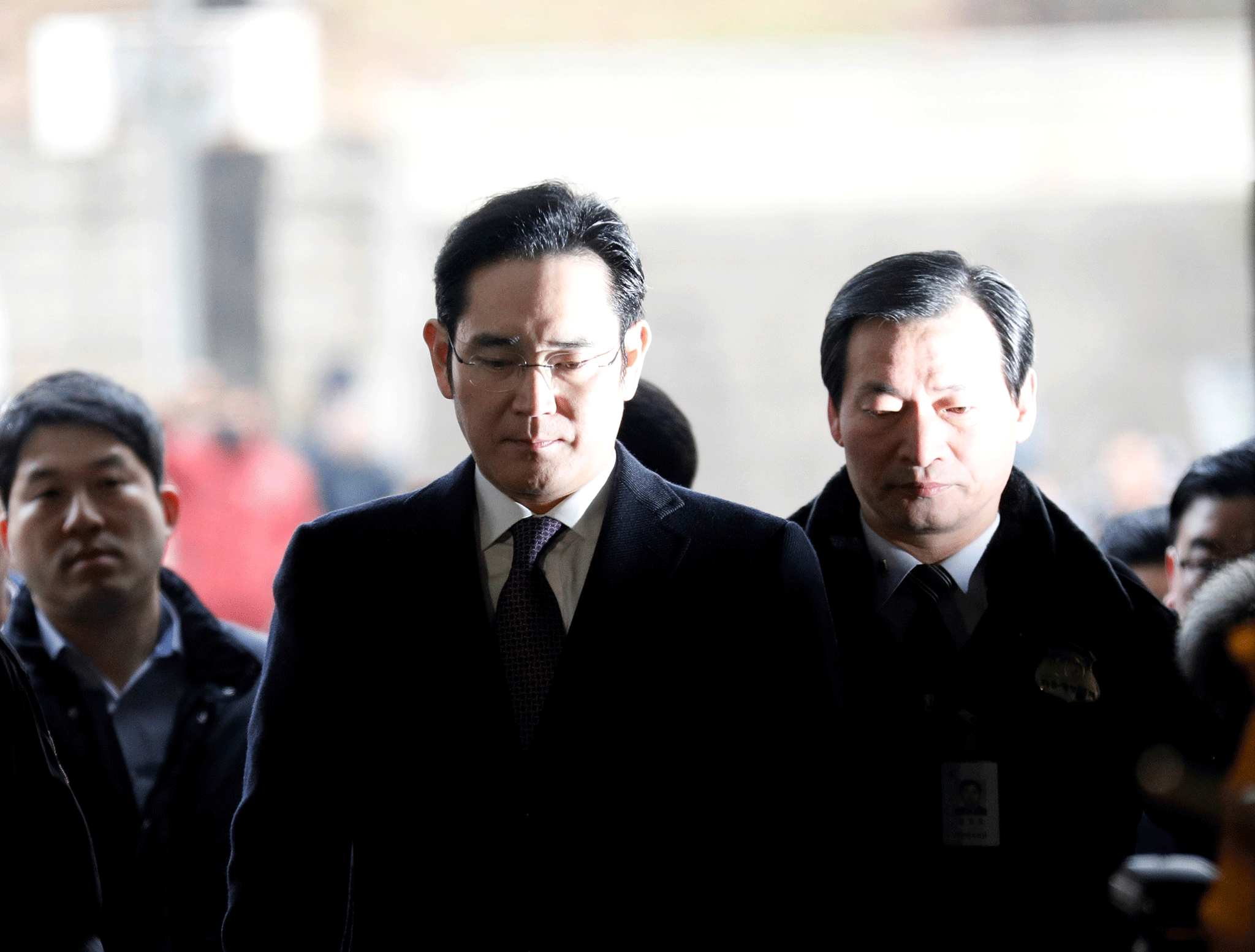 Samsung Group's Jay Y. Lee was formally arrested on allegations of bribery, perjury and embezzlement, an extraordinary step that jeopardises the executive's ascent to the top role at the world's biggest smartphone maker.
The Seoul Central District Court issued the warrant for Lee's arrest early Friday. Including procedural steps and appeals, it may take as long as 18 months for a trial and verdict. The decision was made because of the risk that he might destroy evidence or flee, a court spokesperson said.
Investigators are looking into whether the vice chairman of Samsung was involved in providing as much as 43bn won (£30.4m) to benefit a close friend of South Korean President Park Geun-hye, in exchange for government support of his management succession. Prosecutors allege that Lee, 48, funded Park's associates as he tried to consolidate control over the sprawling conglomerate founded by his grandfather.
Lee, who had been waiting for the court's decision at a detention center in Seoul, will remain there as a result of the arrest warrant. The court rejected the prosecutor's request to arrest Samsung Electronics President Park Sang-Jin. With Lee under detention, Park will probably assume some of Lee's responsibilities.
"We will do our best to ensure that the truth is revealed in future court proceedings," Samsung Group said in a statement. The shares of Samsung fell less than 1 percent in Seoul. Prior to the arrest, the stock had climbed 5.5 percent this year, following a 43 percent rally in 2016.
"In the short term, it could have an impact on the stock, only because of sentiment, and also because the stock has risen a lot recently," said Jung Sang-jin, a fund manager at Korea Investment Management, which includes Samsung Electronics in its holdings. "In the long-term, there won't be much impact on the stock, given previous times when other chaebol heads were arrested with few problems for their companies to keep running the business."
After the prosecutor's first attempt to arrest Lee was rejected by a court on 19 January due to lack of evidence, the billionaire heir was called in again for 15 hours of questioning on Monday as investigators sought more information. In their second attempt, a spokesman for the special prosecutor said Tuesday that they found evidence of Lee concealing profit gained through criminal acts and hiding assets overseas.
"The special prosecutor definitely has plans to push ahead with the indictment," the spokesman said. "Last time, we've found that his bribery was mainly associated with the merger. But it's been additionally discovered that it wasn't only related to the merger but also to his succession."
Samsung has denied it made an unlawful offer or paid a bribe to the president in exchange for favours. The conglomerate's transition to a new, younger leader was already marred by last year's botched debut of the Note 7, a smartphone that was discontinued after it showed a tendency to catch fire and explode.
Lee has been the de facto head of Samsung with his father Lee Kun Hee hospitalised since 2014.
Biggest business scandals in pictures

Show all 20
"Unlike other Chaebols, Samsung's top leader plays a very passive role inside the group," said Kim Sang-jo, a professor at Hansung University. "However, major management decisions or succession planning, such as mega acquisition deals, as well as the overall management shake-up will be considerably delayed."
The Samsung probe is part of a broader investigation into contributions that dozens of Korean companies gave to Choi Soon-sil, a confidante of Park. The scandal has rocked South Korea with millions of people taking to the streets in protest. President Park has been impeached and her powers suspended. A separate constitutional court will determine whether she is ultimately removed from office, another tumultuous chapter for a country that became a full-fledged democracy in 1987.
Bloomberg
Join our new commenting forum
Join thought-provoking conversations, follow other Independent readers and see their replies