Scrap high-denomination banknotes to stop crime, ex-bank boss urges
The £50 note's days are numbered
Hazel Sheffield
Monday 08 February 2016 14:04 Comments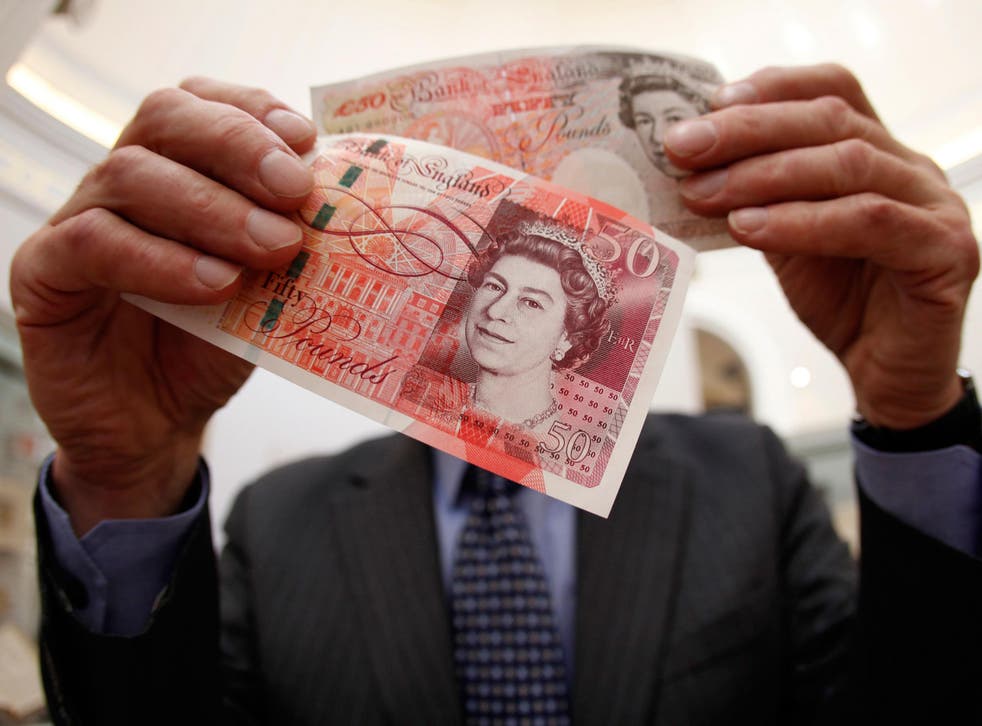 A former bank boss has come up with a dramatic proposal to cut financial crime and tax evasion in the UK by scrapping the most valuable banknotes.
Peter Sands, former chief executive of Standard Chartered, said that getting rid of €500, $100, SFr1,000 and £50 notes would make it harder for tax dodgers to pay people in cash. He said that cash is most useful for smaller transactions like buying a cup of coffee, but that people turned to electronic transactions for bigger payments.
"Terrorist finance sustains organisations that spread death and fear," Sands said in a paper for the Harvard Kennedy School called Making it Harder for the Bad Guys.
"Without being able to use high denomination notes, those engaged in illicit activities – the 'bad guys' of our title – would face higher costs and greater risks of detection. Eliminating high denomination notes would disrupt their 'business models'," he said.
Sands quit Standard Chartered last year after three profit warnings at the bank hit investor confidence. He waived his bonus when he left and went on to advise the Government on the labour market.
He said that £50 notes and other high denomination notes are the prefered payment mechanism of those pursuing illicit activities because they can be passed on anonymously, without leaving a transaction record.
"Ask people in the [UK] when they last used a £50 note, the highest sterling denomination, and the most common answer is to pay a builder or plumber. The incentive is tax evasion, since payment in cash makes it easier for the individual to avoid VAT of 20%; and if the builder pays his workers in cash, he in turn avoids employment taxes and they avoid income tax," Sands said.
Biggest business scandals in pictures

Show all 20
VAT evasion in the UK amounts to £13.1 billion per year. Sands said that if scrapping £50 notes can reduce this by 10 per cent, that would be a benefit of £1.3 billion.
Sands said a co-ordinated effort to scrap high-denomination notes would be necessary to stop criminals switching to other currencies.
Mario Draghi, the president of the European Central Bank, said last week that €500 notes were under review because of similar concerns that they are used by criminals.
Register for free to continue reading
Registration is a free and easy way to support our truly independent journalism
By registering, you will also enjoy limited access to Premium articles, exclusive newsletters, commenting, and virtual events with our leading journalists
Already have an account? sign in
Register for free to continue reading
Registration is a free and easy way to support our truly independent journalism
By registering, you will also enjoy limited access to Premium articles, exclusive newsletters, commenting, and virtual events with our leading journalists
Already have an account? sign in
Join our new commenting forum
Join thought-provoking conversations, follow other Independent readers and see their replies