Fifa corruption scandal: Qatar stocks take $4.5 billion hit in hours after Sepp Blatter quits
Decision wiped 3% off the value of the Qatar stock index briefly on Wednesday morning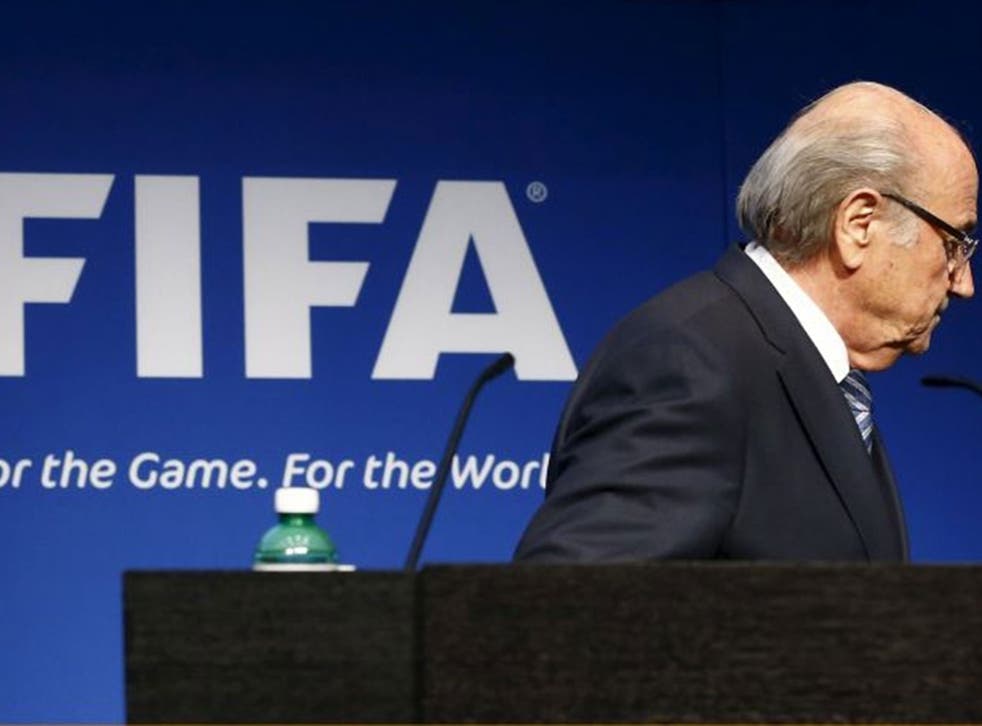 Sepp Blatter's surprise decision to quit as Fifa president wiped $4.5 billion off the Qatar Stock Index on its opening on Wednesday morning, amounting to 3 per cent of its total value.
Qatari stocks later recovered from Blatter's announcement, but it is thought that the location of the 2022 World Cup could now be called into question.
Blatter announced yesterday that he would stand down as head of football's governing body after 17 years at the helm.
He told a press conference: "My mandate does not appear to be supported by everybody."
The 79-year-old Swiss national had come under extreme pressure after 14 Fifa officials were arrested as part of a £65 million corruption investigation led by the US Justice Department into alleged bribes paid over 25 years.
The bidding process for that tournament and the contest due to be hosted by Russia in 2018 have long been subject to allegations of vote-buying.
The staging of the cup in the searing Qatari heat had already made it a controversial choice.
Contenders to replace Sepp Blatter as Fifa president

Show all 6
The head of the Football Association Greg Dyke said there could be a re-examination of how those hosts were picked.
"We can go back to looking at those two World Cups," he said. "If I were Qatar right now I wouldn't be feeling very comfortable."
The head of Qatar's football association Sheikh Hamad bin Khalifa bin Ahmed Al-Thani shrugged off the threat, stressing that the desert nation had been cleared of wrongdoing by an investigation into the bids, according to the Financial Times.
England had submitted a bid to host the 2018 World Cup and is now said to a favourite to host the event should Russia be stripped of its hosting rights as a result of the corruption probe's findings.
But Fifa's director of communications Walter de Gregorio said last week that the next two World Cups would not be moved.
World Cup sponsor Coca-Cola described Blatter's departure a "positive step for the good of sport, football and its fans".
"We believe this decision will help Fifa transform itself rapidly into a much-needed 21st Century structure and institution."
While McDonald's said: "We're hopeful that the changes being implemented within FIFA will be a big first step in positively reforming the organisation and gaining back trust from fans worldwide."
Register for free to continue reading
Registration is a free and easy way to support our truly independent journalism
By registering, you will also enjoy limited access to Premium articles, exclusive newsletters, commenting, and virtual events with our leading journalists
Already have an account? sign in
Register for free to continue reading
Registration is a free and easy way to support our truly independent journalism
By registering, you will also enjoy limited access to Premium articles, exclusive newsletters, commenting, and virtual events with our leading journalists
Already have an account? sign in
Join our new commenting forum
Join thought-provoking conversations, follow other Independent readers and see their replies