Shares leap off the floor as ECB hints at stimulus in March
Battered European markets revive as Mario Draghi vows action to boost eurozone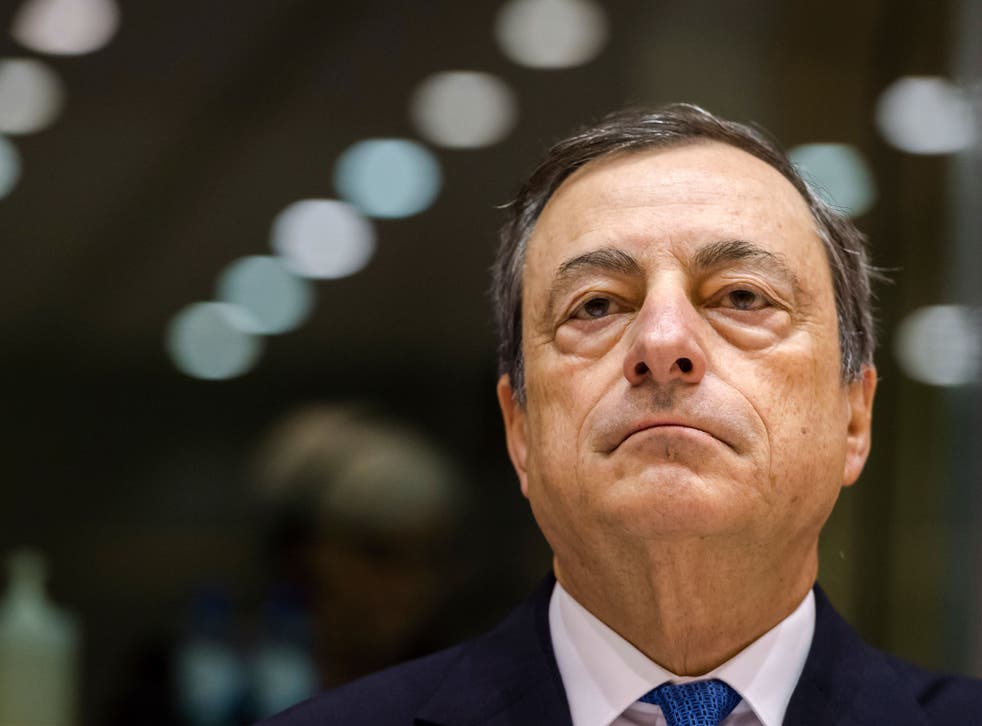 Mario Draghi, the president of the European Central Bank (ECB), rode to the rescue of battered stock markets as he suggested that policymakers could pump more stimulus into the eurozone economy as early as March.
Shares hammered by a heavy sell-off on Wednesday, including a 3 per cent fall on the FTSE 100 that wiped £52bn off the value of the UK's biggest listed companies, rose immediately at the news and the index closed 100 points higher at 5,773.8. The partial recovery took the index out of "bear market" territory following a 20 per cent fall from the previous high, above 7,100, reached last April. European markets, including France's Cac 40 and Germany's Dax, registered gains of up to 2 per cent.
Following Thursday's policy meeting, the ECB held its deposit rate – what it charges banks to hold reserves at the ECB – at minus 0.3 per cent and its main interest rate at 0.05 per cent. It also maintained the size of its €1.5bn (£1.1bn) quantitative easing (QE) programme to buy up government bonds and stimulate the 19-member single currency bloc.
But Mr Draghi electrified equity markets with his opening remarks when he said: "It may be necessary to review, and possibly reconsider, our monetary policy stance at our next meeting in early March, when the new staff macro-economic projections become available."
The turbulent start to the year in global financial and commodity markets is making even harder the ECB's job of dragging eurozone inflation up from the current 0.2 per cent to its target of close to 2 per cent. That was underlined by the price of Brent crude oil touching a 12-year low of $27.29 a barrel – virtually half the ECB's December prediction of an average $52 price this year.
In an echo of Mr Draghi's famous 2012 intervention, when he promised to do "whatever it takes" to save the euro, when the eurozone's debt crisis was at its height, he also pledged potentially unlimited action to bolster growth. "There are no limits to how far we are willing to deploy our instruments within our mandate to achieve our objective of a rate of inflation which is below but close to 2 per cent," he said. "So there shouldn't be any doubt about that – and we have plenty of instruments."
The euro – which had gained ground since ECB inaction disappointed the markets in December – immediately weakened after Mr Draghi's comments, falling as low as $1.0778 against dollar. The pound, meanwhile, gained 0.5 cents against the single currency, climbing to €1.3087 at one stage. Bonds rose as markets priced in further purchases from the ECB.
Andrew Cates, the chief European economist at Royal Bank of Scotland, said: "An easing bias to the ECB's monetary policy is… now very firmly in place."
He pencilled in a further cut in the deposit rate, as well as up to €15bn a month in QE, warning: "We suspect that the data for both growth and inflation will undershoot consensus expectations in the coming weeks. At the very least, the numbers will force a downward revision to the ECB's growth forecast and a larger downward revision to the inflation forecast."
Register for free to continue reading
Registration is a free and easy way to support our truly independent journalism
By registering, you will also enjoy limited access to Premium articles, exclusive newsletters, commenting, and virtual events with our leading journalists
Already have an account? sign in
Register for free to continue reading
Registration is a free and easy way to support our truly independent journalism
By registering, you will also enjoy limited access to Premium articles, exclusive newsletters, commenting, and virtual events with our leading journalists
Already have an account? sign in
Join our new commenting forum
Join thought-provoking conversations, follow other Independent readers and see their replies