Sky, L'Oreal, Samsung: Business news in brief, Tuesday 24 January
Broadcaster invests in TV production companies True North and Chrysalis Vision; Cosmetics giant invests in tech start-ups; TV maker agrees deal with LG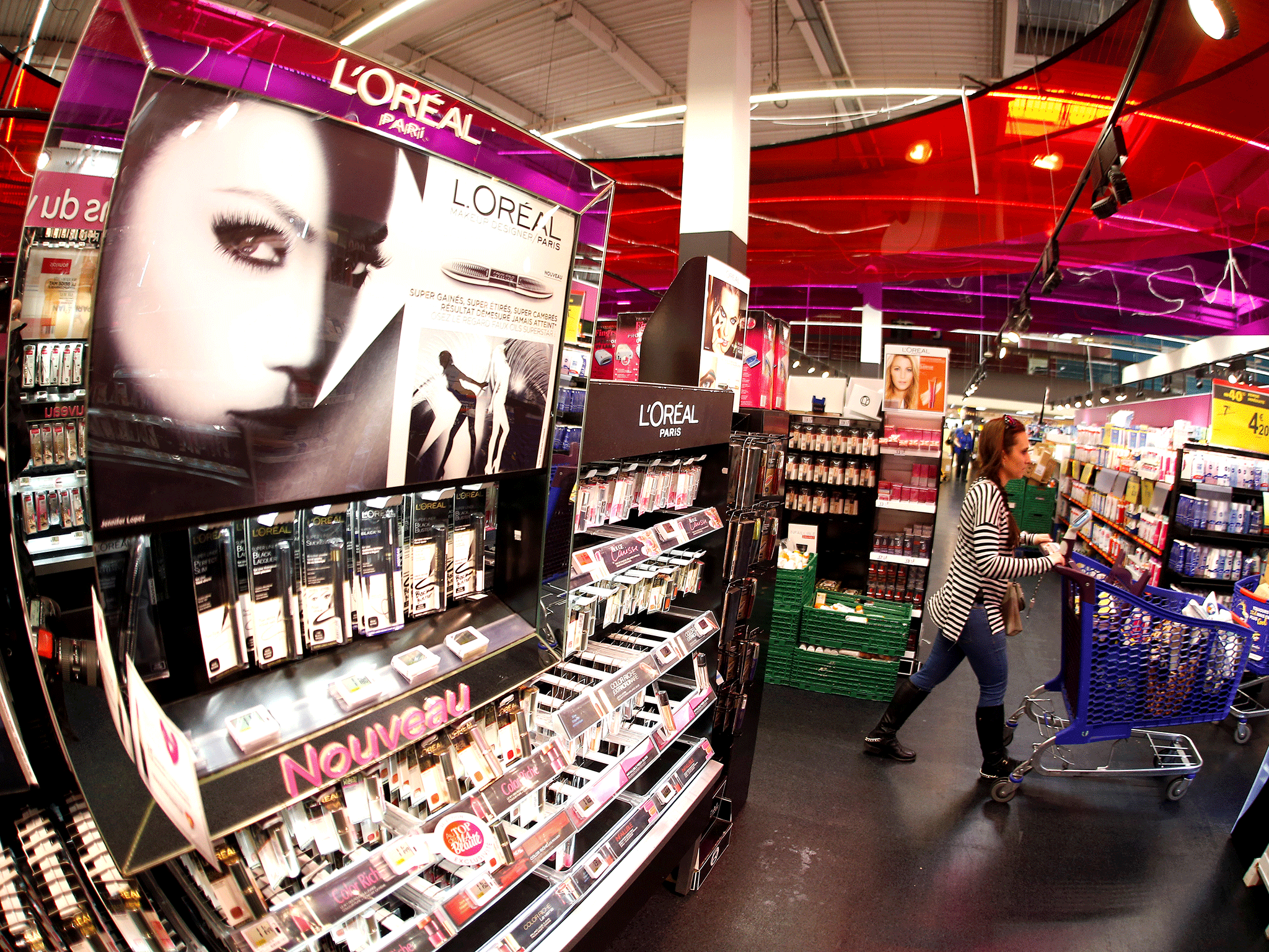 Sky invests in TV production companies True North and Chrysalis Vision
Sky is ramping up its TV production portfolio by taking stakes in British indie firms Chrysalis Vision and True North for an undisclosed sum.
The broadcaster's majority stake in True North marks the end of Channel 4's involvement with the Leeds-based production house, which was previously backed by Channel 4 Indie Growth Fund.
True North - known for a number of hit series including Teen Mom UK, Homes By The Sea, A New Life In The Sun and Building The Dream - will stay based in the north of England, growing its base in both Leeds and Manchester following the investment.
Sky's minority stake in Chrysalis Vision will see it gain a foothold in a TV drama production house co-founded by serial entrepreneur and former Pizza Express chairman Luke Johnson, and media executives Chris Wright and Mick Pilsworth.
Sky Vision will become the commercial and distribution partner for content for both companies, though existing agreements with other broadcasters and distributors will be upheld.
Jane Millichip, managing direction at Sky Vision, said: "We're excited to be investing in True North... We're also delighted to be working with Mick and Chris, who have a great track record in building successful, creative businesses, and the whole team at Chrysalis Vision which will bolster our drama ambitions."
The announcement comes just days ahead of Sky's half-year results, set to be released on Thursday.
Investors will be eyeing the report for any update regarding the £11.7bn takeover bid by Rupert Murdoch's 21st Century Fox, which was formally tabled in December.
PA
L'Oreal and Founders Factory to invest in five cosmetics start-up firms
French cosmetics giant L'Oreal said on Monday it had chosen to invest in five tech start-up firms in the beauty products sector along with partner Founders Factory, as L'Oreal steps up its ventures in this area.
In 2012, L'Oreal set up an internal start-up unit in Silicon Valley and in May last year it invested in Founders Factory, a digital incubator, co-founded by Brent Hoberman, former chief executive and co-founder of lastminute.com.
L'Oreal and Founders Factory announced on Monday they had chosen the companies InsitU, Preemadonna, Tailify, Veleza and Cosmose for their incubator fund, to help the companies develop.
All five companies use Internet and mobile technology to promote their products, with Veleza and Cosmose founded by Lithuanian and Polish entrepreneurs respectively.
L'Oreal made more than 5 per cent of its sales online in 2015. Its digital team, which counted some 150 people five years ago, now totals more than 1,000, with hundreds hired in 2016.
In 2015, L'Oreal spent 25.5 per cent of its advertising budget on digital communications and the proportion is expected to grow as more consumers, particularly in regions such as the Middle East, use the Internet for beauty tips and purchases.
Reuters
LG said to reach LCD panel supply pact with Samsung
LG has scored a deal to supply television displays to rival Samsung from as soon as this year, people with direct knowledge of the matter said.
LG, a major supplier of panels to Apple, will replace a venture between Sharp and Foxconn Technology Group as a supplier to the world's biggest TV maker, said the people, who asked not to be identified because details of their agreement haven't been released. LG and Samsung reiterated comments from earlier this month that they are in talks on LCD supply without elaborating.
A supply agreement between LG and Samsung would be a first for the longtime South Korean rivals who have never used each other's panels before. Sakai Display Products, controlled by Sharp and Foxconn, has cut back supply of LCD screens to other TV makers, a move that may foster a panel supply shortage and further accelerate a rally in display prices. Supply may remain tight well into next year, benefiting LG and other panel makers, said Chung Won-suk, an analyst at HI Investment & Securities in Seoul.
"The abrupt supply halt by Sharp will have a domino effect on other TV makers from Samsung to Sony," he said. But LG may not be able to boost production quickly enough to offset Sharp's absence. "That will cause the supply shortage to persist throughout the year and help sustain the price rally at least until the first quarter."
Bloomberg
Apple-supplier Foxconn weighs $7bn US display plant
Foxconn is considering building a US display-making facility for upwards of $7bn (£5.6bn), a major investment for Apple's main manufacturer that may create tens of thousands of American jobs during President Donald Trump's first year in office.
The company is considering a joint investment with Sharp, the Japanese display supplier it bought last year, but details have yet to be hammered out, Reuters cited Chairman Terry Gou as telling reporters in Taipei on the sidelines of a company event. Foxconn confirmed the report Monday.
An investment by Foxconn, whose main listed unit is Hon Hai Precision Industry, would mark a victory for Trump, who's repeatedly blasted China for stealing American jobs and devastating US manufacturing. But Foxconn is one of the single largest private employers in China and the government there has conveyed its concern over the possibility that it will shift investment away from the country.
China is pivotal to Foxconn's massive electronics assembly operation, which cranks out more iPhones and iPads than any other in the world. Foxconn has said it's in preliminary discussions to broaden its investment in the US, without elaborating.
Bloomberg
McDonald's sales dip in US, underscoring comeback challenges
McDonald's is trying stage a comeback, but still has plenty of work to do in its flagship US market.
The world's biggest burger chain said US sales dipped 1.3 per cent at established locations for the final three months of 2016. Its performance was better overseas, and the sales figure rose globally.
The Illinois-based company attributed the sales decline at home to a tough comparison from the year-ago period, when it introduced an all-day breakfast menu. The results nevertheless underscore the hurdles McDonald's faces in its push to revitalize its image while facing broader industry challenges, including supermarkets and convenience stores selling more prepared foods and cheaper groceries encouraging people to eat at home.
Earlier this month, The NPD Group said it expects customer traffic for the restaurant industry to remain "stalled" this year, as it was in 2016.
McDonald's isn't alone in struggling to attract more customers. Starbucks cheif executive Howard Schultz has said the retail landscape would undergo a "seismic" change as people do more of their shopping online, leading to less foot traffic in general. The coffee chain's transactions at established US locations slipped by 1 per cent in the previous quarter.
AP
Citigroup says this time it's different for Europe profit growth
Equity strategists are yet again predicting that this will finally be the year European profits deliver.
This time, it's Citigroup Inc.'s Jonathan Stubbs forecasting the region's earnings will jump at least 10 per cent to end a three-year dry spell. His bullishness on Europe is reminiscent of early 2015 and 2016, when strategists and investors doubled down on the region's stocks, drawn by the promise that monetary stimulus and a weak currency would be sufficient to prop up corporate profits. But so far, no dice.
"Despite political headlines, there are signs of macro improvement in Europe and across the world," Citigroup's equity strategists led by London-based Stubbs, wrote in a note on Monday. "We think this could contribute to broader sentiment change across the investment community."
Investors gave up on European stocks in 2016, on concerns ranging from Brexit to stability in the banking system, notwithstanding cheap valuations. But Citigroup says this time it's different.
Unlike previous years, economists are increasing their growth forecasts for the region just as stock analysts raise their profit estimates. Its stocks are still relatively underowned, with EPFR Global data showing investors withdrew more than $100bn (£80bn) from European funds in 2016.
Bloomberg
Paddy Power Betfair to meet FY guidance on underlying strength
Paddy Power Betfair estimated on Monday that its full-year earnings hit the mid-point of its guidance despite a run of adverse sports results at the end of the year, pointing to the underlying strength of the recently merged business.
The gambling company in November raised its full-year core earnings (EBITDA) forecast to a range of £390-405m from a previous range of 365-385m citing a boost in the sterling value of its euro revenue, last year's merger and favourable sporting results.
However results favoured punters across the industry in the fourth quarter, which the Dublin-headquartered firm said cost it around £40m before gamblers bet with any winnings, including a £5m loss on the US presidential election.
"This outcome disguises a better underlying performance than we were forecasting," Davy Stockbrokers analyst David Jennings, who had expected EBITDA of £408.8m, wrote in a note.
Reuters
Join our new commenting forum
Join thought-provoking conversations, follow other Independent readers and see their replies