South Western Railway workers vote to strike in dispute over role of guards on trains
If the walkout goes ahead, passengers across the south of England will face a fresh round of disruption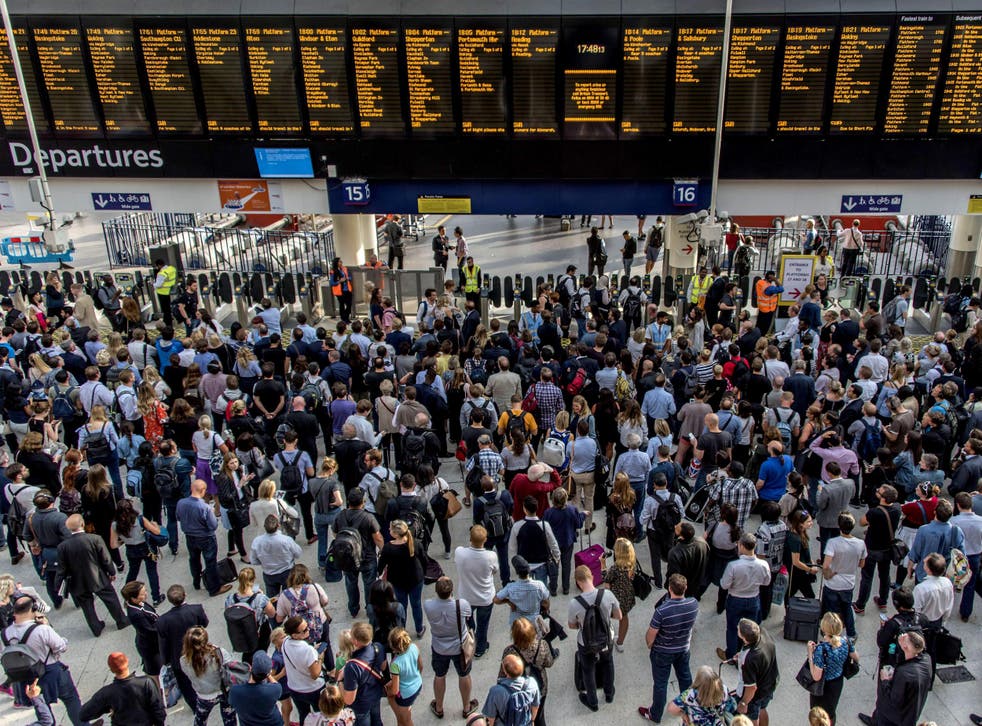 South Western Railway workers have voted "overwhelmingly" in favour of strike action in a dispute over the role of guards on trains.
Around 80 per cent of the Rail, Maritime and Transport union members who voted backed industrial action, with a turnout of 76 per cent. This ensured that the ballot was valid under new rules requiring 50 per cent of members to vote for strikes to be legal.
If the walkout goes ahead, commuters travelling to and from London Waterloo - the UK's busiest stretch of railway - will face more disruption. Services across its network, which stretches as far as Plymouth and Bristol, would also be affected
SWR only took over the franchise in August, during the last wave of strikes on Waterloo commuter routes. It becomes the fifth railway operator to be caught up in the long-running dispute over driver-only operation of trains.
Unions argue that such trains compromise passenger safety but train companies point to services which have been running without guards for years without an increase in accidents.
SWR said that strike action was unnecessary because the company plans to increase the number of guards on trains in response to passenger feedback.
RMT members at Southern, Merseyrail, Arriva Rail North and Greater Anglia are supporting a 24-hour strike on Tuesday over the same issue, with another walkout set to take place on Thursday.
Union general secretary Mick Cash said RMT had given "repeated opportunities" for First Group MTR, which runs the SWR franchise, to give workers assurances over the future role of the guards, but the company had provided only "spin and prevarication". RMT said it therefore had "no option" but to ballot union members.
"Our members have now voted overwhelmingly for both strike action and action short of a strike and that massive mandate will now be considered by RMT's executive, who will decide the next steps," Mr Cash said.
The RMT is understood to have written to Prime Minister Theresa May, accusing her of "sabotaging" the negotiations aimed at resolving the disputes.
A South Western Railway spokesperson said the action will cause unnecessary disruption for pasengers.
"We have been clear that we plan to retain a second person on our services, as we know that our passengers value the assurance and assistance a second member of on-board staff provides, the spokesperson said.
"That's why, during our franchise, we will increase the numbers of drivers and guards so we can deliver more services for passengers.
"We aim to deliver improvements for passengers throughout the SWR franchise including new trains, quicker journeys, and earlier and later services.
"Today's announcement undermines those efforts. We urge the RMT to avoid premature strike action and work with us to deliver for our customers, and we look forward to meeting them again to discuss our future plans on 5 October as already arranged."
Rail minister Paul Maynard accused the RMT of using passengers as "pawns in their political game". He urged union bosses to call off strike action and hold constructive talks.
Business news: In pictures

Show all 13
"Passengers will face needless delays, even though South Western Railway have been clear no one will lose their job," the minister said.
"They plan to keep a second member of staff on board their trains and hire more drivers and guards.
"The RMT's dispute is not about safety, as the independent regulator has ruled that driver-controlled trains are safe."
Join our new commenting forum
Join thought-provoking conversations, follow other Independent readers and see their replies