Southern Rail: MPs and passenger groups react angrily as dispute escalates
Union bosses have been locked in disputes with the troubled train operator for months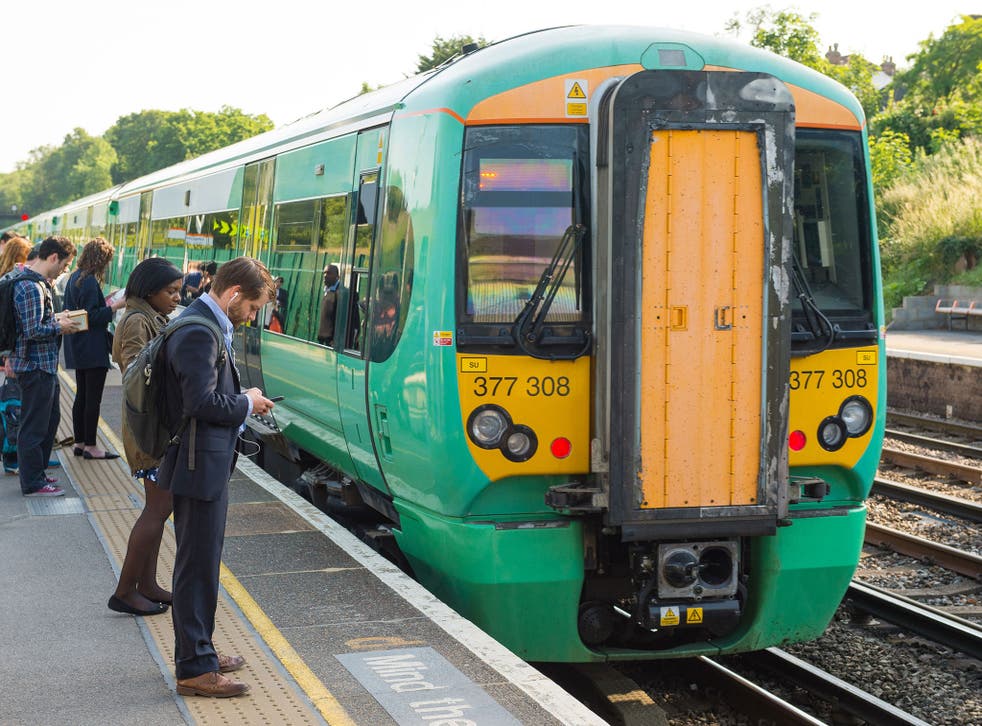 The long-standing and bitter dispute between the RMT rail union and Southern Rail heightened today after Southern's owner, Go-Ahead Group announced a 27 per cent jump in profits to £100 million just one day after £20 million of taxpayers money was committed to help end delays.
Staff shortages, track and signalling problems and strike action have ensured Southern passengers suffer months of severe delays, cancellations and overcrowding.
Union bosses, who have been locked in talks with the troubled train operator over staffing on trains, reacted in stunned disbelief to news of the profits.
Mick Whelan, the Aslef general secretary said it was "like living with Alice in Wonderland."
A company which has "failed to deliver for passengers every day for the last year – and which only yesterday got its snout back in the public trough with another generous pile of taxpayers' cash, courtesy of a compliant DfT [Department for Transport] – has just announced record profits for its shareholders."
RMT general secretary, Mick Cash, said: "While Go-Ahead have been driving Britain's biggest rail franchise into total meltdown, the cash has been sloshing through the boardroom at obscene levels. This is reward for total failure on a scale which is off the map.
"Just a fraction of these profits would be enough to keep the guards on Southern trains, keep the passengers safe and resolve the industrial dispute between RMT and the company. It is shameful that they have opted to hoard cash instead of protecting the travelling public."
Southern chief executive David Brown apologised for the delays but said they were caused by maintenence issues rather than the company's failings. "A large part of the role of the GTR franchise is to introduce three new train fleets and modernise working practices. During this period of change, Southern services have been disrupted by restricted network capacity, strike action and increased levels of absence.
"We apologise to the people whose lives have been affected during this time. We continue to work closely with the DfT (Department for Transport), Network Rail and other suppliers and partners to operate the best service possible while delivering the long-term improvements."
But MPs and passenger groups were not impressed. Andy McDonald MP, Labour's Shadow Secretary of State for Transport pointed out that fares had risen over 25 per cent since 2010 and called on government to end the franchise immediately. "With £20 million of taxpayer's money going in to prop up this failed franchise, no wonder Southern passengers are at their wits end," he added. "This Tory sponsored rip off of the public simply has to stop," he said.
Jenny Randerson, Liberal Democrat Transport spokesperson, was similarly scathing: "While passengers are left fuming on platforms, the company has yet again taken the public for a ride. When will ministers stand up to Southern and take away its franchise? This is a scandal."
James MacColl, of passenger group, the Campaign for Better Transport urged Go Ahead to use its profits to give back to long-suffering passengers, who are facing a further ticket price hike from january. Passengers "still haven't been assured they'll get proper compensation for the disruptions they've suffered from," McColl said. "Go Ahead's profit figure shows that industry could certainly afford to help with this."
Chris Grayling's Department for Transport also came in for criticism. Labour MP, McDonald claimed that the contract it had negotiated with Southern's owners put all risks in the hands of taxpayers and passengers.
Trevor Tupper, a representative of the West Sussex Rail Users Union said that the £20 million awarded was primarily to fix Network Rail's failure to maintain the track.
"Really now the dispute is between the Department for Transport and the unions. But it's the passengers in the middle who are getting kicked," he said
UK rail operators ranked

Show all 22
Southern was given some good news when the TSSA union called off a planned 24-hour walkout on 7 September in a row over ticket office closures.
But a 48-hour walkout over the deadlocked guards dispute is due to go ahead as planned on 7 and 8 September, which will cause fresh travel misery for hundreds of thousands of passengers. Southern maintains that the proposals put forward are safer than the existing arrangement; an assertion with which the RMT disagrees.
Southern has the worst punctuality record of any franchise in the country, with almost one in five trains late. The Southern rail owner runs the five worst performing lines in the country, including the nation's least punctual train line, the premium-priced "Gatwick Express" which notched up 8,100 late services in the first six months of 2016.
Join our new commenting forum
Join thought-provoking conversations, follow other Independent readers and see their replies