Special report: The high street of the future is like nothing we know
Bringing our town centres back to life requires some radical thinking, a new study will warn this week. Susie Mesure gets a preview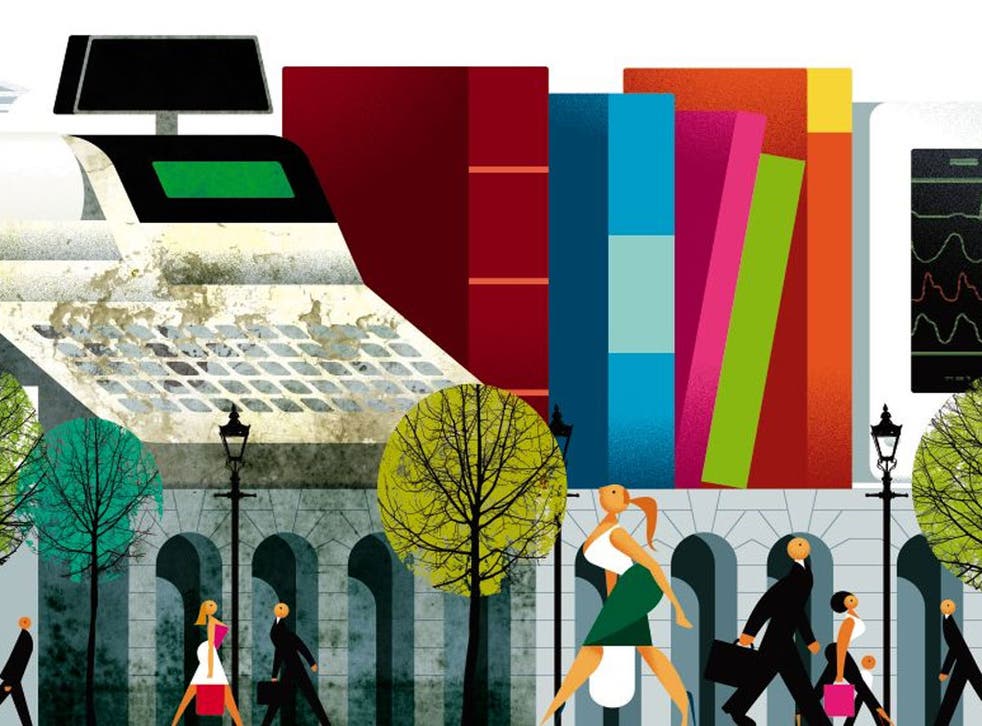 The sign on Superdrug's Kensington High Street shop is illustrative. "Sorry we have closed. But you can find us in Westfield, White City." A few hundred yards up the road, a former branch of the clothing retailer Warehouse bears a similar message.
This may be one of Britain's most well-heeled shopping destinations, but residents and office workers are no more immune to the lure of the mall, not to mention that "Buy me now" button on more than half of all mobile phones that is exacerbating pressure on retailers.
But if the present looks bleak for west London's latest retail casualties, which join 40,000 more empty shops across the UK, then the future could be rather more exciting. That's according to one veteran retailer, Bill Grimsey, who has spent the past three months investigating Britain's high streets and will set out a blueprint this week for how to reinvent even the least prosperous stretches of pawnbrokers and pound shops.
The catch is that town centres and high streets must stop seeing themselves as shopping destinations and embrace a more varied future, his report will warn on Wednesday.
Mr Grimsey, who embarked on his independent review out of frustration at the failure of an earlier Government-backed project by the retail consultant Mary Portas, will make 31 proposals – including a complete overhaul of how town centres are run. The former boss of Iceland and Focus DIY will say that the need for change to business rates, parking charges and bank lending is acute.
Speaking to The Independent on Sunday ahead of the report's publication, he said the high street as we know it "is dead". He envisages old stores being turned into doctors' clinics, pre-school crèches, and social enterprises that put the local community at the heart of any solution.
Specifically, his report will call for the creation of town centre commissions that will be given the job of drawing up a 20-year business plan for their community. "They will consist of all stakeholders, from developers to retailers, have an annual budget and hold annual public meetings." He wants to see the initiative trialled in five towns by the end of this year, before creating one in every town by the end of 2014.
All towns will eventually be ranked in yearly league tables according to their performance, much like retailers run their businesses. This is all part of Mr Grimsey's attempt to create "vibrant, healthy towns to help grow the economy". He will criticise the lack of progress in the 18 months since the Portas review, pointing to the "eight major chains that have disappeared".
"That's major change. Our review is nothing to do with the magic notion of saving Britain's high streets," he added, in a dig at Mary Portas, who he said "promised the earth but delivered very little". "We can't rely on retailing to be the saviour of town centres any more. We need a more holistic solution."
The demand for space in overcrowded Britain is endless, yet 14 per cent of all retail outlets are vacant, research by the Local Data Company has found. In some towns, like Nottingham where 31 per cent of shops are empty, the situation is more desperate. Matthew Hopkinson, who heads the LDC and also worked on Mr Grimsey's report, called for more imagination backed by sweeping changes to planning regulations. "High streets have to become places where people live, work and socialise. Shopping will become secondary." The night-time economy will be as important as the day-time one, he added.
Candidates for new generation high streets could follow the example set in Huddersfield, West Yorkshire, where one former store, Thatchers Furnishings, is being turned into 40 student flats two years after going bust. In Watford, local residents turned an empty corner shop into a community centre. And in Wirral, shops have been transformed into community centres offering after-school clubs, healthy eating lessons and literacy courses.
But experts warned some projects would prove more difficult. Marcus Fagent, head of education at the property consultancy EC Harris, said there were many "technical and commercial reasons" that would prevent town centre shops from becoming new schools. He did say out-of-town retail parks offered more potential, however.
Tesco has scrapped plans to build more than 100 new stores across the UK. The supermarket giant is also struggling to reinvent its hypermarkets. Tesco recently renovated its Watford megastore to include a branch of Giraffe, the restaurant chain it bought for £50m earlier this year, as well as a Harris + Hoole coffee outlet – all part of its quest to make the weekly shop more of a day out.
As well as competition from online retail, which the consultants OC&C estimate already accounts for 11 per cent of all retail sales in the UK, high streets have lost out to lavish malls, such as those operated by Westfield. The Australian-owned group is thriving in Britain, where it owns four centres, in London, Dudley and Derby; more than 99.5 per cent of its property portfolio is leased. It even plans a £1bn extension for Westfield London, in White City, to encompass a further 550,000sq ft of retail, 1,500 homes, plus numerous restaurants and offices.
Mary Portas will come under pressure from MPs on the Communities and Local Government Select Committee tomorrow about how her 12 so-called Portas pilot towns have fared. The retail consultant is expected to change tack by calling for high streets to shift their focus away from retail. She recently said retail units could take up around 30 per cent of space, with coffee shops, crèches, and sports centres filling empty units.
Separately, the Communities Secretary, Eric Pickles, announces today that teams of experts will be made available to train 350 towns in how to adapt their high streets to changing consumer behaviour.
Richard Hyman, one of the industry's most experienced analysts, said an "integrated strategy" was crucial. "Not a two-year fix but a long-term strategy. The Government has to understand that playing around with the packaging won't make any difference."
Join our new commenting forum
Join thought-provoking conversations, follow other Independent readers and see their replies