Specialist butchers and bakers breathe life back into the high street
While the winter is proving challenging for most retailers, sales have risen in traditional food shops, as more consumers opt for local artisanal products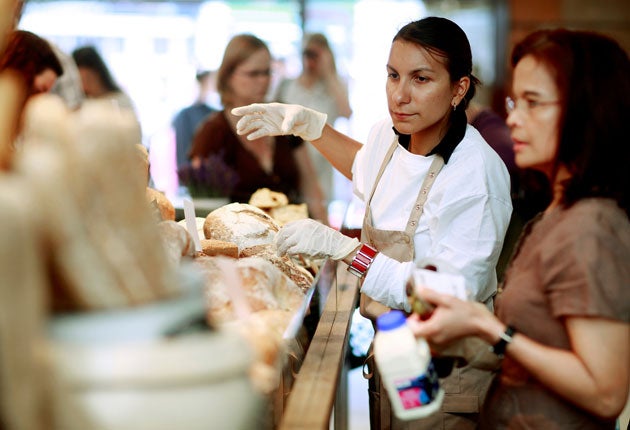 Traditional high-street food shops are defying the odds with their strongest sales in years, as shoppers opt for local retailers rather than supermarkets, official figures have revealed.
A boom in business for bakers, butchers and fishmongers is breathing life back into some of Britain's high streets, helping to compensate for the boarded-up shopfronts that have symbolised the recession.
New bakers and butchers are opening up all over the country, ending a decades-long decline. Retail experts believe the resurgence reflects a growing demand for high-quality produce, from artisanal loaves to dry-aged beef, aided by television programmes that expose the nutritional inadequacy of many supermarket products.
Last month alone, sales at smaller, specialist food shops increased for a third consecutive month following almost five years of declines. Volumes rose by 2.8 per cent, providing a rare bright spot during the worst December on record for retailers. Even supermarkets saw their sales volumes fall, sliding 1.8 per cent, according to the Office for National Statistics. The sales rise at specialist food shops followed increases of 3.2 per cent in November and 8.3 per cent in October.
Bob Farrand, director of the Guild of Fine Food, said traditional shops had improved their game. "Retailers had to become as professional as the supermarkets. Butchers have realised they have a niche they can fill that supermarkets can't. You now see '28-day aged carcass' signs in high-street butchers that you wouldn't have previously. They have realised they have a larger audience then they used to 20 years ago."
Patrick Strainge, a butcher in Bampton, Oxfordshire, is among those that are flourishing. "Trade has been strong," he said. "The animals are from my brother's farm and we use a local abattoir so I know the animals we're selling, which is important, because more customers want to know where their meat comes from."
Despite intense pressure from supermarkets, which control two-thirds of the UK's £151bn grocery sector, traditional retailers opened more outlets in the past two years than they shut. Figures compiled by IGD, which represents the grocery industry, and The Grocer publisher William Reed show that the number of butchers, bakers, farm shops and fishmongers increased by 11 per cent compared with 2008, a rise of 1,791 outlets across the country. The number of farm stores almost doubled to 3,237.
Research by the Local Data Company, which produces a biannual retail vacancy report, found that although overall vacancies are growing, independent retailers are bucking the trend. LDC's Matthew Hopkinson said: "Vulnerable businesses are disappearing and being replaced by service-based retailers offering something that could not be provided online. There are more independents than multiples opening in affluent parts of the country or market towns."
Residents of Dunbar, East Lothian, are clubbing together to open the Dunbar Community Bakery, which will sell bread made on site. Andrew Williams of the trade magazine British Baker said many bakers were "looking to more speciality products to drive growth back into the industry".
Roger Kelsey, who heads the National Federation of Meat and Food Traders, said some people had used redundancy cash to open a butcher's shop, but warned: "It's a very chancy exercise." Local-food champion Henrietta Green added: "There are an awful lot of new places opening up. How long they survive is another matter."
Although fishmongers are finding life tougher, London's Billingsgate Seafood Training School has seen a surge in demand for its fishmonger courses. Andy Gray of the industry body Seafish said: "There's been a bit of a resurgence. Some fishmongers had success by moving to online sales. But where you get multiples nearby, some have gone out of business."
Richard Ford of The Grocer warned of a supermarket fightback: "Big retailers are pouring money into their fishmonger and butchery, and doing more artisanal bread. Independents are facing increased competition."
The baker
Andrew Auld, 37, worked in public relations before opening The Loaf, in Crich, Derbyshire, two years ago with his partner Roger Bode, 46
"I'd never been trained as a baker, but was passionate about bread and had always wanted to run a shop. We'd both come from unrelated careers: Roger was in BBC management. I taught myself through internet forums and from books. It wasn't the best time to open a business, but we've had steady growth ever since, so much so that we recently opened a second shop. Our breads are additive-free and priced competitively; customers have weekly orders. And personal service is really important. We have a café too. People are realising that the white pap we buy from supermarkets may last for three weeks, but that's because it's been pumped full of chemicals. Although Crich is a tiny village with only about 1,600 households, it has a thriving butcher, greengrocer, chemist and post office, so people see it as a destination place to shop."
Join our commenting forum
Join thought-provoking conversations, follow other Independent readers and see their replies