Ten northern projects George Osborne is auctioning off in China
Osborne is trying to tempt Chinese investors into plugging billions into British transport, energy and infrastructure projects
Hazel Sheffield
Thursday 24 September 2015 13:58 Comments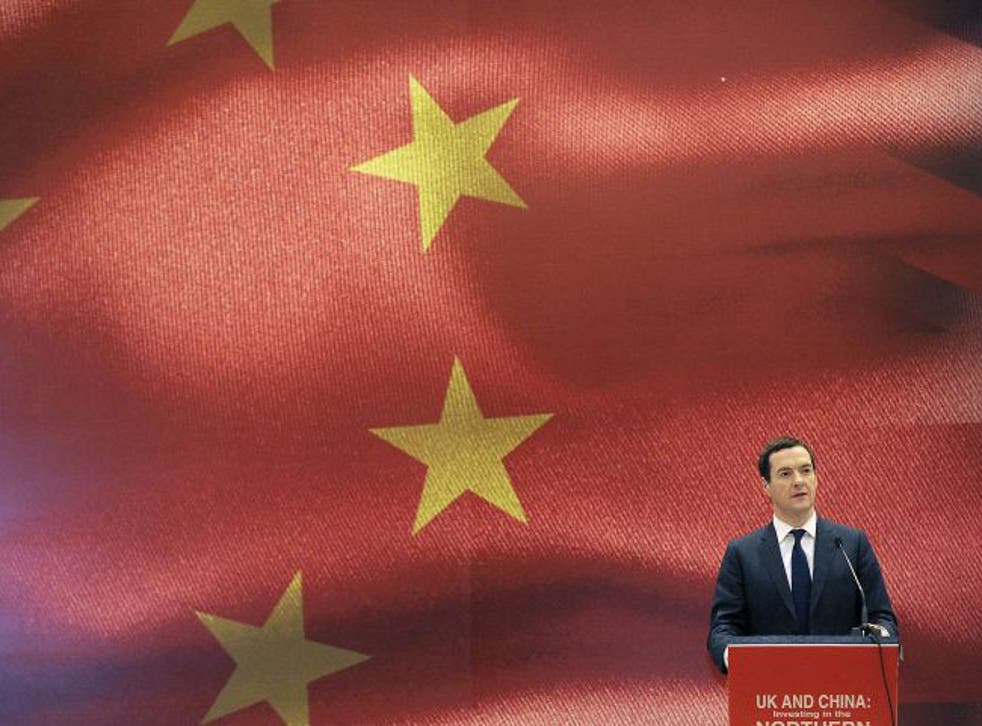 George Osborne, the Conservative Chancellor, is in China this week with a brochure of projects for Chinese investors.
Osborne is trying to tempt China into plugging billions into British transport, energy and infrastructure projects to transform the north in the coming decades.
"I'm here in China with a delegation of business leaders to present this pitch book, showcasing £24 billion worth of projects that are available for investment – covering a huge spectrum of industries from housing to energy, and science to shipping," Osborne says.
He points out that Chinese investment has already supported the £800 million development of Manchester City Airport.
"This book highlights other large-scale exciting opportunities for further cooperation between our two countries," Osborne says.
These are the projects up for grabs:
1. Birmingham City investments, Birmingham
£10-50 million in 2015
Denise Li, president at GlobalChina Wealth Management Company, told the Birmingham Post that a Chinese consortium plans to spend between £10 million and £50 million in 2015 and treble that the year after. The projects could stretch to Birmingham Smithfield development at the Wholesale Markets, regeneration around Curzon Street Station and the Icknield Port Loop residential quarter, the Post said.
2. Sheffield Retail Quarter, Sheffield
£480 million
From 2017-2021, Chinese cash will be used to build homes and offices in a new retail quarter in Sheffield.
3. New Chinatown, Liverpool
£400-500 million
Osborne wants £400-500 million for 1000 new homes in the UK's oldest Chinatown.
4. Preesall Gas Storage
£400m
Halite just got planning permission to open the UK's largest on-shore underground gas storage facility in Lancashire, worth £660 million. The project has been subject to a 12-year planning dispute from local people worried about an explosion, among other disputes. Now it has planning permission, eight years of construction are about to begin.
5. South Bank, Leeds
£1.5 billion
A regeneration scheme covering more than 130 hectares in the city centre worth £1.5 billion.
6. Science Central, Newcastle
£2 billion
Science Central, a 24 acre city-centre development in Newcastle, which is being designed as a "living laboratory" where "solutions" to cities can be tested and commercialised, according to the Science Central website.
7. Hinkley Point Nuclear Plant
£2 billion
EDF, the energy admitted this week that China General Nuclear Corp (CGN) and China National Nuclear Corp (CNNC) were some of the only investors in two nuclear reactors at Hinkley Point – because no one else wanted to be involved.
8. Manchester Place, Manchester
£3 billion
Three new zones of more than 10,000 homes with a combined value of over £3 billion, with construction starting in the summer of next year.
9. HS2 High Speed railway
£11.8 billion
Osborne is seeking £11.8 billion for seven contracts needed to build the first phase of HS2 high speed railway between London and Birmingham – before the scheme has received planning approval in Parliament.
10. Atlantic Gateway, Manchester and Liverpool
Up to £75 billion
A series of projects connecting the Port of Liverpool to the City of Manchester. According to the prospectus, by 250,000 jobs will be created in this area, involving £14 billion of new investment, by 2030. Among the projects in the business prospectus:
• Expansion of the Sci-Tech Daresbury science and research base
• Expansion of the port facilities at the Port of Liverpool, Port Salford, and Port Warrington
• Improving rail connectivity across the North of England
The full 'pitch book' is available via the Treasury.
Register for free to continue reading
Registration is a free and easy way to support our truly independent journalism
By registering, you will also enjoy limited access to Premium articles, exclusive newsletters, commenting, and virtual events with our leading journalists
Already have an account? sign in
Join our new commenting forum
Join thought-provoking conversations, follow other Independent readers and see their replies