Tesco: Serious Fraud Office will not charge former boss Philip Clarke over £326m accounting scandal
The ex-chief executive was at the helm when a huge hole emerged in the company's accounts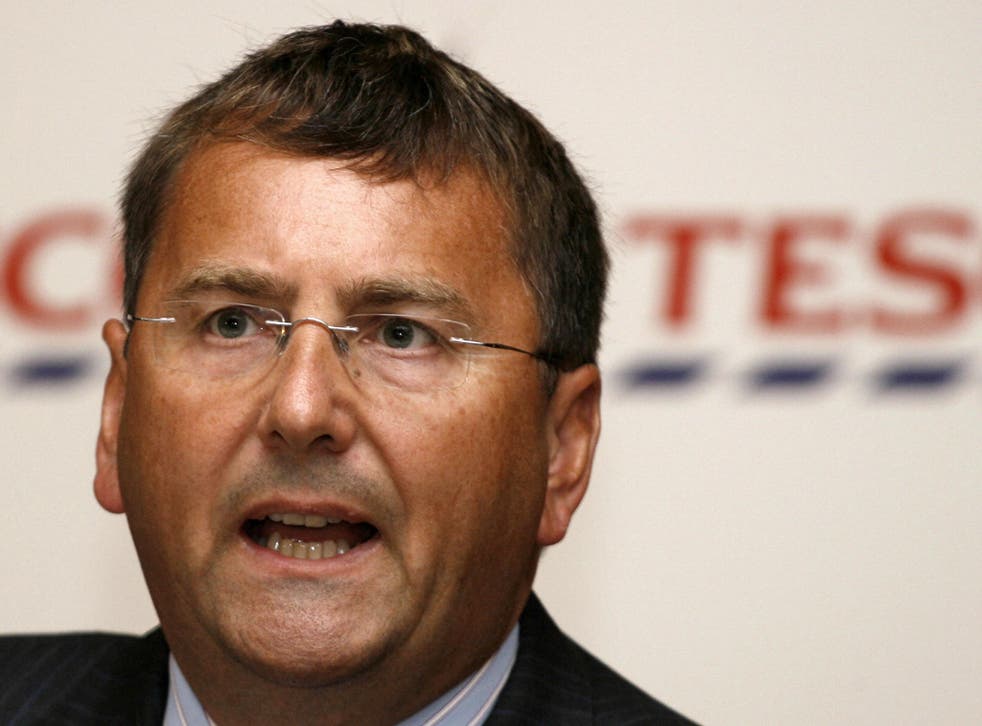 Former Tesco boss, Philip Clarke, will face no charges from the Serious Fraud Office (SFO) over a £326m accounting scandal at the company.
A huge hole emerged in the books when Clarke was chief executive after the retailer artificially enhanced its reported profits by forcing suppliers to accept late payments for goods.
The SFO told Mr Clarke that "following a thorough review of the evidence obtained… it has been decided not to initiate criminal proceedings on the grounds there is insufficient evidence to provide a realistic prospect of conviction," David Corker, Mr Clarke's lawyer said on Monday.
Clarke was sacked in 2014 after three years of declining sales at Britain's biggest supermarket chain.
The SFO charged three former senior Tesco executives with false accounting and fraud by abuse of position. Christopher Bush, ex-UK managing director, Carl Rogberg, former finance director, and former commercial director for food John Scouler have indicated they will enter not guilty pleas when they stand trial in September 2017.
However, the SFO's investigation into Tesco itself remains ongoing. Key to bringing charges against the company, as opposed to the executives individually, was a prosecution of Clarke. UK law requires a "directing mind" to be responsible for fraud, meaning a top-level executive or board member.
While the chief executive would certainly constitute a directing mind, the law is ambiguous on whether the other lower level men charged would be senior enough to make the company liable if they are found guilty.
When the three men appeared before Westminster Magistrates Court on 22 September, the charges read to them stated: "Between the first day of February and September 23rd, 2014, you abused your position as senior employees of Tesco PLC and Tesco Stores Ltd, in which you were expected to safeguard but not act against the financial interests.
"You did so dishonestly and intending to make a gain for yourself, or expose another to a loss."
All three men pleaded not guilty.
In January the supermarket watchdog found that Tesco deliberately and repeatedly withheld money owed to suppliers to boost its sales performance artificially, in a serious breach of supermarket regulations.
Biggest business scandals in pictures

Show all 20
A group of 124 investment funds holding Tesco shares is currently suing the company, alleging they lost millions because they bought shares on the basis of misleading accounts. The shares have lost almost half of their value over the last three years, partly due to the revelation that profits had been inflated.
Those shares have begun a rebound after the company reported its fastest sales growth since 2013 this month. In October Tesco recorded its first growth in market share since 2011.
Accountancy firm PwC, which audited Tesco's accounts from 1982 until it was axed by the supermarket in January 2015, remains under investigation by the Financial Reporting Council for its role in the scandal. The alleged fraud did not come to light until a whistleblower alerted the board to the scale of the problem.
The Groceries Code Adjudicator also said that the supermarket would encourage suppliers to give it extra cash in return for more control over where products appeared on shelves or to avoid losing out to rivals. In the weeks leading up to Tesco's results presentations to the City and investors, buyers were also encouraged to push suppliers even harder to accept payment delays in order to flatter the sales figures, according to the findings.
Join our new commenting forum
Join thought-provoking conversations, follow other Independent readers and see their replies