Tesco's range of 'fake farm' foods helps to boost sales
The supermarket's fresh range was criticised in March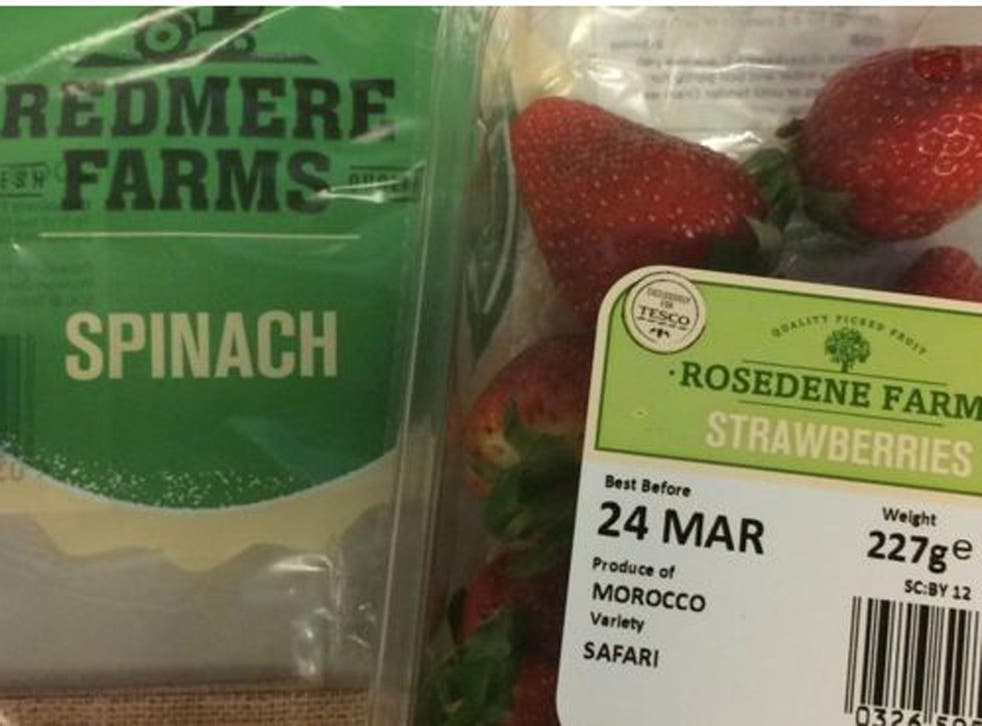 Tesco has attributed its second straight quarter of sales growth in part to its fresh "farm food" range, which has proved popular with shoppers even though the products are named after farms that do not exist.
"Our new fresh food brands are performing very well, with over two-thirds of our customers having bought products from the new range," chief executive Dave Lewis said in a statement accompanying the results.
Lower prices across all products as well as improved store processes have also boosted results, the retailer said.
The supermarket's fresh range, currently leading sales to higher volumes, was criticised on social media in March when it was revealed that all the farms named on the packaging were entirely made up.
Willow Farms whole chicken, Boswell Farms diced beef, and Rosedene Farms blueberries were all found to come from manufacturers with no relation to the names on the packaging of the final product. Some of the foods were imported from overseas and given British names to make them sound local.
At the time, Tesco said the products are sourced from a selection of farms and growers, from small, family-run farms to large scale operations, that meet its standards.
"We know customers want the convenience of getting all their shopping in one place. These seven new brands, which are exclusive to Tesco, address our customers' needs for quality fresh food, at very competitive prices in a single shop," a spokesperson for Tesco said.
It appears the controversy has now been forgotten as two-thirds of Tesco's customers have already tried the range, in line with the retailer's expectation.
"With rebuilding trust at the forefront of Tesco's project to regain lost customers, much was made of the fact that its new 'Farms' fresh food brands are named for non-existent farms and give the impression of having been sourced in the UK, despite many of them being sourced from overseas," said David Alexander, senior analyst at Verdict Retail.
"While the naming controversy provoked something of a media storm, this may have been lost on customers. After all, the strategy is similar to that employed by Aldi and suggests that for most shoppers, the perception of provenance is sufficient, provided the products are perceived to be good value," Alexander added.
Tesco said the launch of its exclusive fresh food brand has helped the retailer to meet more of its customers' shopping needs.
Shoppers are able to save nearly £1.60 or 17 per cent off the cost of a typical basket of 10 of the most popular meat, fruit and vegetable lines by choosing to buy products from the new ranges, according to the retailer.
Mr Lewis said the company's results are encouraging in what remains a challenging market.
The supermarket's like-for-like sales were up 0.3 per cent in the 13 weeks to 28 May in the UK. The group sales, which include its businesses in Ireland, Europe and Asia, were up 9 per cent.
"We are encouraged by the progress we are making. By growing volumes, transforming the way we work together with our suppliers and further optimising our store operating model we are rebuilding profitability in a sustainable way," he added.
Food and drink news

Show all 35
Tesco also said it had agreed to sell its Harris & Hoole coffee shop chain to Caffe Nero.
Britain's big four supermarkets have faced constant competition from the rise of German discounters Aldi and Lidl, which continue to win customers with their low prices and increased store numbers.
Amazon has also launched its Amazon Fresh food delivery service in central and east London putting further pressure on UK's grocers.
Join our new commenting forum
Join thought-provoking conversations, follow other Independent readers and see their replies