The 10 things to watch in business on Monday September 21
Alexis Tsipras' left-wing Syriza party won Greece's election Sunday night; Zurich Insurance exits £5.6 bn takeover of UK rival RSA.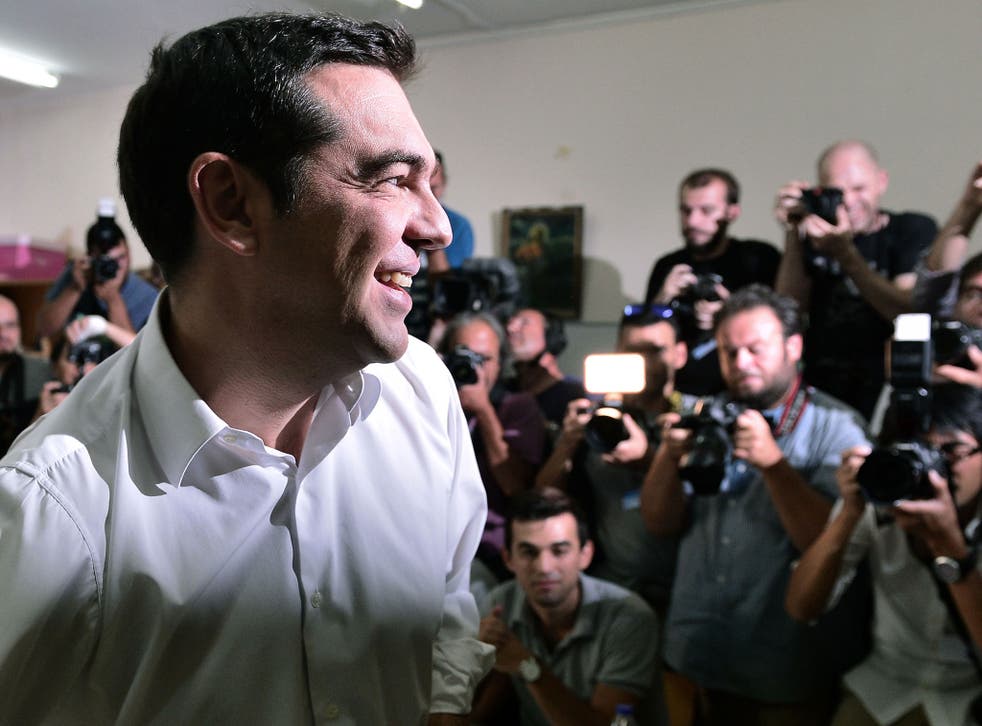 1. Alexis Tsipras' left-wing Syriza party won Greece's election Sunday night and will form a coalition government with the Independent Greeks
2. Stocks in Asia were lower on Monday following Wall Street's lead after the US Federal Reserve's decided not to raise interest rates last week.
- Australia's benchmark S&P/ASX 200 index was down 2.57 per cent at 5,037.80 points in early trade.
- While South Korea's Kospi was down 1.45 per cent at 1,967.10.
- Japan's Nikkei  was down 1.96 per cent
- Hong Kong's Hang Seng 1.3 per cent lower.
3. Zurich Insurance exits £5.6 billion takeover of UK insurance rival RSA. The company said it was facing a $250 million (£161 million) hit from the devastating series of explosions in the Chinese port of Tianjin last month while problems in its wider general insurance business would result in a "negative impact" of $300 million (£194 million).
4. Nick Clegg, the former deputy prime minister, will warn on Monday that the UK risks being broken up if Britons vote to leave the European Union in the referendum due before the end of 2017. The Scottish National Party would use an exit from the bloc as a springboard to push for an independent Scotland, Clegg will say, according to extracts of a speech released by his office.
5. India needs lower interest rates, and the central bank must decide how much to cut, Finance Minister Arun Jaitley said.
6. Britain pledged £2 billion on Monday for a nuclear plant set to be built in England by a consortium, including Chinese firms, which would be the country's first such new power station in decades.
7. HSBC plans to add 4,000 staff in China's Pearl River Delta region over the next three to four years to grab retail banking and wealth management business. That would contrast with the bank's three-year plan to cut global headcount by some 50,000 and reduce annual costs by up to $5 billion. HSBC is shifting investment to Asia, its best-performing region, while cutting unprofitable divisions, Bloomberg reports.
8. Apple was hit by a rare malware attack in China. The company said it is taking steps to remove a malicious program found in a number of applications used by owners of iPhones and iPads in China.
9. Retailer French Connection reported revenue to have fallen to £76 million from £84 million.
10. Volkswagen has ordered an external investigation after US regulators found software the carmaker designed for diesel cars gave false emissions data, its CEO said on Sunday. The company's share fell 10 per cent.
Register for free to continue reading
Registration is a free and easy way to support our truly independent journalism
By registering, you will also enjoy limited access to Premium articles, exclusive newsletters, commenting, and virtual events with our leading journalists
Already have an account? sign in
Register for free to continue reading
Registration is a free and easy way to support our truly independent journalism
By registering, you will also enjoy limited access to Premium articles, exclusive newsletters, commenting, and virtual events with our leading journalists
Already have an account? sign in
Join our new commenting forum
Join thought-provoking conversations, follow other Independent readers and see their replies