David Cameron urged to follow French example and ban UK supermarkets from wasting food
Plans to force supermarkets into recycling more waste appeared in the Labour Party manifesto at the last election, but were later scrapped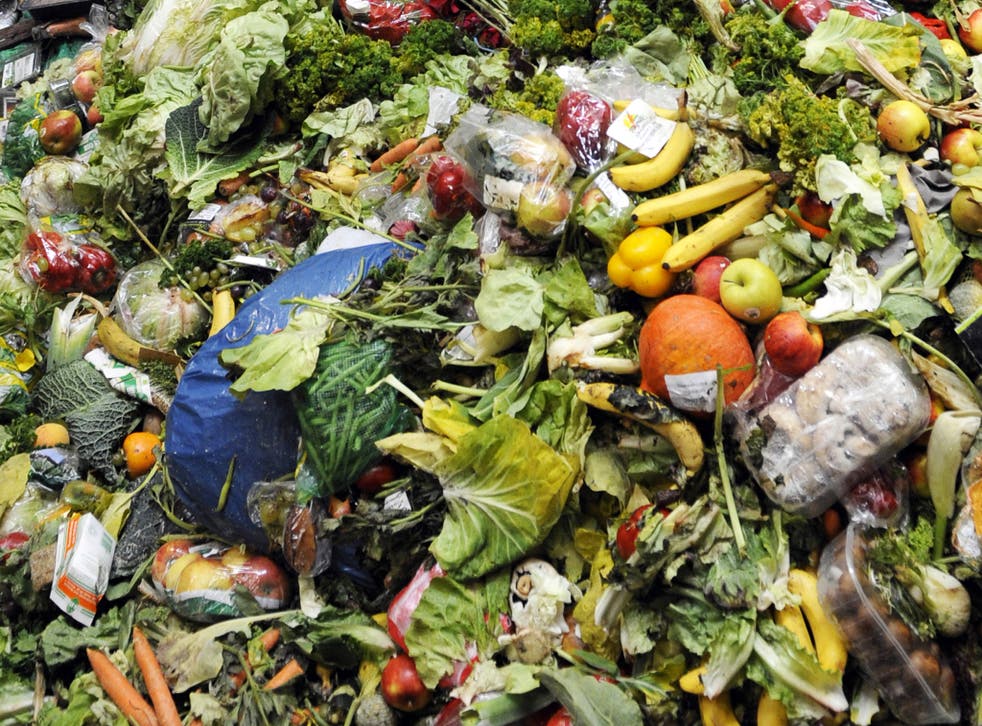 Pressure is mounting on the UK Government to introduce legislation to ban supermarkets from sending unsold food to landfill.
On Wednesday, France introduced a law that bans supermarkets from throwing away waste food – instead forcing them to donate it to charities and food banks or face a fine of €3,750.
French Supermarkets must now donate unwanted food to food banks or face a fine of up to €3750.
Now, charities are calling on similar legislation to be passed in the UK.
"The excuses given for not doing it are very weak," Philip Simpson, commercial director at ReFood, told the Independent.
Plans to force supermarkets into recycling more waste appeared in the Labour Party manifesto at the last general election, but were later scrapped.
Mr Simpson says the policy dropped because it would cost the Government millions in landfill tax.
"The whole food waste debate was dragged into the tax arena and it was removed from the manifesto," Simpson said.
The manifesto was altered after the Conservatives released a dossier claiming that the food waste ban would cost £477 million.
Labour said that the ban idea was based on "an out of date quote" issued by a former shadow environment secretary, Mary Creagh, in 2013.
Labour said in a statement at the time: "This is not Labour's policy – it was not agreed at Labour's National Policy Forum in 2014."
The Independent has asked the Labour Party if it would consider supporting calls to introduce legislation similar to the French model.
The UK is far worse than the rest of the EU when it comes to food waste. A 2014 inquiry found that 89 million tonnes of food are wasted across the EU annually. The UK is the worst culprit, dumping 14 million tonnes a year, or twice the EU average.
Half of this comes from UK households.
Supermarkets have faced scrutiny of their food waste practices. Hugh Fernley-Whittingstall's War On Waste has inspired several campaigns for people to eat more wonky vegetables. Asda has become the first UK supermarket to sell wonky vegetable boxes for £3.50 in 128 of its stores.
But the latest data available, visualised by Statista, show that food waste is costing the UK £2.94 billion.
It's also polluting the environment. The decomposition of solid waste in landfills results in the release of methane, a greenhouse gas 21 times more potent than carbon dioxide.
France cracks down on food waste in supermarkets
Scotland passed regulations on waste in 2012 requiring all businesses producing over 50kg of food waste per week to get it recycled.
"We've had meetings with Defra. They say that in England and Wales voluntary objectives will do the job. In England it's disappointing. Far and away the biggest part of the UK is doing nothing," Simpson said.
The UK Government has a voluntary agreement with retailers and food manufacturers called the Courtauld Agreement.
"Leading UK retailers and manufacturers – representing over 90 per cent of the grocery market by sales – have signed up to our voluntary Courtauld Commitment, which has contributed to a 15 per cent reduction in total household food waste since 2007," a Defra spokesperson said.
Business news: In pictures

Show all 13
Where the supermarkets stand on food waste
Waitrose
A spokesperson said: "Since 2013 we've had a commitment to send no food waste to landfill (there will be small exceptions, for example a broken glass jar in a shop, which has food in it when cleared up.)"
• Waitrose sends surplus food from 50 per cent of branches to almost 100 chartities and social enterprises.
• Employees are given discounts on food that is on its last day of shelf life.
• Anaerobic digestion, where unsold food is sent off to create electricity, is considered a last resort
Sainsbury's
A spokesperson said: "In June 2013, we achieved our target of putting all store waste to positive use meaning nothing goes to landfill."
• When suppliers send too much, Sainsbury's sends it to charity.
• Sainsbury's marks down items first, then sends anything that won't sell but is still safe to eat to its Food Donation Partners.
• As a last resort, food is sent to make animal feed or to anaerobic digestion plants
Morrisons
Morrisons did not respond to requests for comment on how much food waste it sends to landfill.
• On its website, it offers guidance to customers on how to reduce household waste.
• It also works with charities to use up surplus food and donates unsold food to charities where possible.
Tesco
Tesco said it achieved zero food waste direct to landfill in 2009 and uses the following hierarchy to decide what happens to unsold food.
• Reducing to clear foods close to their expiry date
• Donating unsold food to charities through FareShare.
• Bakery waste is converted into animal feed for livestock and our chicken fat and cooking oil is converted into biodiesel.
• Left overs are sent for anaerobic digestion or incineration. We have achieved zero food waste direct to landfill since 2009.
Asda
As of 2014, no Asda stores send food direct to landfill.
• Asda has an agreement with FareShare, a food charity, to redirect surplus food to those who need it most.
• Any waste is sent to be made into pet food or converted into energy at anaerobic digestion plants.
Lidl
A spokesperson said: "Our total food waste is less than 1 per cent of our total turnover."
• Lidl chooses not to print a 'best before date' on many of our fruit and vegetables.
• Surplus food is collected by charity partners and are redistributed to vulnerable and needy communities.
Aldi
A spokesperson said: "None of our food waste goes to landfill. We donate surplus food to FareShare and to other smaller local regional food distribution charities."
Register for free to continue reading
Registration is a free and easy way to support our truly independent journalism
By registering, you will also enjoy limited access to Premium articles, exclusive newsletters, commenting, and virtual events with our leading journalists
Already have an account? sign in
Register for free to continue reading
Registration is a free and easy way to support our truly independent journalism
By registering, you will also enjoy limited access to Premium articles, exclusive newsletters, commenting, and virtual events with our leading journalists
Already have an account? sign in
Join our new commenting forum
Join thought-provoking conversations, follow other Independent readers and see their replies