Thorntons has been bought by Ferrero Rocher maker for £112 million
The buyout brings to an end one of the toughest eras in the chocolatier's history
Simon Neville
Tuesday 23 June 2015 11:13 Comments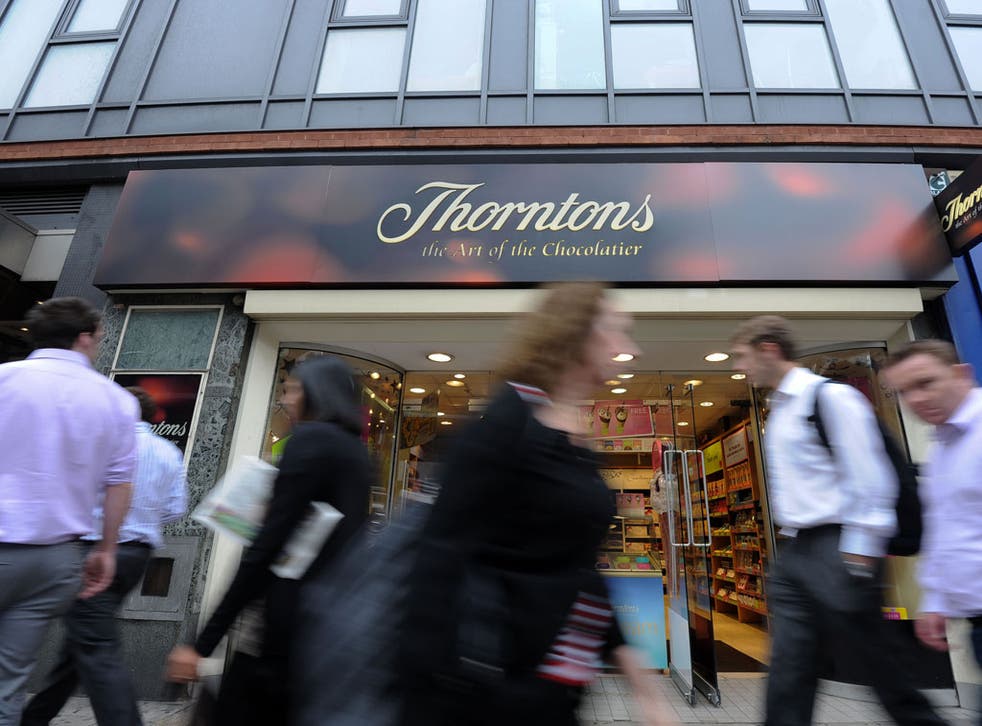 The new owner of Thorntons could use the struggling retailer's chain of 242 stores to start selling its own chocolate direct to the British public for the first time.
Ferrero, the Italian chocolatier behind Kinder Eggs, Nutella and Ferrero Rocher, has only ever sold chocolates through supermarkets in the UK, but with a £112m bid almost certain to be accepted by Thorntons' shareholders, that could change.
The deal for the business was unveiled on Monday, with Ferrero offering 145p a share for Thorntons – a 43 per cent premium on the share price on Friday evening – and was accepted by the largest shareholder and the company's board. Shares in Thorntons jumped 43.5p to 145p on the news.
Ferrero now has a 29.9 per cent stake in Thorntons. However the good news for investors, who have suffered years of underperformance and profit warnings, was not shared with the company's 3,500 employees, as the new owner failed to reveal whether the stores would close. Bosses did say the company intends to keep the Thorntons factory in Alfreton, Derbyshire, open, in an attempt to ward off any comparisons with Kraft's takeover of Cadbury's, with its job losses and factory closures.
Lamine Lahouasnia, head of packaged food research at Euromonitor International, suggested that the stores could be safe if Ferrero use the sites to its advantage.
"What Ferrero has historically lacked is a retail platform suitable for some of its more premium offerings," he said. "The Thorntons' store network will provide the company with the opportunity to add a more directly experiential approach to its strategy.
"If all goes well with absorption of Thorntons stores in the UK, we could see similar happenings around the world in years to come."
The new Thorntons owners will meet the current management to conduct a review of the business, to see whether to continue with the ongoing programme of shutting stores and focusing more heavily on sales to supermarkets through its FMCG division.
The plan suffered a setback at Christmas when two of its biggest customers, Tesco and Morrisons, drastically cut orders from Thorntons, leading to a profit warning. The chief executive, Jonathan Hart, stepped aside in May.
Retail analyst Matthew McEachran at N+1 Singer said: "This will probably be well received and would be a satisfactory end to what otherwise has been a disappointing stock over the past year."
Ferrero could be forced to reveal more details of its plans for the future of the business, after the UK Takeover Panel tightened up rules on foreign takeovers following Cadbury's sale to Kraft.
At the time, Kraft said it would keep Cadbury's Somerdale factory open, but changed its mind a week later.
Ferrero said it also wants to keep the Thorntons brand and has "great respect" for its history and heritage.
Register for free to continue reading
Registration is a free and easy way to support our truly independent journalism
By registering, you will also enjoy limited access to Premium articles, exclusive newsletters, commenting, and virtual events with our leading journalists
Already have an account? sign in
Join our new commenting forum
Join thought-provoking conversations, follow other Independent readers and see their replies