The Independent's journalism is supported by our readers. When you purchase through links on our site, we may earn commission.
Uber's attempt to avoid regulation by being 'indispensable' has failed, says top Government adviser
Exclusive: Matthew Taylor says that Uber must engage much more actively with authorities to be able to operate in a way that complies with regulation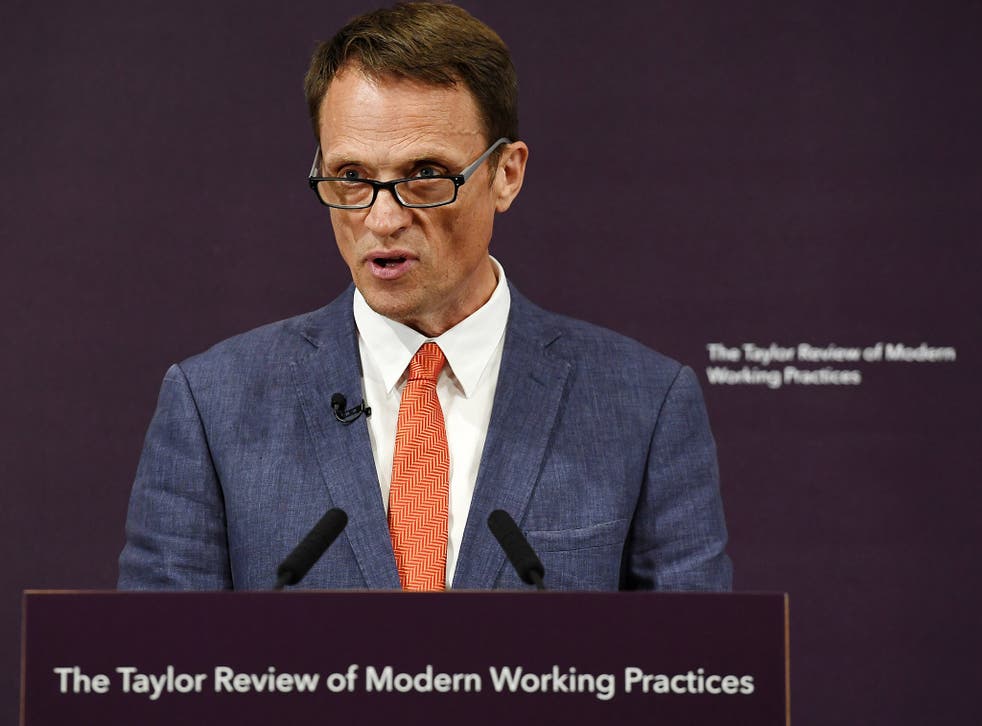 Uber has failed in its strategy to become so indispensable that regulators would be unwilling to crack down on its practices, the author of a government review into employment culture and the sprawling gig economy, has said.
In a shock decision at the end of September, Transport for London announced that it would not automatically be renewing Uber's operating licence in the city, potentially putting the jobs of a 40,000-strong fleet of drivers at risk.
Speaking to The Independent on Tuesday, Matthew Taylor said that the ride-hailing group's approach had been to "become so indispensable" that no regulator would be able or willing curb its activities.
TfL's decision, he said, meant that "the notion that this is even possible" had been "dispelled".
The former policy chief to Tony Blair said that companies such as Uber cast a spotlight on the risks associated with insecure work and so-called "side hustles". They underscore the desperate need for a stricter policy network, he said, especially considering how many people are being drawn to this kind of work.
Uber, whose global chief executive Dara Khosrowshahi was due to meet representatives from TfL on Tuesday to discuss licencing, has until later this month to appeal the authority's decision.
It's not the first time that Mr Taylor has blamed Uber of being standoffish with authorities.
In the past, he's accused the Silicon Valley-giant of keeping regulators at arms' length. On Tuesday he said that Uber has to engage much more actively with authorities to be able to operate in a way that complies with all laws and regulations.
Mr Taylor, who is chief executive of the Royal Society of Arts, published his widely anticipated review into working practices in July.
At the time it was cautiously welcomed by some employment lawyers and campaigners, but unions attacked it for not going far enough to clamp down on unethical practices, especially within the rapidly evolving gig economy.
Mr Taylor told The Independent that since publishing the report he had become aware of several relatively easy additional measures not included in his original recommendations that could be implemented by the Government to protect employees from unjust working conditions.
One example, he said, would be for the Government to keep a list of accredited human resource advice providers and set up a helpline for companies lacking expertise on the matter – especially small and medium-sized firms.
"In most cases, employment tribunals are accidental," he said. Providing more resources and educating SMEs could resolve many issues before they escalate, easing the burden on the legal system, he added.
At the end of July, the Supreme Court ruled that workplace tribunal fees are unlawful, forcing the Government to repay more than £27m forked out by employees for cases around unfair dismal, discrimination and other workplace issues since July 2013.
The move was hailed by unions as a historical victory at the time, but several lawyers warned that an influx in cases could overwhelm and clog up the legal system, resulting in massive delays to cases that are brought.
Mr Taylor was speaking at the launch of a new report by internet domain company GoDaddy showing that 20 per cent of UK employees are likely to start a "side hustle" alongside their full-time job in the next two years.
Commenting on that report, Mr Taylor said that freelance work, working for oneself and the gig economy were important features of the UK economy but a comprehensive policy frame work is crucial. "We need to ensure that people are complying with the rules," he said.
Register for free to continue reading
Registration is a free and easy way to support our truly independent journalism
By registering, you will also enjoy limited access to Premium articles, exclusive newsletters, commenting, and virtual events with our leading journalists
Already have an account? sign in
Join our new commenting forum
Join thought-provoking conversations, follow other Independent readers and see their replies