Uber shares tumble 7% on stock market debut
Taxi firm gets a rough ride after opening below expectations on Wall Street
Ben Chapman Comments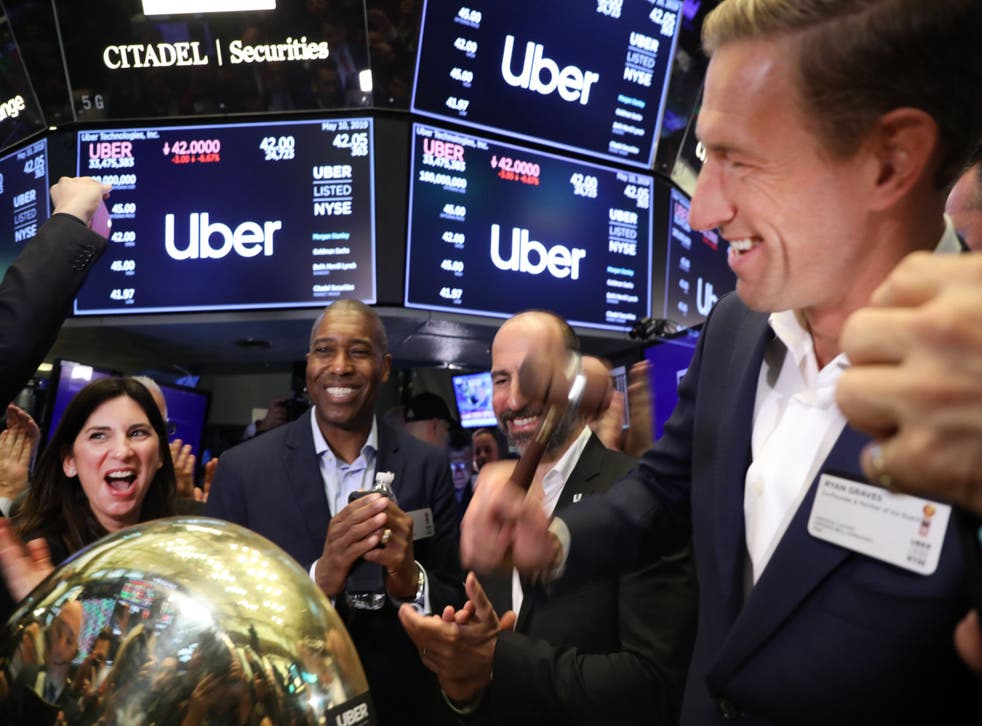 Uber's much heralded debut on the New York Stock Exchange (NYSE) began with disappointment on Friday as its shares fell below an already reduced offering price.
The taxi firm's stock opened 7 per cent lower than planned at $42 after the opening bell on Wall Street, before beginning to climb as trading got underway.
Still, that means Uber is worth around $80bn despite never having turned a profit and warning last month that it might never do so.
Uber lost $3bn last year and $9bn since it was founded – large even by the standards of Silicon Valley tech start-ups.
But it managed to pull off the third-largest US stock market float in history, behind only Facebook and Chinese e-commerce firm Alibaba. The share sale gives Uber another $8.1bn of cash to fund its global expansion plans.
While the feat will no doubt be seen as a triumph for Uber, its valuation is a third lower than the $120bn that investment bankers had said the company was worth just last year.
That was then lowered to $90bn when Uber last month and then $82bn earlier this week.
A host of regulatory battles, increasing disquiet from drivers about pay and workers' rights, along with doubts about the ability of ride-hailing firms to make money have lowered the hefty price tag.
Uber's closest rival Lyft has seen its shares tank since listing six weeks ago. Meanwhile, jitters about an intensifying trade battle between China and the US have prompted caution among investors.
All major share indices fell on Friday after the world's two largest economies failed to reach a deal on tariffs which had hoped to be wrapped up this week.
Uber co-founders Travis Kalanick and Garrett Camp were present at the NYSE but absent from the podium as the opening bell was rung by one of the company's first employees and current director, Ryan Graves. The pair cashed out more than $300m between them on Friday by selling small slices of their respective stakes.
Both retained the majority of their shares and became billionaires in an instant, with Mr Kalanick's stake worth around $5bn.
Questions will remain about Uber's profitability but its eye-watering valuation is based on rapid growth above all else.
Revenues surged 42 per cent last year to $11.3bn on the back of a staggering 5.2 billion trips on its taxi and food delivery services.
Chief executive Dara Khosrowshahi told CNBC that Uber investors are in it for the long haul.
"Today is only one day. I want this day to go great, but it's about what we build in the next three to five years," he said in an interview with CNBC. "And I feel plenty of pressure to build over that time frame."
Protesters gather as Uber challenges 'worker' status ruling in landmark gig economy case
Uber is dealing with a potential $12 trillion market, Mr Khosrowshahi said.
He predicted that younger generations will not want to own cars. "I think more and more you're going to have transportation on-demand services – essentially, de-bundle the car. They're going to want to push a button and get the transportation they want."
The company also envisages itself as a logistics company, connecting truckers with loads, in much the same way it already connects passengers with rides. But it will have to deal with a number of problems before its ambitious vision is to be realised, particularly its treatment of drivers, many of whom protested ahead of Friday's initial public offering to show their dissatisfaction with the deal they are getting.
Register for free to continue reading
Registration is a free and easy way to support our truly independent journalism
By registering, you will also enjoy limited access to Premium articles, exclusive newsletters, commenting, and virtual events with our leading journalists
Already have an account? sign in
Join our new commenting forum
Join thought-provoking conversations, follow other Independent readers and see their replies