Uber ordered to pay drivers minimum wage in landmark case
Drivers are entitled to sick pay, holiday pay and other benefits, tribunal rules
Ben Chapman
Friday 28 October 2016 14:04 Comments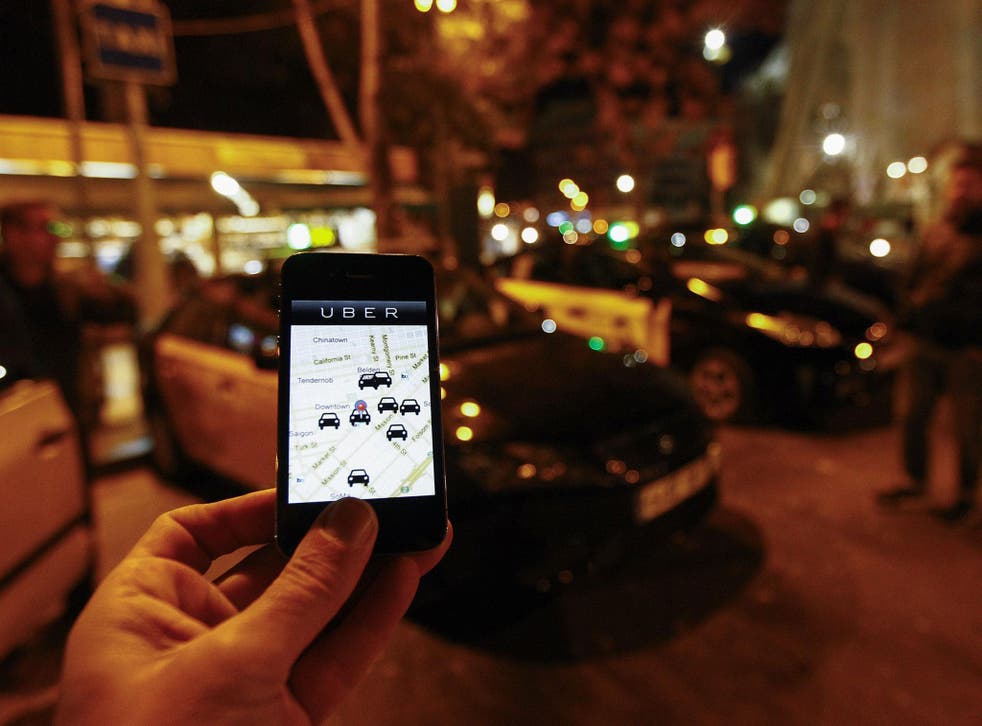 Uber drivers are entitled to receive the National Minimum Wage and holiday pay because they are workers, not self-employed, a London employment tribunal has ruled.
In a landmark case that has implications for millions of workers, the tribunal rejected Uber's argument that the drivers do not work for Uber, but merely use its technology.
As workers they are entitled to essential rights, such as sick pay and holiday pay. The case will affect 40,000 Uber drivers.
The ruling is a "green light for others in the gig economy to come forward and make similar claims", Frank Ryan an employment lawyer at Vardags said.
The scathing judgment said Uber resorted to "fictions, twisted language, and even brand new terminology," in its contracts.
Judges said the "notion that Uber in London is a mosaic of 30,000 small businesses linked by a common 'platform' is in our minds faintly ridiculous", adding that Uber's arguments were "absurd".
"We are satisfied that the the supposed driver/passenger contract is a pure fiction which bears no relation to the real dealings and relationships between the parties," the judgment read.
It is the first time Uber has faced legal action in the UK over whether its drivers are workers or self-employed.
The GMB union, which brought the case, described the ruling as a "monumental victory".
Nigel Mackay of law firm Leigh Day, which represents the drivers, said he was "delighted" with the verdict.
"This judgment acknowledges the central contribution that Uber's drivers have made to Uber's success by confirming that its drivers are not self-employed but that they work for Uber as part of the company's business," Mr Mackay said.
Business news: In pictures

Show all 13
"This is a ground-breaking decision. It will impact not just on the thousands of Uber drivers working in this country, but on all workers in the so-called gig economy whose employers wrongly classify them as self-employed and deny them the rights to which they are entitled."
Uber will now have to fund costly benefits and may look to offset these by increasing its commission, or the fares it charges to customers, experts said. The company can appeal the decision and experts say that this is almost a certainty.
Black cab drivers will welcome the news. They have struggled to compete with the San-Francisco-based firm, which they say is subject to far less stringent regulation.
Aye Limbin Glassey, employment partner at Shakespeare Martineau, said other industries would also be affected:"The ruling will not only impact Uber but a whole number of other industries and businesses which use self-employed workers. It is by no means the end of the issue – continued pressure from trade unions calling for tighter regulations means that the Uber ruling will likely be a catalyst for further scrutiny."
Jo Bertram of Uber said: "Tens of thousands of people in London drive with Uber precisely because they want to be self-employed and their own boss.
"The overwhelming majority of drivers who use the Uber app want to keep the freedom and flexibility of being able to drive when and where they want. While the decision of this preliminary hearing only affects two people, we will be appealing it."
The drivers, James Farrar and Yaseem Aslam, had said their actions were controlled by Uber, so therefore they were employed by the company.
The Department for Business, Energy and Industrial Strategy said the government had commissioned an independent review into modern working practices to ensure that rules reflect modern working patterns.
A series of scandals have highlighted the erosion of workers rights. Earlier this year, Sports Direct was found to have been paying workers, many of whom were on zero-hours contracts, less than minimum wage. MPs accused the company of implementing "Victorian workhouse" conditions.
Meanwhile, parcel delivery firm Hermes is alleged to have set unrealistic delivery times for its self-employed drivers meaning they earned less than the minimum wage.
Research by the Resolution foundation found self-employed workers are paid less now than they were two decades ago,
The news comes after official figures revealed this week that, despite the economy recovering to its pre-financial crisis peak the average salary is lower now than it was 12 years ago.
Register for free to continue reading
Registration is a free and easy way to support our truly independent journalism
By registering, you will also enjoy limited access to Premium articles, exclusive newsletters, commenting, and virtual events with our leading journalists
Already have an account? sign in
Join our new commenting forum
Join thought-provoking conversations, follow other Independent readers and see their replies