UberEats couriers to strike in London over pay dispute
UberEats drivers follow Deliveroo couriers by taking strike action over their pay structure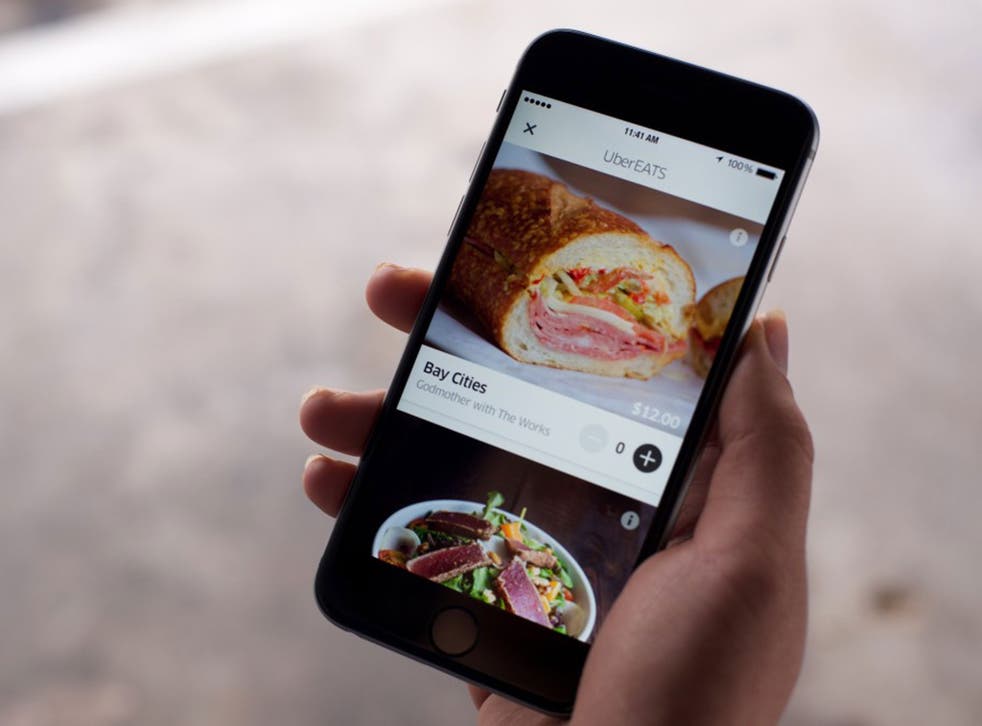 Hundreds of couriers for UberEats, Uber's food delivery service in London, are planning an all-day strike on Friday over low pay, in the latest sign that unrest among workers in the sharing economy is growing.
The news comes after couriers from rival food delivery service Deliveroo protested outside the company's headquarters in London over proposed changes in the way they were paid, earlier this month.
Matt Gingell, an employment law partner at Gannons solicitors, told The Independent that the Deliveroo strike may well have had a "knock on effect".
"These UberEats drivers are also questioning their pay deals. There does now seem to be a growing impetus within the UK gig economy for individuals to challenge their work status," he said.
UberEats has drastically reduced couriers' rates since the service launched in the capital in June, according to the Independent Workers Union of Great Britain which helped organise the strike together with United Voices of the World Union.
Workers are now calling for UberEats to implement payment rates equivalent to a living wage of £9.40 an hour.
Couriers claim rates have been drastically cut from £20 per hour when they joined in June. UberEats, which offers no guaranteed minimum income, now pays £3.30 per delivery or less during off-peak hours and around £6.30 to £7.30 per delivery during peak hours, minus a 25 per cent fee taken by the company.
"It's a scam. Although they speak of 'flexibility' the bosses at UberEats have been cutting pay since day one. We're telling them we need the London Living Wage," Imran Siddiqui, scooter courier for UberEats, said.
Siddiqui also said UberEats does not offer any sick pay meaning couriers have to take a week of holiday when they are ill or injured.
Alex Czarnecki, general manager at UberEats, said the company is committed to being the best option for couriers in London.
"Unlike other companies we don't set shifts, minimum hours or delivery zones – couriers can simply log in or out when and where they choose. This is why we've seen hundreds of new couriers sign up in the last week alone," Mr Czarnecki said.
"As UberEats grows couriers are busier than ever. In fact so far this week couriers delivering lunch and dinner have made over 10 per cent more an hour than they did in the same period last week. Our office is open and our team is always available to chat to couriers," he added.
On average, couriers take home more than the London living wage at meal times, UberEats said.
Biggest business scandals in pictures

Show all 20
But Mags Dewhurst, the chair of the Independent Workers Union of Great Britain's couriers and logistics branch, said UberEats is becoming less and less rewarding to work for.
"By paying a piece rate, they are saying they only want to pay for work when they can make a profit out of it. They are saying work is only when someone is making a delivery, but people are providing a service to the company when they are standing around waiting for orders. Without that, UberEats wouldn't be able to function," they said.
Join our new commenting forum
Join thought-provoking conversations, follow other Independent readers and see their replies