UBS profits slump 64%, missing estimates
UBS shares have tumbled about 15% this year, while Credit Suisse has lost 33%
Jan-Henrik Frster
Tuesday 03 May 2016 08:08 Comments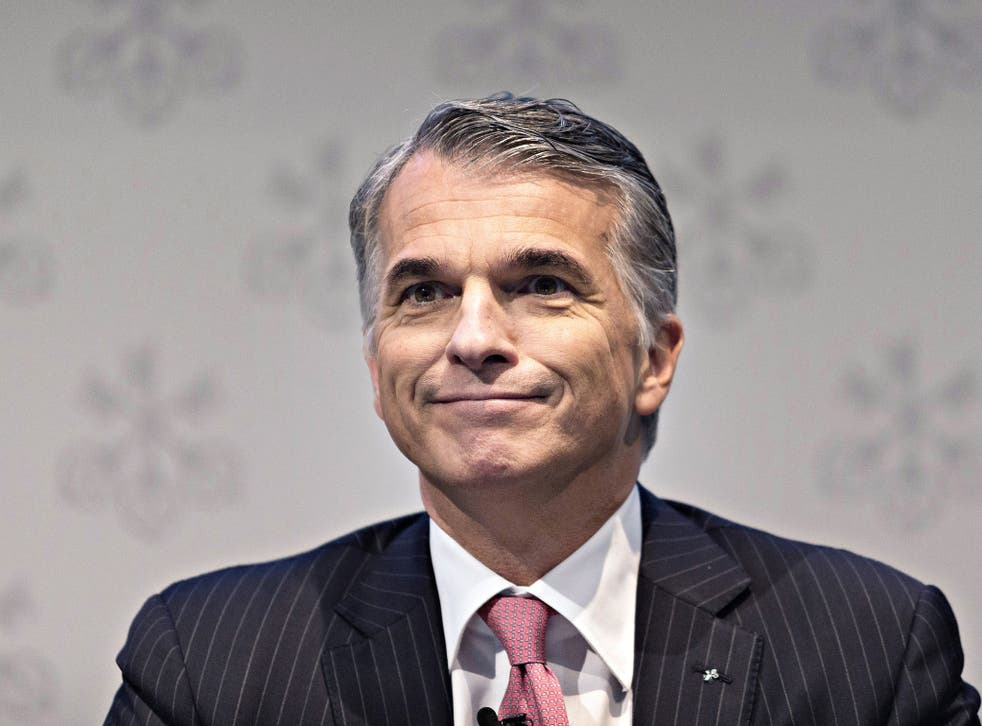 UBS said first-quarter profit plunged 64 per cent, missing analyst estimates, as market turbulence eroded earnings at the wealth-management and securities units.
Net income declined to CHF 707 million ($741 million) from CHF 1.98 billion a year earlier, the Zurich-based bank said on Tuesday. That fell short of the CHF 735 million average estimate of five analysts in a Bloomberg survey.
Chief Executive Officer Sergio Ermotti, 55, who has shifted the bank's focus away from investment banking in favor of wealth management, is struggling with market volatility that led to a slump in trading across the firm. While there has been some stabilization, economic challenges and geopolitical risks continue to contribute to client risk aversion and "are unlikely to be resolved in the foreseeable future," the lender said.
"We definitely entered into a kind of new territory in the first quarter," Ermotti said in an interview with Bloomberg Television's Guy Johnson. "The first quarter was an environment that had only one constant — risk aversion from January 1 until the end of the quarter."
UBS shares have tumbled about 15 per cent this year, while Credit Suisse has lost 33 per cent.
The bank said it is on track to cut costs by CHF 1.4 billion by the end of the second quarter under a plan announced in 2014, with operating expenses decreasing CHF 279 million in the first three months from a year earlier.
UBS plans to take additional efficiency measures at the corporate center, it said in a presentation. The bank will also align the platforms for wealth management and wealth management Americas, it said in the presentation, without elaborating on the impact.
The wealth management division, led by Juerg Zeltner, reported a pretax profit of CHF 557 million, down from CHF 951 million a year earlier as the bank had "the lowest transaction volumes recorded for a first quarter" at the unit. The unit's profit fell short of the CHF 682 million average estimate of six analysts compiled by Bloomberg News.
The investment bank posted a 67 per cent drop to 253 million francs in profit, missing analysts' estimates of CHF 396 million. Corporate client solutions, the part of the unit that helps clients issue debt and equity and advises on mergers and acquisitions, had a drop in revenues of 39 per cent to CHF 474 million. Investor client services, which houses the trading business, had a drop in revenue of 25 per cent to CHF 1.4 billion.
Business news: In pictures

Show all 13
'More Cautious'
"The outlook wording sounds a bit more cautious than usually," said Tomasz Grzelak, a Zurich-based analyst at MainFirst, with a neutral recommendation on UBS shares. "In our view, the soft start of the financial markets into 2016 continues to bode ill for both the wealth-management unit as well as the investment-banking division."
Wealth management attracted CHf 15.5 billion in net new money in the first quarter, reversing CHF 3.4 billion in outflows in the previous quarter and making for annualized growth of 6.5 per cent. That's above UBS's target of 3 percent to 5 per cent. Asset management saw net outflows of CHF 5.9 billion, with one client pulling CHF 7.2 billion over pricing.
"The very good net new money development is the bright spot in the first quarter after two weak quarters," said Andreas Brun, an analyst at Zuercher Kantonalbank in Zurich, who has a market perform recommendation on UBS shares.
'Challenging Environment'
The bank's CET1 ratio, a measure of financial strength, dropped to 14 per cent, from 14.5 per cent, following a 6 billion-franc increase in risk-weighted assets The leverage ratio increased to 5.4 per cent from 5.3 per cent at the end of last year.
UBS remains in a "very challenging environment," Ermotti said.
"This cocktail of macro issues, macroeconomic issues, geopolitical issues are now coming on," he said. "Potentially, you see a lot of factors that may affect market sentiment and in that sense you might see volatility but it's not the kind of volatility that is translating to client activity. It's a paralyzing volatility."
© 2016 Bloomberg L.P
Register for free to continue reading
Registration is a free and easy way to support our truly independent journalism
By registering, you will also enjoy limited access to Premium articles, exclusive newsletters, commenting, and virtual events with our leading journalists
Already have an account? sign in
Join our new commenting forum
Join thought-provoking conversations, follow other Independent readers and see their replies