Fifth of UK estate agents risk going bust, reveals survey
Online property websites are increasing pressure on bricks-and-mortar estate agents to survive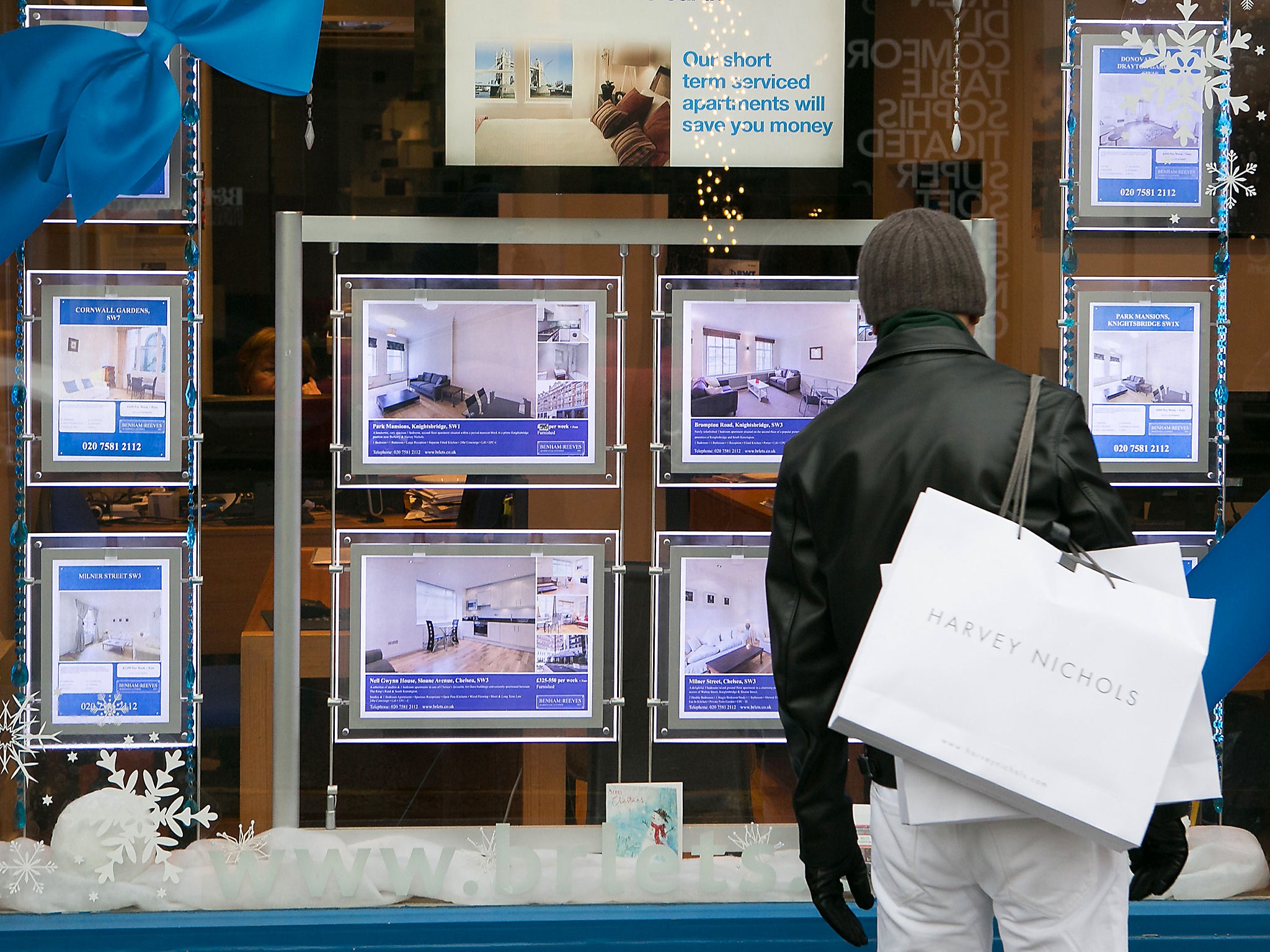 Nearly a fifth of estate agents in the UK are at risk of going bust, new research reveals.
According to a report published by accountancy firm Moore Stephens on Monday, a total of 19 per cent of estate agents – or 4,928 out of the 25,560 across the country – are showing signs of financial insolvency.
The study suggests that the growth of property websites, such as Rightmove and Zoopla, are making the estate agent an increasingly inessential part of the house-buying process. Rather than being forced to go to a bricks-and-mortar professional outlet on the high street, potential buyers are able to view houses and flats independently, often starting with an app or website.
Online estate agents such as Purplebricks and HouseSimple have been putting pressure on more traditional agents, who are likely to have higher building and staffing costs.
Mike Finch, restructuring and insolvency partner at Moore Stephens, said that "traditional high street estate agents' profit margins are being squeezed from both sides – from cut-price online competitors, to their larger counterparts on the high street – who are forcing them to up their spending or give up the race".
"Many areas across the UK are oversaturated with estate agents, and competition is becoming too much for some smaller businesses," he added.
Smaller high street agents are under particular pressure, as larger national businesses are able to spend more on marketing.
The findings come at an already difficult time for estate agents in the UK. The level of property sales is still below where it was before the 2007/8 financial crisis. In the year to March, 1.2 million properties were sold, marking a 32 per cent decrease on the pre-crash high of 1.7 million.
Research from The Royal Institution of Chartered Surveyors released earlier this month found that the number of properties being put on the market fell for the fourth month running in June.
Business news: In pictures
Show all 13
The Moore Stephens report also suggests that more homeowners may be opting to build an extension instead of buying a new property. The number of planning applications rose to 29,654 in the year to the end of March, up from 29,041 during the same period the previous year.
Last Thursday, Countrywide, the largest estate agent in the UK, announced that its pre-tax profits for the first six months of 2017 had plummeted to £447,000, down from £24.3m in the same time the previous year.
The estate agents Foxtons also last week announced a substantial fall in earnings. In the first six months of 2017 pre-tax profit stood at £3.8m, down 64 per cent from the same period in 2016.
Join our commenting forum
Join thought-provoking conversations, follow other Independent readers and see their replies