UK retail sales show biggest decline in 23 years as consumers struggle with austerity measures
Economists said the weak data could not be blamed on bad weather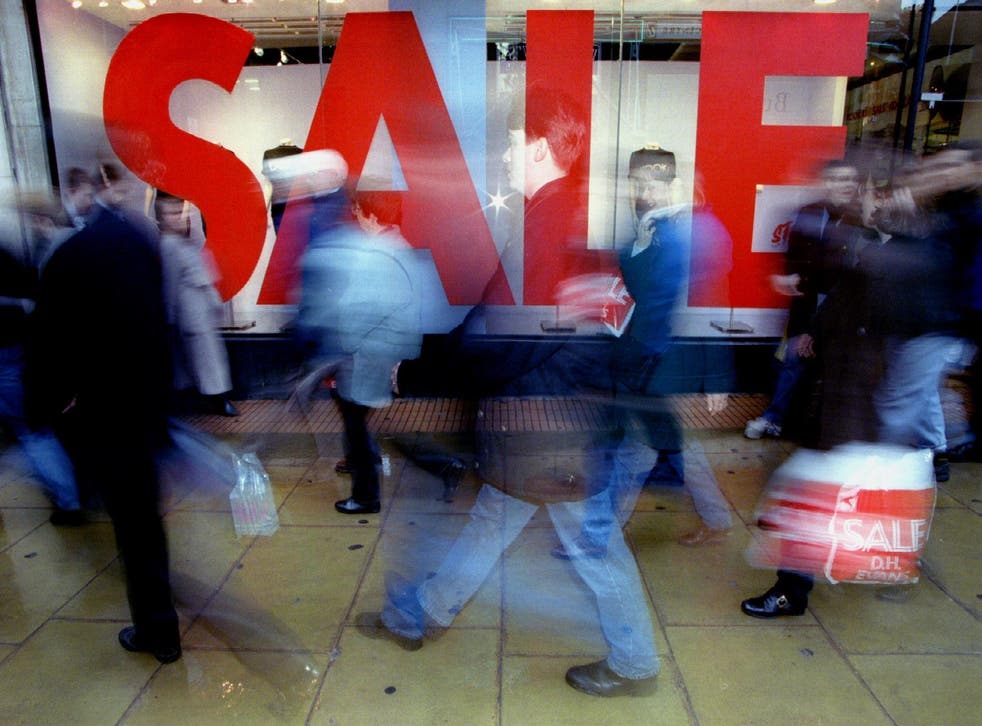 Retail sales fell off a cliff in April, according to new data from the British Retail Consortium (BRC) in a fresh sign that UK shoppers are tightening their purse strings.
Sales dropped by 3.1 per cent compared with April last year, the sharpest decline recorded by the BRC and the auditor KPMG since they began monitoring retail performance in 1995.
While the figure for last month was affected by the early timing of Easter this year – with shoppers doing more buying in March, ahead of the spring holiday – economists still deemed the data a "weak report".
"It is extremely rare for total sales to fall outright; December 2008 was the last time our calendar-adjusted measure of total sales fell for two consecutive months," said Samuel Tombs, chief UK economist at Pantheon Macroeconomics.
"Continued weakness in sales in April can't be pinned on the weather – average temperatures actually were 1.1 degrees celsius above their 1970-2017 April average – or any other one-offs."
Paul Martin, head of retail at KPMG, said: "April's figures show retail sales growth falling off a cliff, with sales down 3.1 per cent on last year, but we must exercise caution and remember that the timing of Easter makes meaningful month-on-month comparisons difficult. That said, the three-month average is more helpful to assess, but this too points to sales only growing modestly – these are indeed testing times for retailers."
Helen Dickinson, chief executive of the BRC, said consumers' discretionary spending power remains under pressure and added: "The reality is that with only a gradual return to solid growth in real incomes expected, the market environment is likely to remain extremely challenging for most retailers."
However, Mr Tombs warned: "The widely anticipated revival in growth in consumer spending is not emerging this year. While wages are no longer falling in real terms, households' incomes were hit in April by another round of austerity measures and a rise in minimum pension contributions.
"In addition, the rise in (interest rates) in November has prompted households to take a more cautious approach to borrowing and has hit the housing market hard, depressing consumers' confidence."
Pantheon Macroeconomics is predicting that households' real spending growth will slow to 0.8 per cent in 2018, down from 1.7 per cent last year.
Analysts at Shore Capital were more optimistic, and said: "We are encouraged that UK living standards are stabilising as real wages are now broadly matching inflation."
However, they pointed to continued tough trading conditions on the UK high street, and highlighted how polarised trading performances have become among retailers, with weaker brands either folding or being forced to cut back to capacity as consumers increasingly do their shopping online.
The BRC's Ms Dickinson said: "The retail industry is undergoing an unprecedented period of change, the impact of which is being laid bare for us all to see across the nation's high streets. Retailers are reacting to this change to ensure it represents a positive reinvention of our industry, investing in technology and innovation and providing digital training to employees to improve the customer experience."
Register for free to continue reading
Registration is a free and easy way to support our truly independent journalism
By registering, you will also enjoy limited access to Premium articles, exclusive newsletters, commenting, and virtual events with our leading journalists
Already have an account? sign in
Register for free to continue reading
Registration is a free and easy way to support our truly independent journalism
By registering, you will also enjoy limited access to Premium articles, exclusive newsletters, commenting, and virtual events with our leading journalists
Already have an account? sign in
Join our new commenting forum
Join thought-provoking conversations, follow other Independent readers and see their replies