UK exports suffer biggest drop since Brexit vote, new ONS figures show
Goods export volumes fell 4.9 per cent in June, the biggest monthly fall since immediately after the 2016 Brexit vote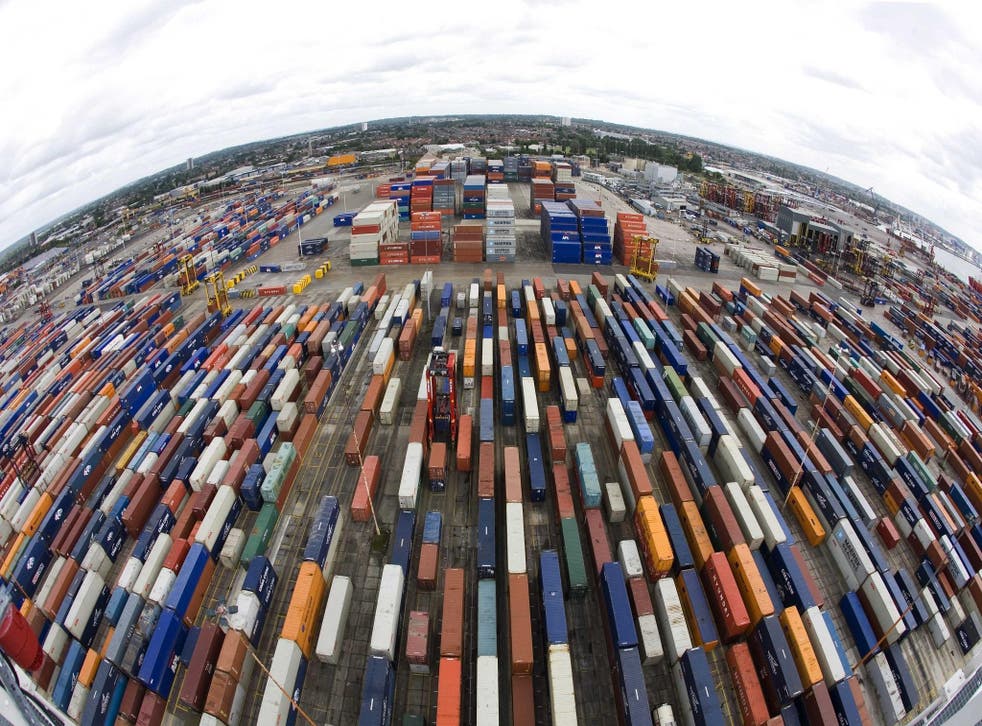 A disappointing performance for exports in June pushed the trade deficit higher than expected according to the latest batch of official data, frustrating hopes of a currency-driven rebalancing of the UK economy.
Manufacturing also stagnated in the month and construction went backwards, adding to the impression of Britain losing momentum as the clock ticks down to Brexit in 2019.
Goods export volumes fell 4.9 per cent in June, the biggest monthly fall since June 2016, while imports were up 1.5 per cent, said the Office for National Statistics (ONS).
That left the goods trade balance for the month at £12.72bn, higher than the £11bn City of London analysts had expected.
Since last June's Brexit vote, goods export volumes, excluding erratic items such as non-monetary gold and aircraft, are up 6 per cent. But over that period import volumes are also up 6.3 per cent, suggesting no contribution to GDP growth from net goods trade.
"This [data] is particularly concerning when you consider the backdrop of a 13 per cent post-Brexit fall in the pound and the significant improvement in global growth prospects, particularly in Europe, a key trading partner for the UK," said James Smith, economist at ING.
"One possible explanation for this is that the impact of the weaker pound has been less pronounced than it might have been 10 to 20 years ago. The increasingly interconnected nature of global supply chains means exchange rate fluctuations are less of a key determinant of competitiveness."
Disappointing exports
The ONS data on exports is in stark contrast with the picture presented by various surveys, which point to strong overseas demand.
The most recent CBI Industrial Trends survey indicated manufacturers' expectations for growth in export orders at a four-decade high.
Manufacturing output was unchanged in June, according to the ONS, in line with City expectations.
Transport equipment output volumes sank by 3.2 per cent in the month, making the largest contribution to downward pressure.
The ONS data shows manufacturing output has not grown in a single month this year.
No growth in 2017 so far
Overall industrial output grew a better than anticipated 0.5 per cent in June, driven by higher oil production.
Construction output is estimated to have fallen 0.1 per cent in the month, following a 0.4 per cent contraction in May.
"June's official output data for industry and construction did nothing to change the impression of an economy stuck in a pattern of sluggish growth," said Howard Archer of the EY ITEM Club.
The overall economy is estimated by the ONS to have grown by 0.3 per cent in the second quarter of 2017, a marginal improvement on the 0.2 per cent seen in the first quarter, but well down from the 0.7 per cent growth in the final quarter of 2016.
The main reason for the slowdown is a sharp fall in consumer spending, as higher inflation, stemming from the pound's slump, has eaten into household incomes.
Register for free to continue reading
Registration is a free and easy way to support our truly independent journalism
By registering, you will also enjoy limited access to Premium articles, exclusive newsletters, commenting, and virtual events with our leading journalists
Already have an account? sign in
Join our new commenting forum
Join thought-provoking conversations, follow other Independent readers and see their replies