Unpaid internships cost graduates '£926 a month'
New research shows that young people are losing out because they can't afford to work for free
Antonia Molloy
Wednesday 12 November 2014 16:35 Comments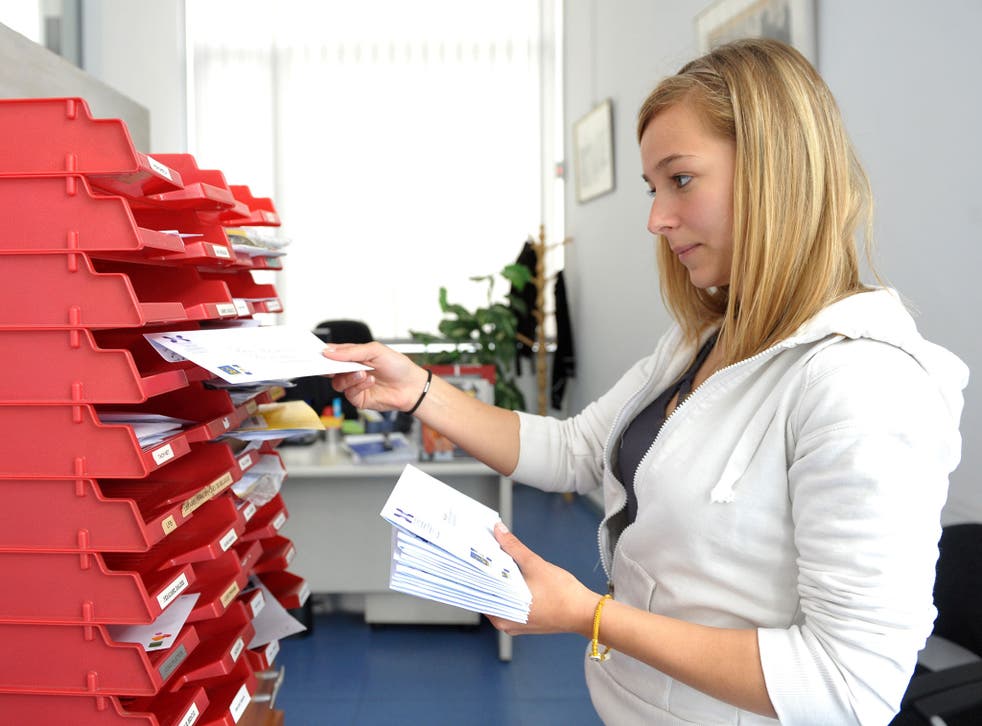 Graduates are struggling to get on the career ladder because they cannot afford to work for free, research suggests.
Almost a third of young people who have recently left university are working as unpaid interns in a bid to improve their job prospects – but many are losing out because the average placement requires them to stump up around £5,000.
At any one time, there are at least 21,000 people working as unpaid interns in the UK, according to a new analysis by the Sutton Trust.
It warned that unpaid internships are increasingly seen as the first step towards a career in highly competitive professions, such as journalism, politics and law.
But a six-month unpaid placement in London costs more than £5,500 excluding transport, while for a similar position in Manchester a graduate would need over £4,700.
The figures come as a new survey conducted by the Trust found that almost seven in 10 people in England believe that unpaid internships are unfair because only those from wealthy families are likely to be able to work for a significant period without pay.
A similar proportion agreed that unpaid internships are unfair because everybody working should be paid some sort of salary.
"Internships commonly represent a first step on the ladder towards a professional career in the most competitive sectors, including fashion, journalism, politics, law, finance and the charity sector," the report says.
"Because these areas are so competitive, employers are often able to offer internships as completely unpaid positions."
The analysis, which draws on available official statistics, says the Government has estimated in the past that there are up to 70,000 interns in the UK at any one time, with up to 15,000 working unpaid.
New calculations carried out by the Trust based on data on recent university graduates indicate that around 31 per cent of graduate interns report working for no pay.
Using the Government's 70,000 figure, this would mean that the total number of unpaid interns in the UK is just under 22,000, the report says.
It goes on to calculate that the total outgoings for an unpaid intern living in London for six months would be around £6,081, with the largest costs being rent and essential bills.
A previous survey suggested that most employers do reimburse interns for their travel expenses. Once these costs are excluded, the total outgoing for six months stands at £5,556 - or £926 a month.
In Manchester, the cost would be £5,078 with transport and £4,728 without - £788 per month.
A Business Department spokesman said: "Leaving education and getting a job for the first time can be daunting for any young person. Internships can provide an important first step and are often a valuable way of helping young people start work. They should be open to everyone in a fair and transparent way.
"Anyone who is a worker is entitled to be paid at least the minimum wage, including if they are an intern. The Government is cracking down on employers who break the law by not paying the minimum wage -- we are naming and shaming offenders and increasing penalties."
The report calls for all internships longer than one month to be paid at least the national minimum wage, which currently stands at £6.50 an hour, and preferably the national living wage, which is currently £7.85 an hour, rising to £9.15 in London.
It also says that internship positions should be advertised publicly rather than filled informally and that the recruitment process should be fair, transparent and based on merit.
Dr Lee Elliot Major, director of development and policy at the Sutton Trust, said: "Unpaid internships are increasingly the gateway to a job in the most competitive professions. But, as today's research shows, the cost of taking on an internship without pay is beyond the means of the vast majority of individuals.
"Paying all interns who work for over a month the minimum wage would significantly improve access to these placements for those from more modest backgrounds, offering them a stepping stone into many coveted jobs, thus increasing social mobility."
Additional reporting by Press Association
Register for free to continue reading
Registration is a free and easy way to support our truly independent journalism
By registering, you will also enjoy limited access to Premium articles, exclusive newsletters, commenting, and virtual events with our leading journalists
Already have an account? sign in
Join our new commenting forum
Join thought-provoking conversations, follow other Independent readers and see their replies