US markets drop as Trump ramps up tension with Russia over Syria
US president sends series of tweets raging at Kremlin after missile threat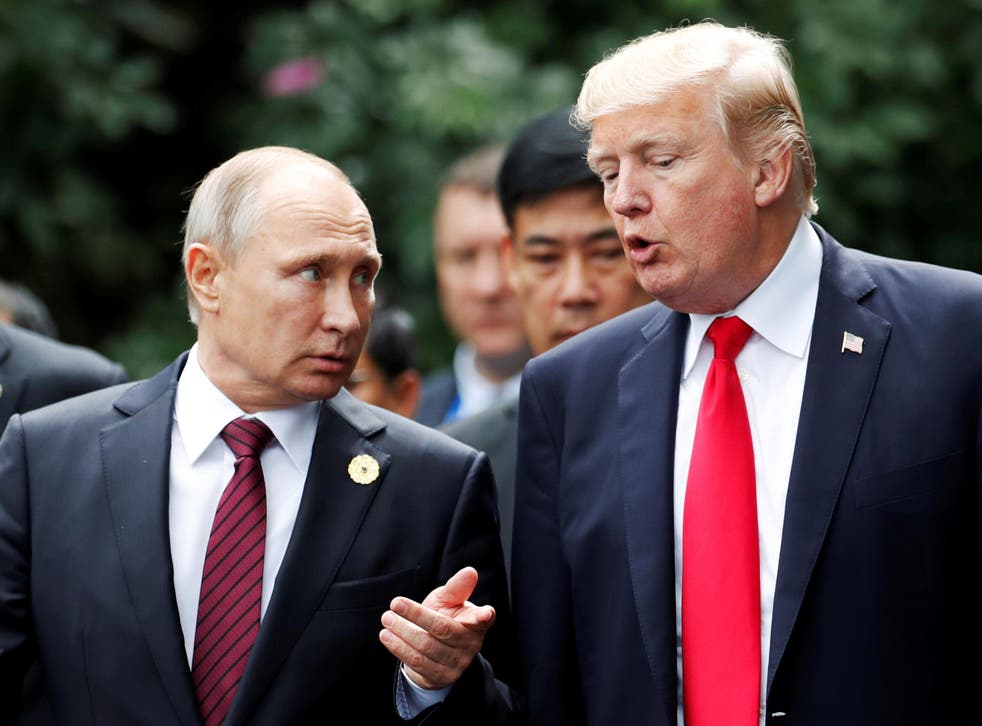 US stocks have fallen after Donald Trump ramped up his anti-Russia rhetoric and warned missiles "will be coming" to Syria.
The Dow Jones fell 0.8 per cent while the S&P 500 dropped 0.58 per cent and the Nasdaq dipped 0.51 per cent.
Mr Trump tweeted on Wednesday: "Russia vows to shoot down any and all missiles fired at Syria. Get ready Russia, because they will be coming, nice and new and "smart!" You shouldn't be partners with a Gas Killing Animal who kills his people and enjoys it!"
He then added: "Our relationship with Russia is worse now than it has ever been, and that includes the Cold War. There is no reason for this. Russia needs us to help with their economy, something that would be very easy to do, and we need all nations to work together. Stop the arms race?"
Mr Trump appeared to be responding to Russia's ambassador to Lebanon, Alexander Zasypkin, who said US launch sites as well as missiles would be targeted in the event of an attack.
His tweets came as US officials consult with global allies over a possibly joint military response to Syria's alleged poison gas attack.
Explaining the effect the US leader's tweets had on markets today, Jasper Lawler at London Capital Group said: "If there's a choice of war, most would prefer a trade war to armed conflict."
He added: "Unfortunately, Syria is in a perpetual state of war and it is not usually something that would factor into an investment decision. World super powers backing either side of the conflict always made Syria a big risk factor but today those risks are starting to manifest.
"Trump's tweet reportedly broke national security procedure, and we think that goes some way to explain why markets have not reacted more violently. Investors have gotten so used to bombasts from Trump that there's a belief he is aiming for 'a deal', even when it comes to war."
Facebook managed to buck the downward trend, with the tech giant's stock inching up as its chief executive and founder embarks on a second day of questions from US politicians, this time fielding enquiries from congress.
Register for free to continue reading
Registration is a free and easy way to support our truly independent journalism
By registering, you will also enjoy limited access to Premium articles, exclusive newsletters, commenting, and virtual events with our leading journalists
Already have an account? sign in
Register for free to continue reading
Registration is a free and easy way to support our truly independent journalism
By registering, you will also enjoy limited access to Premium articles, exclusive newsletters, commenting, and virtual events with our leading journalists
Already have an account? sign in
Join our new commenting forum
Join thought-provoking conversations, follow other Independent readers and see their replies