Vince Cable looks at ways to reclaim taxpayers' cash lost in Comet collapse
How can the Business Secretary ensure that asset-stripping by future unscrupulous investors is no longer possible?
Simon Neville
Monday 04 August 2014 08:14 Comments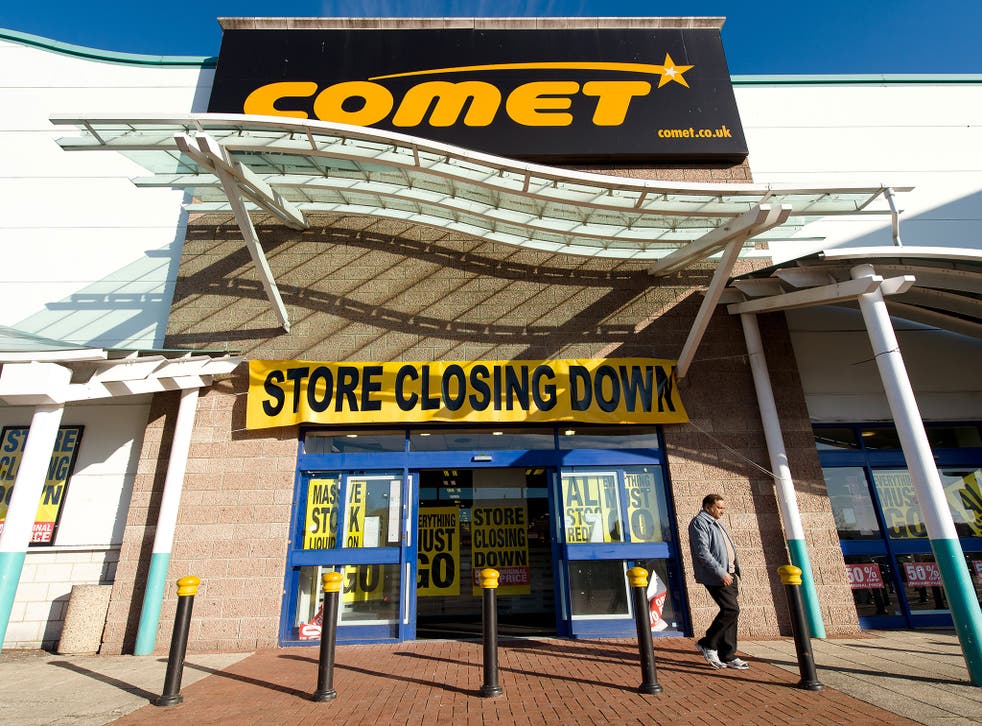 The collapse of Comet was dubbed the biggest raid in British corporate history.
While 7,000 workers lost their jobs as one the country's largest electronics chain collapsed into oblivion two years ago, leaving suppliers, staff and taxpayers out of pocket, private equity bankers walked away with £114m.
But now the Government is looking at ways to launch unprecedented legal action to reclaim taxpayers' cash paid out in redundancies and compensation after the collapse.
A spokesman for the Business Secretary, Vince Cable, said: "The Secretary of State has concerns about the financial burden placed on the taxpayer caused by the collapse of companies such as Comet and is considering the options available."
The decision comes as it emerged that the total compensation bill to the public purse could hit £70m following a recent ruling which found that administrators Deloitte failed to consult with staff properly.
Rules state that staff must be consulted for 45 days and given up-to-date and accurate information on the administration process.
However, a tribunal in June heard that this did not happen because the private equity owner OpCapita, run by controversial financier Henry Jackson, carried out "an old-fashioned corporate raid ... in order to realise a quick and substantial profit". An allegation OpCapita denies.
The ruling ordered that staff must get an additional £26m compensation on top of the statutory redundancy pay, costing the taxpayer £18.4m. Comet also owed HMRC £25m in VAT and other payments, wiped out by the administration.
But for all the fury expressed over the potential £70m bill at the expense of OpCapita, little has been done to clean up the practice to avoid a similar fate befalling other large employers.
Besides looking into legal action against Deloitte, an investigation into Mr Jackson and OpCapita by Mr Cable's department is also under way, which could lead to the US businessman facing disqualification from the board of any UK company.
However, Mr Cable has already faced embarrassment over previous attempts to strip directors of their positions, meaning future decisions will not be taken lightly.
But the question remains – can a collapse like Comet happen again and what safeguards are in place to protect workers and suppliers for unscrupulous owners?
First, we must look at how OpCapita managed to walk away with more than £100m from Comet's collapse.
Mr Jackson, OpCapita and other financiers made its first £50m by taking Comet off the hands of its former owner, Kesa, in November 2011, before starting a major asset-stripping operation.
A shell company called Hailey Acquisitions was set up, with all funds needed by Comet filtering through it, meaning if Comet failed, the first people to get their "loan" back would be the people behind Hailey Acquisitions – Mr Jackson and friends.
According to the recent tribunal, just six months after buying Comet, OpCapita realised that the company was struggling and looked at ways to raise money from shutting stores – sell the products, then strip the costs of rents, rates and salaries by closing them down.
Then, in October 2012, Comet asked Hailey Acquisitions for £14m to pay its suppliers as usual. However, this time it was denied and Mr Jackson said he also wanted all loans paid back immediately.
Comet did not have the cash and subsequently went bust. Closing-down sales at stores raised millions, but OpCapita and its investors took all the cash as secured creditors.
Staff, suppliers and the taxman were "unsecured" creditors and received none of the £232m owed to them.
Under the law, the Government must pay employees statutory redundancy pay when a firm goes bust. But Deloitte's mistakes, according to the tribunal, must also be picked up by the taxpayer.
So far, there are no plans to change the law, so asset-stripping by future unscrupulous investors is possible.
Sources close to the Government have suggested ministers would prefer to take on individuals and corporations on a case by case basis, rather than change the law, but they also insist that more is being done than ever before to tackle similar behaviour.
And what of OpCapita and Mr Jackson? Since Comet's collapse, the 49-year-old American has kept a low profile, spending much of his time and money funding his wife Stacey's pop career with some success.
But last month, OpCapita took advantage of stock market fever by putting the formerly-bust retailer Game on to the London Stock Exchange. Perhaps learning lessons from the past, the newly formed Game Digital has been left in rude financial health and was valued at £340m. But the flotation also showed OpCapita doing what it does best – the firm pocketed more than £100m from the sale.
All eyes now turn back to the Government and its ongoing investigation into Mr Jackson and OpCapita and follows an announcement two weeks ago that three Deloitte administrators – Christopher Farrington, Nicholas Edwards and Neville Kahn – have been referred to the accountancy watchdog and could see their licences stripped.
And with both OpCapita and Deloitte denying any wrongdoing, this two-year saga looks far from over.
Register for free to continue reading
Registration is a free and easy way to support our truly independent journalism
By registering, you will also enjoy limited access to Premium articles, exclusive newsletters, commenting, and virtual events with our leading journalists
Already have an account? sign in
Join our new commenting forum
Join thought-provoking conversations, follow other Independent readers and see their replies