VW emissions scandal: Carmaker rejects call to compensate EU drivers
German company admits cheating in the US but says it will not pay diesel car owners in Europe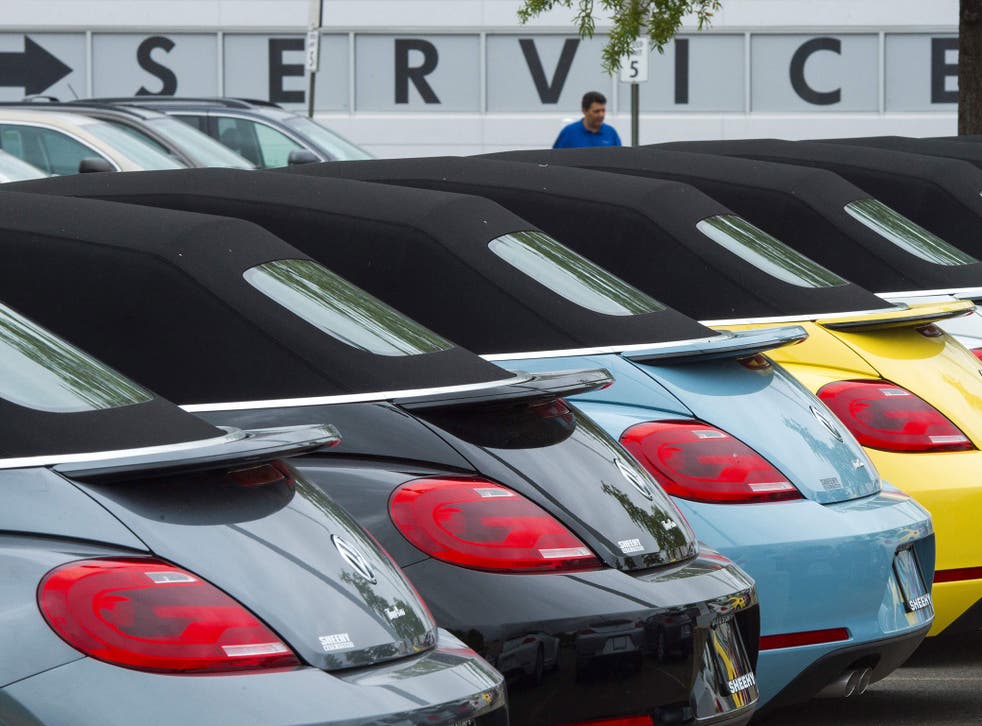 European carmakers have pleaded for time and understanding after the European Parliament announced a special inquiry into the Volkswagen emissions scandal that erupted last year.
A cross-party committee of 45 MEPs will spend 12 months examining how VW was able to rig emissions tests with so-called "defeat devices" – software that cosmetically cut nitrogen oxide (NOx) exhaust emissions during regulators' examinations. It will also look at whether the German car company was given political cover by the European Commission and national governments in the EU.
But Dieter Zetsche, the chairman of Daimler and head of Mercedes-Benz Cars, said that the industry was committed to cleaner cars. "Let me be clear: we fully accept our responsibility to bring down emissions," he said in Brussels. "But rushing new measures will fail to bring the intended results."
Mr Zetsche – who is also the president of the European Automobile Manufacturers' Association (ACEA) – blamed the scandal on the vague testing requirements. "We recognise what has gone wrong," he added. "By definition, by physics, you get more emissions by full acceleration and a full load, at low temperatures and climbing a hill, than on a flat autobahn."
Up to 11 million VW diesel vehicles worldwide are thought to have been fitted with software to mask NOx emissions. The European Parliament's inquiry will also look into whether governments knew about the defeat devices before the scandal emerged and why there were no defined penalties in place to deter such cheating.
"Something has gone badly wrong and I hope this committee will find out why EU law has not been upheld," said Guy Verhofstadt, the former Belgian prime minister, who heads the parliament's Liberal group. The French centre-right MEP Françoise Grossetête was more conciliatory, saying: "This inquiry should not turn into an inquisition court, but instead come up with ideas for solutions."
The inquiry is part of the parliament's wider response to the scandal. This week, MEPs postponed until next month a planned vote on a controversial deal hammered out by EU governments to set looser "real driving emissions" (RDE) test limits.
The vote was delayed amid accusations of industry pressure on Europe's big car-producing nations: MEPs say the deal would allow diesel cars to emit more than double the 80mg/km NOx standard, and some experts say it would even be illegal under EU law.
NOx, common in diesel exhaust, is carcinogenic component of smog and contributes to climate change. While the US Department of Justice is suing VW for up to $46bn (£32bn) for allegedly violating environmental laws, there are currently no legal initiatives in Europe against the German firm. However, the EU's Industry Commissioner, Elzbieta Bienkowska, wrote last week to VW's chief executive, Matthias Müller, saying that European car owners also had a right to compensation.
VW rejected her demand, arguing that there were no grounds to replicate its US compensation programme in Europe.
"We are concentrating in Europe on the repair and service process," the company said after a meeting between Mr Müller and Ms Bienkowska in Brussels.
"The situation in the US and Canada is not automatically comparable with other markets in the world. Therefore, this action [the compensation scheme] cannot simply be rolled out in other markets."
Join our new commenting forum
Join thought-provoking conversations, follow other Independent readers and see their replies