Wages rise faster than inflation, but Bank of England fears pay slowdown
Average pay rose by 1.8 per cent in the quarter to November, the Office for National Statistics said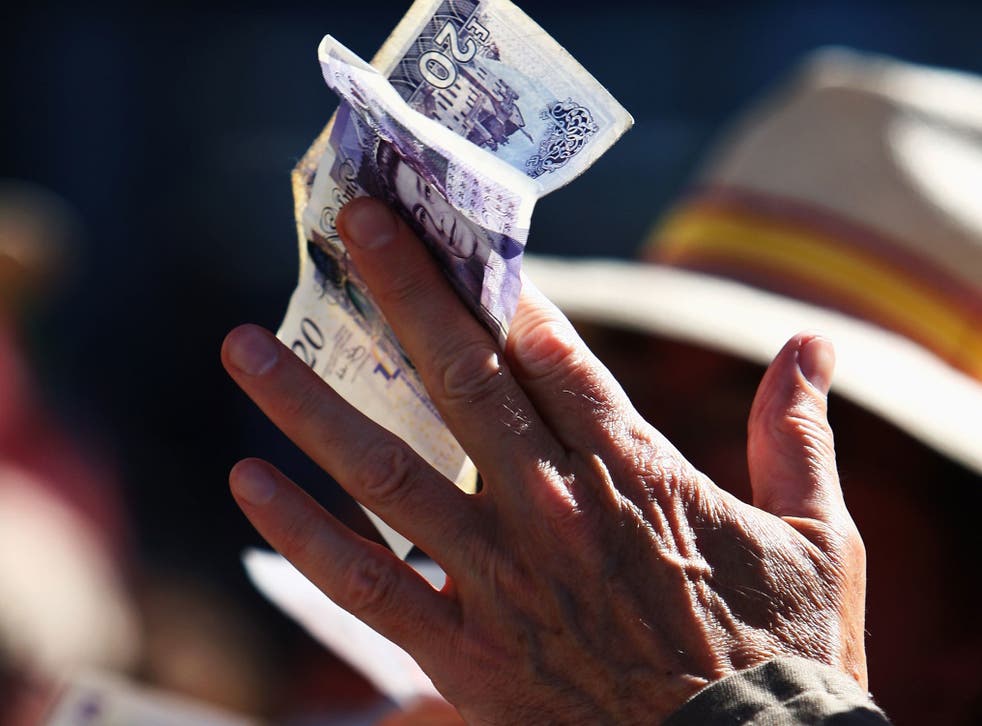 Average pay is rising at more than three times the cost of living according to official figures – but the Bank of England yesterday hinted the good news may not last.
In a boost to household budgets across the country, average pay rose by 1.8 per cent in the quarter to November, the Office for National Statistics said.
The Bank also hinted at potential weakness ahead as employers negotiate with staff on salaries in a period when Threadneedle Street believes there is a "roughly even" chance the consumer price index benchmark will turn negative.
Two previously hawkish rate-setters – Ian McCafferty and Martin Weale – also dropped their call for an interest rate rise this month. Minutes of January's Monetary Policy Committee meeting warned: "Inflation had fallen globally and was expected to reach its trough in the UK in the early part of the year when a large proportion of pay claims were settled. It was therefore possible that the pace of nominal wage growth would be weaker… and that this would feed into lower subsequent price inflation."
Deutsche Bank chief UK economist George Buckley said: "It will be interesting to see how much downward pressure low inflation rates place on wages during the typical January-April settlements season."
These worries were underlined in single-month data also published by the ONS, showing wage growth slowing to 1.7 per cent in November, down from 1.9 per cent in October. Before the crisis, wage growth was close to 4 per cent.
Matthew Whittaker, chief economist at the Resolution Foundation, warned: "It's not clear what will happen over the medium term. In preparation for a return to target inflation of 2 per cent at some point, it's vital that we see significant and widely shared rises in nominal wage growth through 2015. Pay has been picking up, but it remains a long way short of the level we'd expect to see during normal economic times. Without this rebound we are unlikely to make up the lost ground … before the end of the decade."
The UK's jobs recovery also showed signs of losing steam in the quarter, although unemployment fell to 1.91 million, the lowest for six years. A record 30.8 million people are now in work, but only 37,000 jobs were added over the quarter – the most sluggish rise since March to May 2013. The 58,000 fall in unemployment was also the smallest since July to September 2013, and masked a 30,000 rise in youth unemployment to 764,000, although there was an encouraging 49,000 fall in those out of work for more than a year.
Chris Williamson, chief economist at Markit, said: "The report… confirms survey signals that the economy's growth rate cooled late last year: employment growth has slowed, highlighting increased caution among employers in relation to hiring."
Register for free to continue reading
Registration is a free and easy way to support our truly independent journalism
By registering, you will also enjoy limited access to Premium articles, exclusive newsletters, commenting, and virtual events with our leading journalists
Already have an account? sign in
Register for free to continue reading
Registration is a free and easy way to support our truly independent journalism
By registering, you will also enjoy limited access to Premium articles, exclusive newsletters, commenting, and virtual events with our leading journalists
Already have an account? sign in
Join our new commenting forum
Join thought-provoking conversations, follow other Independent readers and see their replies