US fund manager fires lawyers for handing Donald Trump 'an unprecedented invitation to corruption'
Morgan, Lewis & Bockius said the President's son could run his father's multi-billion dollar organisation and this would not be a conflict of interest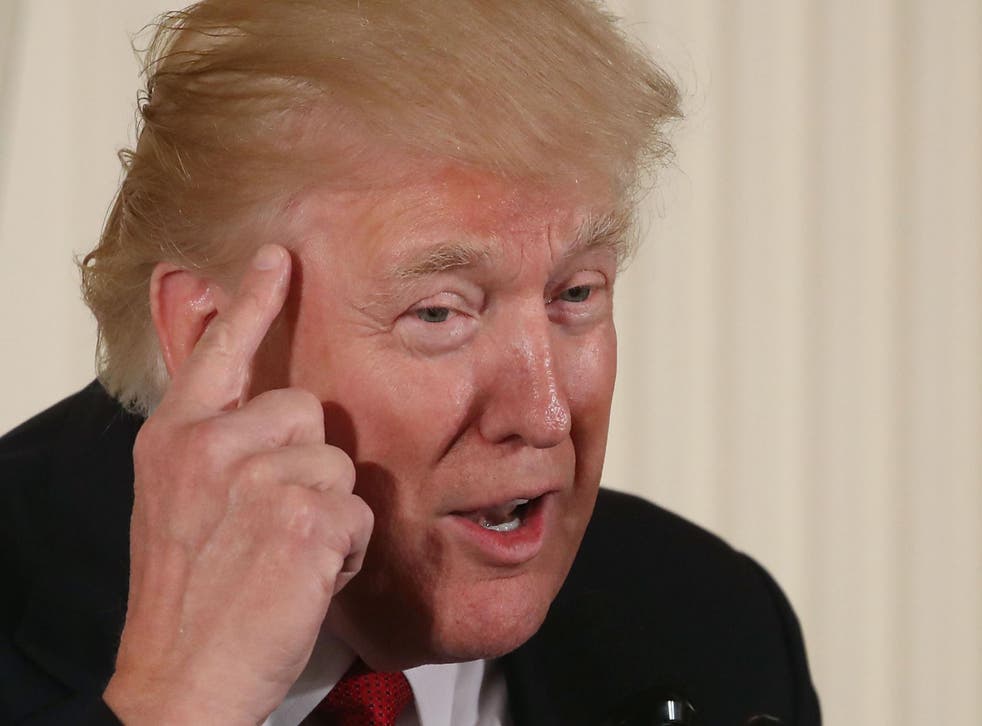 A US fund manager has terminated its contract with a law firm, saying that the company enabled Donald Trump to continue with massive conflicts between his business empire and his public role.
In a scathing rebuke of Morgan, Lewis & Bockius, which also advises the US president, Wallace Global Fund attacked the law firm for signing-off on Mr Trump's son running his father's multi-billion dollar organisation.
In a letter sent late last week, the investment company's chairman, H Scott Wallace, said that Morgan Lewis partner Sheri Dillon had handed the president "an unprecedented invitation to corruption and an assault on our democracy".
Mr Trump's business operations, which include a global network of hotels, casinos, resorts and other properties, have been put into a trust, run by his son, Eric. The former Apprentice host has said this means that they are effectively separated from him and present no conflict.
Mr Wallace strongly disagrees. The arrangement presents merely the "illusion" of protection and "the idea of a "trust" run by Trump's sons is a fig leaf", he said, adding that it was "painfully obvious that Trump is using his office for personal gain".
Mr Wallace also pointed out that the trust had been found to be "meaningless" by the Director of the Office of Government Ethics, and "absurd" and "wholly deficient" as well as a reason to impeach the president, by US research group the Brookings Institution.
"Americans deserve a president of undivided loyalty," Mr Wallace wrote. "Your firm has denied them that. We cannot be complicit in that."
The fund manager, who says he prides himself on his firm's ethical approach to investing, listed a host of ways in which he said the President is profiting from being in the White House.
Just days after Mr Trump assured Chinese premier Xi Jinping that the US supports the "one China" policy, Chinese courts granted the Trump Organisation 38 trademarks. Mr Wallace said these are a "valuable license to commercialize his name-brand hotels and golf clubs", in the country.
The US Constitution forbids any elected official from receiving anything of value from a foreign government.
The letter also pointed to Mr Trump's Washington DC hotel, which Mr Wallace said started aggressively courting business from the diplomatic community, securing major bookings from governments including Azerbaijan, Bahrain and Kuwait.
The controversial orders Donald Trump has already issued

Show all 9
Mr Wallace also criticised Mr Trump's relationship with Russia and the fact that state-owned bank Industrial and Commercial Bank of China is the largest tenant in Trump Tower and the lease will be up for renewal during the current presidential term.
The Washington Post recently revealed that Eric Trump plans to give his father quarterly updates on how the Trump Organisation is performing.
"Yeah, on the bottom line, profitability reports and stuff like that, but you know, that's about it," Eric Trump told the Post. "My father and I are very close… I talk to him a lot. We're pretty inseparable."
Join our new commenting forum
Join thought-provoking conversations, follow other Independent readers and see their replies