Wetherspoon says it won't increase wages as staff strike over pay
Pub chain says it has already increased hourly rates as some employees walk out on global day of strikes
Ben Chapman
Thursday 04 October 2018 10:27 Comments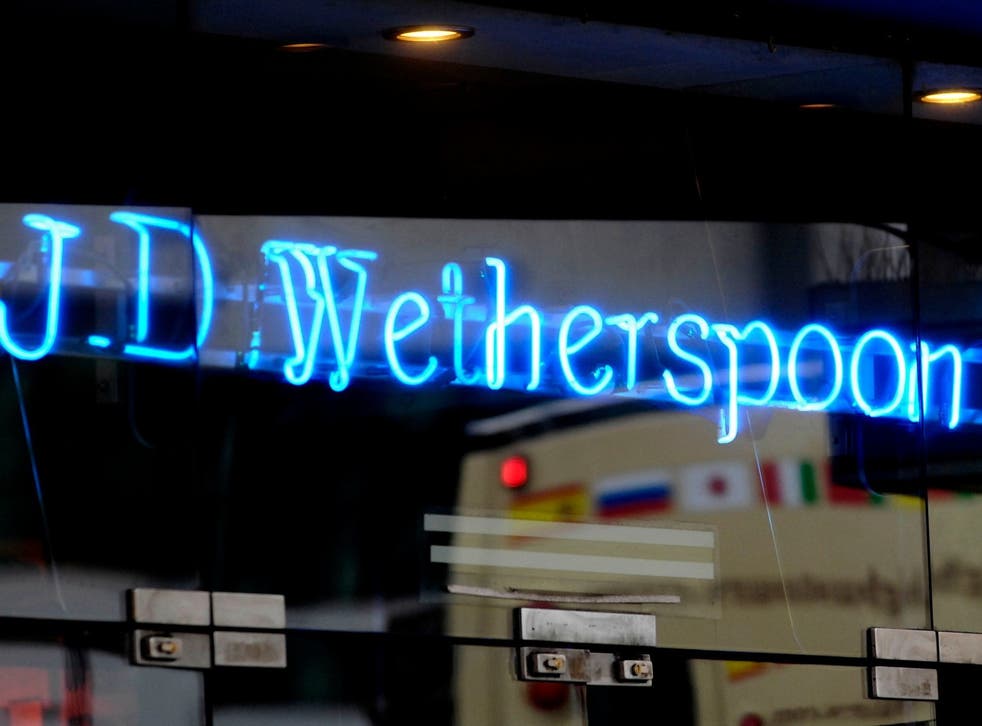 JD Wetherspoon said on Thursday that it will not increase wages as some of its staff go on strike demand better pay.
The pub chain, which employs close to 40,000 people, said it had increased the total amount it paid staff by £20m in the year ending July 2018.
Workers at two Wetherspoon pubs in Brighton are taking industrial action alongside employees of McDonald's and TGI Fridays as well as couriers for Uber Eats.
The strikes organised by the Bakers, Food and Allied Workers Union (BFAWU) coincide with action being taken by employees of fast-food companies around the world.
The minimum starting rate for over-18s at the chain is £8.05 for bar staff and £8.25 for kitchen workers. That compares to the legal minimum rate of £7.83 for people aged over 24, which is set to rise to at least £9 by 2020.
Wetherspoon boss Tim Martin said the company's employees were its most valuable asset.
"It is understandable that there is pressure on pay with low unemployment and a housing shortage," he said.
"However, bonuses, free shares and other benefits should be taken into account in assessing pay."
About a quarter of Wetherspoon employees own shares in the company and all staff are entitled to discounts on food and drink at its pubs.
Staff in a number of UK cities are set to strike and a rally is scheduled to take place in London's Leicester Square.
Some Uber Eats couriers have said they will not log-on to the food delivery app between 5pm and 6pm in protest over a cut in rates. They are demanding a minimum of £5 a drop and £1 a mile, compared to the current rate of £3.50 a delivery.
Striking staff in the UK will be joined on Thursday by fast-food workers demanding better pay in Chile, Colombia, the US, Belgium, Italy, Germany, the Philippines and Japan.
Matt Rouse, a striking kitchen worker at Wetherspoon's The Bright Helm pub in Brighton, said he had been inspired by his co-workers to "call out injustice in our workplaces".
He added: "We are determined to stand together and make our demands for £10 an hour for all, and union recognition heard.
"This is only the beginning, we will keep fighting for everyone, for better wages and rights for hospitality workers across the country."
The hospitality sector employs about 4.5 million people – 10 per cent of the UK's working population. But its workers have not traditionally organised to demand better pay and conditions, making the strike significant, despite its small scale.
World news in pictures

Show all 50
Boni Adeliyi, a TGI Fridays waitress in Milton Keynes said: "We're striking on 4 October to show the strength we have when workers come together. The movement is growing and change is coming. All young workers should join a union – it's important to know your rights and how to fight for them when they're being ignored. Together we are stronger."
A McDonald's spokesperson said the company was "disappointed" to hear about planned UK strikes and said the numbers of people involved represented an "extremely small proportion" of its 120,000 workforce.
Uber Eats also defended its rates of pay. "Last week couriers using our app in cities across the UK took home an average of £9-10 per hour during mealtimes, with many also using other delivery apps," the company said in a statement.
Register for free to continue reading
Registration is a free and easy way to support our truly independent journalism
By registering, you will also enjoy limited access to Premium articles, exclusive newsletters, commenting, and virtual events with our leading journalists
Already have an account? sign in
Join our new commenting forum
Join thought-provoking conversations, follow other Independent readers and see their replies