Teenager earns £50,000 helping Chinese parents choose British names for their children
Sixteen-year-old Beau Jessop has helped name over 200,000 Chinese babies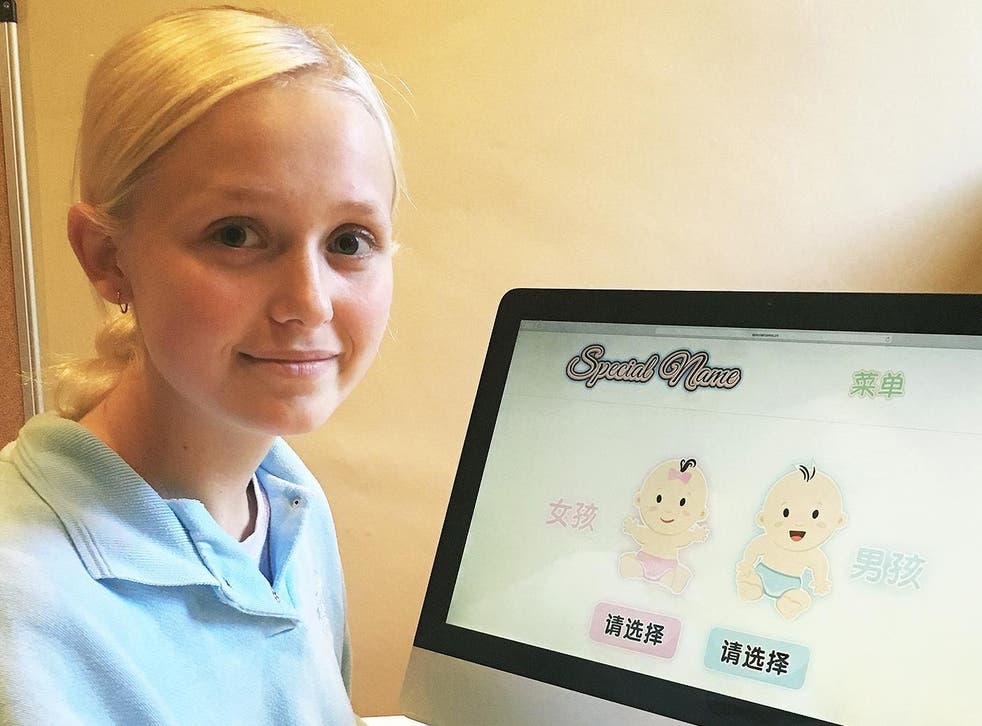 A British school girl has amassed a small fortune after building a website to help Chinese parents choose English names for their children.
Beau Jessup, a 16-year-old A-level student from Gloucestershire, came up with the idea during a trip to China during which she was asked to help choose a name by friends expecting a child.
After initially believing herself unqualified to choose names for babies, she discovered the surge in demand for English names for Chinese children over the last 20 years has resulted in some fairly avant-garde names for children whose parents have not been fully aware of the cultural significance of the monikers they have chosen.
These include children named Gandalf, Cinderalla and Rolex.
In addition to traditional Chinese names, it is seen as important for Chinese children to be given English names to use for emails, and for future study or business with Britain.
In response, Ms Jessup, who attends Cheltenham Ladies College, founded SpecialName.cn, a website which helps parents to choose appropriate names for their child based on various positive personality traits.
Most popular UK baby names of 2015
After choosing their child's gender, the site invites parents to select five traits to best describe their aspirations for their child and then suggests a shortlist of three names.
The list is presented along with the names' meanings and a famous person with the same name.
Users are charged around 60p to use the service, and the site has racked up 27,000 visitors a month with a total of 221,000 parents using the service since it launched.
This has seen the site take around £16,000 in sales each month which has netted Ms Jessup £48,000 so far.
She said: "I have a target to reach which will allow me to pay for my University fees and writing the text for the site was really good practice for my Mandarin GCSE.
"I spend two hours a day talking to my customers asking how I can make the service better and about an hour making improvements."
Baby names 'at risk of dying out' - In pictures

Show all 10
She added: "Since parents love sharing photos of their babies, I have recently added a gallery, so I'm gradually building a SpecialName community."
Join our new commenting forum
Join thought-provoking conversations, follow other Independent readers and see their replies