Charlie Hebdo: The first edition since the Paris massacre, reviewed
Demand has led publishers to increase this edition's print run to five million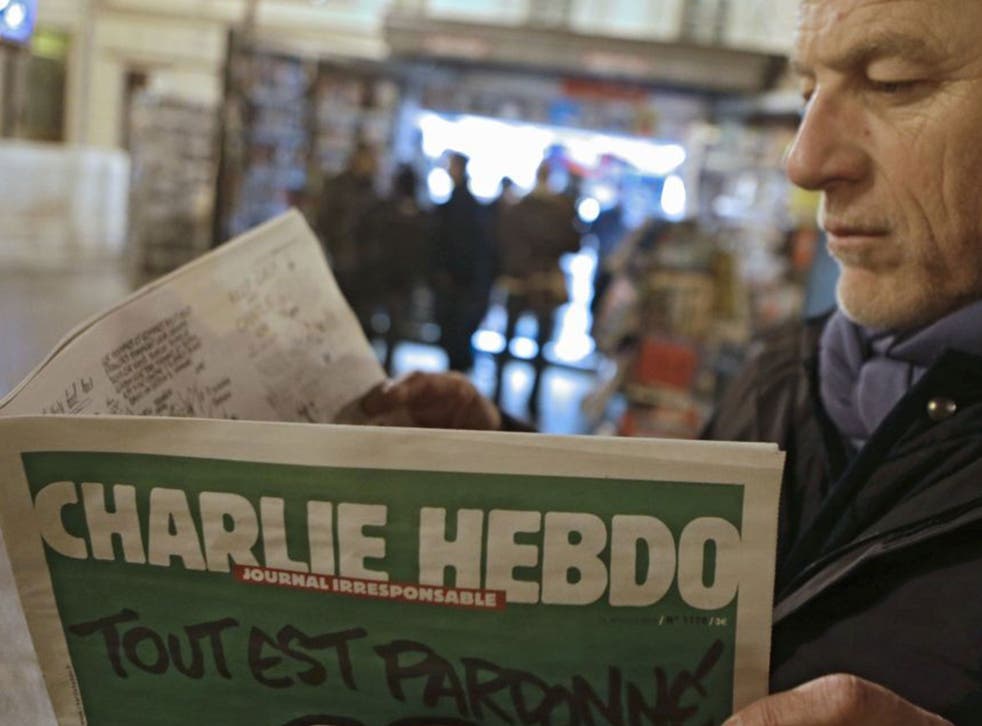 Charlie's new fans all over the world may find the proper Charlie tougher to swallow than the martyred Charlie.
The Charlie Hebdo survivors pulled off something strange and courageous in yesterday's post-massacre edition – a millefeuille of mockery and defiance; mourning and bad taste.
No punches were pulled; no unwelcome new friend escaped without a kick in the balls.
All Charlie Hebdo's standard repertory company of tasteless excess was packed into 16 pages which may this week become the best-selling newspaper or magazine in the western world. A masturbating nun; the Pope dressed as a Mafia boss; a woman in a burka lifting her robes to show that she is wearing stockings and suspenders and nothing else.
Charlie Hebdo: The first edition since the Paris massacre

Show all 15
Charlie Hebdo's mental atmosphere is 1968-1970: anarcho-hard leftism and militant atheism mingled with half-ironical sexism. Two of the star cartoonists who died – Cabu and Wolinski, both brilliant draughtsmen – loved to muddle social commentary with drawings of naked young women. Typical examples of their work, and that of three other cartoonists who died last week, litter today's edition.
A surviving columnist, Mathieu Madenian, summed up his colleagues in today's magazine as "in improbable collection of sex-mad cartoonists, economists, anti-globalists and priest-eaters, united in their determination to laugh and to expose, and above all, addicted to the pleasure of displeasing."
Placed in that context, the front page cartoon of Mohamed by Luz, which has divided opinion around the world, is a relatively cuddly and would-be consensual character. The Prophet wears white, not black; he is shedding a tear; he carries a sign which says "Je suis Charlie".

The intended message from Charlie Hebdo is conciliatory. We believe that our conception of Mohamed – even if we don't believe in Allah – is closer to that of mainstream Islam, than that of the intolerant, vengeful, violent Prophet of the jihadists.
You only need to turn over the page to see the more typically blasphemous, aggressive, plague-on-all-your-churches mood of Charlie Hebdo through the ages. A celebrated French nun, Soeur Emmanuelle, reflects on her life. She says: "Down here I masturbated. In heaven, I will suck cocks."
This is toilet-wall humour – effective only because it shocks, like a loud bang. It is the work of Tignous, who also died last week. Beneath is a somewhat wittier – and prophetic –Tignous cartoon.
A trio of jihadists is seen plotting. "We'd better not touch the Charlie Hebdo people," says the first. Another jihadist replies: "Otherwise those bastards will become martyrs and when they get to paradise they will pinch all our virgins."
Yesterday's magazine also had several cartoons and articles which spat in the faces of some – not all – of the politicians in France and around the world who have declared themselves to be "Charlie" in the last week.
A unsigned editorial said. "We thank from the bottom of our heart all those individuals and organisations who are sincerely and profoundly Charlie. They know who they are. We pour shit on all the others who don't give a f… about us in any case."
The centre-page spread of the magazine was a medley of cheeky cartoons about the immense "Republican marches against hatred" which brought 4,000,000 people onto French streets at the weekend.
One drawing showed a group of French political leaders, including President François Hollande and the former president Nicolas Sarkozy. The caption said: "One family of clowns has been decimated; ten others have been found."
Funny? Yes.
There was a cartoon of the German chancellor, Angela Merkel, saying, in a mixture of French and German: "Ich bin nein porter de culotte" (I don't wear the trousers.)
Funny? No.
There was a cartoon of the Arc de Triomphe imprinted with the "Je suis Charlie" slogan. The flame of the unknown soldier could be seen pointing skywards with the caption: "I have an erection".
Funny? Not very.
Then again, as Mathieu Madenian points out, Charlie Hebdo didn't ever set out to please 5,000,000 buyers and up to 20,000,000 readers. It was happy – though struggling to survive – to be a student mag created for, and by, perpetual students, stuck forever in a post-May 1968 time warp.
Then two gunmen walked into its editorial meeting…
Join our new commenting forum
Join thought-provoking conversations, follow other Independent readers and see their replies