Catholic primary school bans four-year-old Muslim girl from wearing a hijab
The issue has split debate in the local community, with one Birmingham City councillor arguing the ban is in violation of the equalities act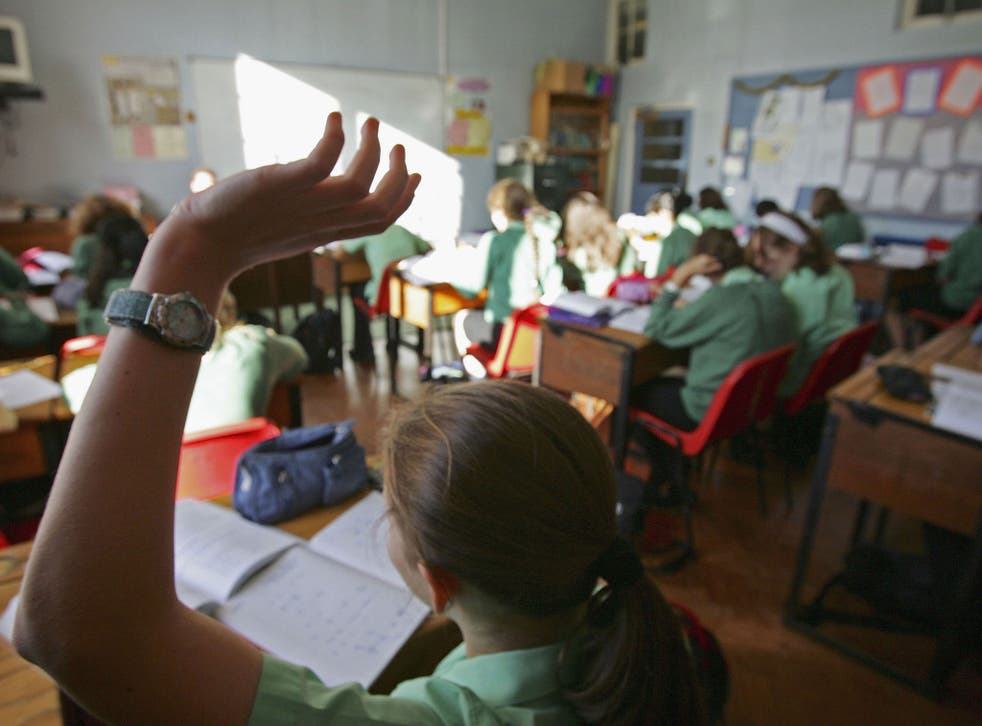 A uniform row has broken out at a Roman Catholic school near Birmingham, after a four-year old Muslim girl was banned from wearing a religious headscarf in class.
Teachers at St Clare's School in Handsworth asked the girl's parents to respect their strict uniform policy, which does not allow for headwear or scarfs, the Birmingham Mail reported.
The primary school's decision has been widely criticised by the local community, dividing local opinion after the pupil's father contacted sought external advice.
​Waseem Zaffar, Birmingham City Council's Labour cabinet member for equalities, said he had met with the school's head teacher and told her the ban was in violation of the equalities act.
He said: "I'm insisting this matter is addressed [as soon as possible] with a change of policy."
However, his colleague Majid Mahmood said that since it is a faith school, St Clare's is "maybe within its rights to insist upon a particular dress code," just as a Muslim faith school "may require girls to wear headscarves".
Dr Mashuq Ally, a former head of equalities for the council, pointed out there is no religious requirement for girls of infant school age to wear the hijab.
The most expensive schools in the world

Show all 10
"I also would have thought a Muslim parent would have thought very carefully about sending their child to a Roman Catholic school and considered the uniform policy," he said.
"This should have all been discussed between school and parent, not been dragged into the public and political arena."
Women's rights campaigner Gina Khan attacked Cllr Zaffar on twitter, accusing him of backing male parents who enforce the hijab on young girls as a means of control.
She said: "Hijab isn't compulsory for a child in Islam, but patriarchal biraadari power used to control Muslim school girls."
Britain First deputy hurled abuse at woman for wearing hijab, court told
Brigid Jones, cabinet member for children, families and schools, said: "Each school's governing body is responsible for the creation and implementation of its own uniform policy.
"However, the local authority is supporting the school to ensure its policy is appropriate, in line with legal requirements, and we are engaging with all schools to remind them of their responsibilities when it comes to setting school uniform policies."
Currently, the Government has no say over uniform policies, rather, it is left to individual schools to decide what religious attire is allowed to be worn, if any.
In 2014, Camden School for Girls banned a 16-year-old student from wearing a full-face veil on the grounds that teachers need to see a student's face to fully include her within learning.
The school also said it was important for the safety and security of the school community to know who is on site and to be able to identify individuals.
Last year, schools watchdog Ofsted announced a new policy allowing inspectors to making judgements on whether pupils or staff wear the veil in school creates a "barrier to learning".
Former Prime Minister David Cameron backed the move, adding that he would support public authorities that put "sensible" rules in place banning women from wearing the veil
Register for free to continue reading
Registration is a free and easy way to support our truly independent journalism
By registering, you will also enjoy limited access to Premium articles, exclusive newsletters, commenting, and virtual events with our leading journalists
Already have an account? sign in
Register for free to continue reading
Registration is a free and easy way to support our truly independent journalism
By registering, you will also enjoy limited access to Premium articles, exclusive newsletters, commenting, and virtual events with our leading journalists
Already have an account? sign in
Join our new commenting forum
Join thought-provoking conversations, follow other Independent readers and see their replies