Clegg condemns divide in schools as 'corrosive'
Lib Dem leader mounts withering attack on 'damaging' effects of inequality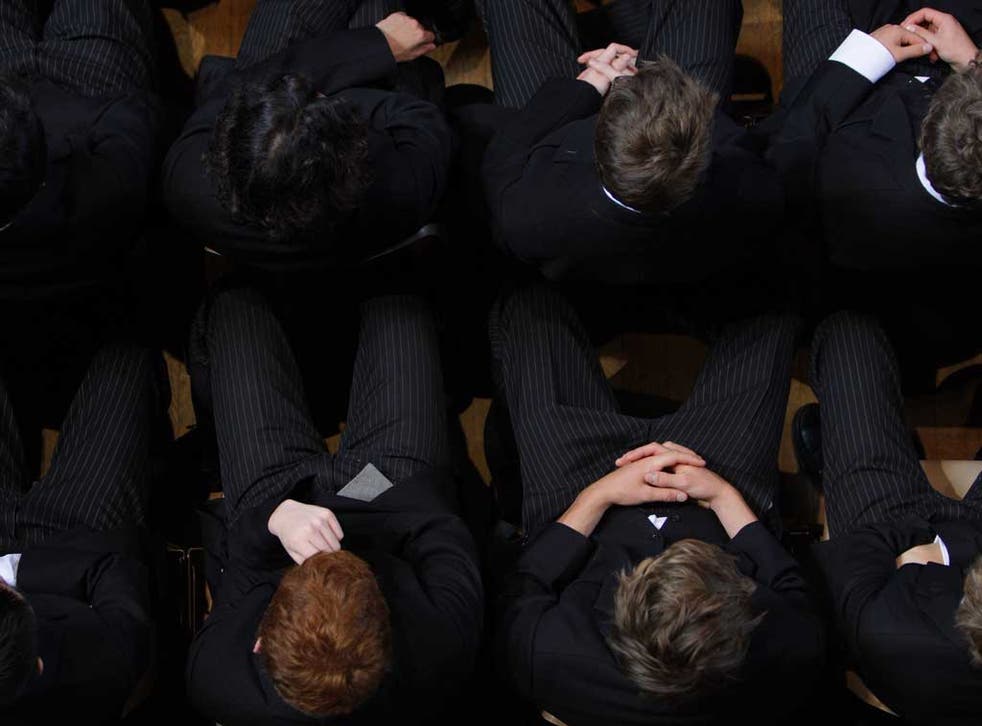 Nick Clegg will condemn the "rift in opportunities" in the British education system this week as new figures reveal that privately educated children are more than three times more likely to get good grades at A-level than state school pupils.
In one of the toughest assessments of the inequality between private education and the state sector, the Deputy Prime Minister will warn that it is "corrosive for our society and damaging to our economy".
Mr Clegg will unveil a list of "social mobility indicators" that will guide policy on education, health and employment, as research shows Britain has one of the largest gaps in the industrialised world between privately educated children and state school pupils at A-level.
One indicator shows the proportion of state school students achieving AAB grades last year – seen as the benchmark for getting into a Russell Group university – is 7 per cent, compared with 23.1 per cent among independent school pupils.
In a speech on Tuesday, Mr Clegg will say that the social mobility indicators are the driving force behind the coalition's education reforms, including the pupil premium.
"Education is critical to our hopes of a fairer society," he will say. "Right now there is a great rift in our education system between our best schools, most of which are private, and the schools ordinary families rely on. That is corrosive for our society and damaging to our economy.
"I don't for a moment denigrate the decision of any parent to do their best for their child, and to choose the best school for them.
"But we do need to ensure that our school system as a whole promotes fairness and mobility that heals the rift in opportunities. We are committed to narrowing the gap in our school system – state and private – and ensuring that all children are given the chance to rise. The way to do that is to make the state education system better – to level up – and ensure that anyone can get ahead."
Mr Clegg's comments follow a speech by the Education Secretary, Michael Gove, earlier this month in which he condemned the "morally indefensible" dominance of privately educated figures in the British media, politics and law.
But they will also raise questions over where Mr Clegg and his wife, Miriam Gonzalez Durantez, will send their three sons to school. Their eldest is due to start secondary school in September, but the Deputy Prime Minister has refused to comment.
Officials point to research by Bristol University that shows state school pupils are 50 per cent more likely to get a first-class degree at university than their privately educated counterparts who achieved the same A-levels. The gap in attainment between pupils makes the UK the fourth worst out of 29 OECD countries.
In his speech to the Sutton Trust, a leading education charity, Mr Clegg will highlight three ways he says the government is helping to improve social mobility: the introduction of the pupil premium, which funds schools with the poorest children; the reform of the curriculum up to 16 to help children prepare for A-levels; and improving "teacher quality".
A personal decision
The Deputy Prime Minister's decision to launch an attack on inequality in education will trigger calls for him to reveal where he sends his sons to school. Nick Clegg and his wife, Miriam Gonzalez Durantez, have three sons, Antonio, Alberto and Miguel, who are all in the state system. The eldest is due to start secondary school this September, meaning his parents will have already chosen a place.
Last year, amid rumours that they will send the boys to the London Oratory, a prestigious west London Catholic school, Mr Clegg, an atheist, said it "shouldn't be surprising" that they would want to send their children to a Catholic secondary because his wife is a Catholic and the couple married in a Catholic church.
Jane Merrick
Join our new commenting forum
Join thought-provoking conversations, follow other Independent readers and see their replies