Michael Gove: Immigrant children improve results and drive up school standards
Former education secretary says refugee families from countries including Somalia and Kosovo often have higher expectations for their children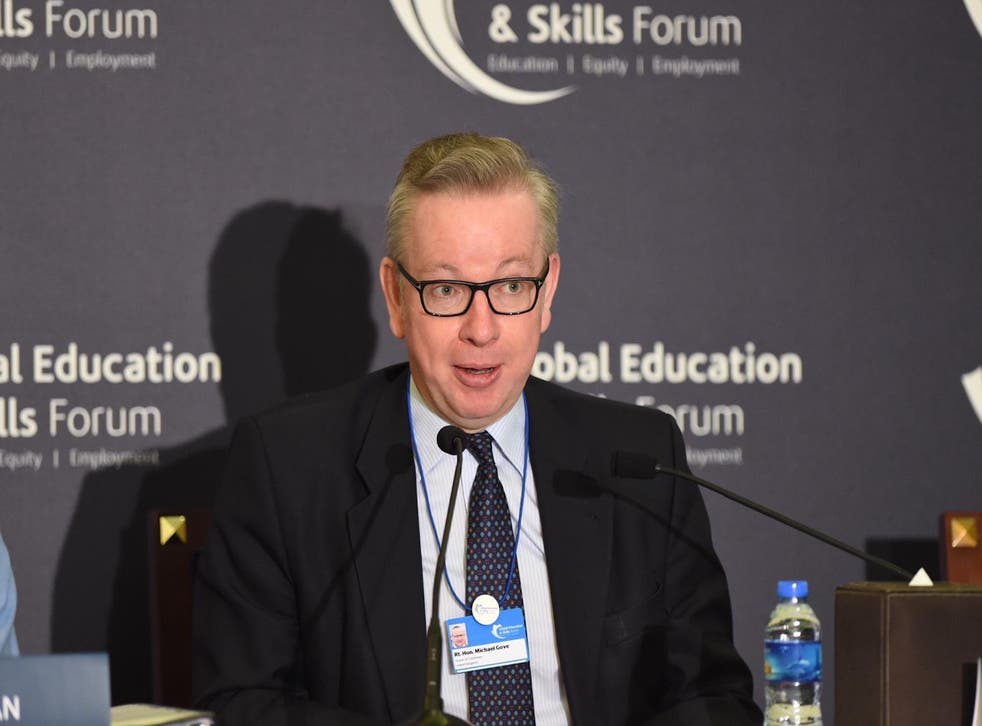 Immigrant children help to improve results in UK schools, Michael Gove has said.
London in particular has benefited from diversity in its population, the former education secretary added, with high expectations from immigrant families often helping to drive up school standards.
In many cases, some of the parents with the highest expectations for their children's education are those who have come to the capital as refugees from nations such as Somalia and Kosovo, he said.
But Mr Gove also warned there are costs to migration, with a growing school-age population placing pressure on schools and forcing class sizes to grow.
Speaking at the Global Education and Skills Forum in Dubai, Mr Gove said: "There's lots of evidence that London having become more diverse has contributed to educational standards rising in London.
"I'm not saying that's the only cause, far from it, but I do think it is the case, and I know this from my experiences as a parent with two children in London state schools, London state comprehensives.
"Many of the children, or whose parents more to the point, have come here in recent years, have extraordinarily high expectations of the state system and so some of the most demanding parents, as well as the most involved parents, are those who have come from... they might be refugees from Somalia or Kosovo.
"They want their children to succeed in Britain, as British citizens, and so they have very, very high expectations of the school, both academically and also as institutions that give people a sense of Britishness."
But, he added: "It's undeniably the case that there that there are other parts of the United Kingdom where educational performance is lower and which are often areas where some of the same pressures haven't applied.
"So I'm not saying there's an automatic equation between new people arriving and higher expectations and all of that being wonderful, but I do think it's the case that as we develop a balanced approach towards migration we need to recognise that it has contributed in some cases to a drive towards higher standards.
UK news in pictures

Show all 50
"It has also contributed, in other cases, to pressure on services", he said. "So, there have been rising class sizes and difficulty for some people getting their children into the school they wanted as new arrivals from other countries have made that more difficult."
His comments come as many parts of England, particular major cities, face a squeeze on school places along with critical teacher shortages.
Last month Education Select Committee Chair Neil Carmichael warned the situation could only worsen as secondary school populations are set to reach three million by the year 2020.
Mr Gove, who campaigned to leave the EU during the Brexit referendum, said that while migration can be "a really good thing for a country's economy", if a nation changes too quickly, a strain can be placed on public services and this poses questions for governments who have to balance all sides.
When asked about the Government's plans to allow grammar schools to expand and new ones to open, he said the best approach "is not to be ideologically committed to any particular type of school" but to look at the evidence for creating a particular type of school.
"My commitment is to be open-minded about that and I think that the Secretary of State takes a similar view in the UK as well, that she wants to ensure the evidence is there before this welcome expansion in choice, she wants to be certain I'm sure, that if selective schools are created, the evidence can justify the creation."
Mr Gove added that if he was in the position of Education Secretary he "would have to be doing what the Prime Minister wanted me to do".
Budget 2017: Seven key points
Theresa May has "every right to shape education policy in the way that she thinks is right," he said.
"I think the best thing that people who have been in the job beforehand can do is to try to support the current Education Secretary in her efforts and to recognise that she is doing an outstanding job."
In a separate debate on national versus global values, Mr Gove said there is a risk that "global elites" can become cut off from their own nations and forget the lessons they learned in their home country.
"There is a danger globally at the moment that some of those that succeed through education and hard work – and therefore rise to the top in a meritocracy – believe that everything is down to their own unaided efforts, and nothing is down to those who are their brothers and sisters in the same country," he said.
"The danger is that those people become part of a global elite sealed off from the country from which they sprang. They feel at home in first class lounges. They feel at home, if I may say so, in international global forums.
"But what they often forget is the virtues that they learned at home. And what they often forget are the people left back home, who don't perhaps have the advantages, the connections and the qualifications to be able to compete on that global stage."
One of the challenges is to work together, to help those that are poorer or are disadvantaged, to make sure they have jobs, prospects and feel like they belong, Mr Gove said.
"In asking that we should celebrate national values, we are not asking that you should be exclusive. We are asking that you should celebrate the best and the most successful, inclusive institutions there are – nation states."
Additional reporting by PA
Join our new commenting forum
Join thought-provoking conversations, follow other Independent readers and see their replies