Ofsted row: Lib Dems furious at Conservative plan to 'politicise' classrooms
Schools minister David Laws rages at Michael Gove's axeing of Ofsted chief Baroness Morgan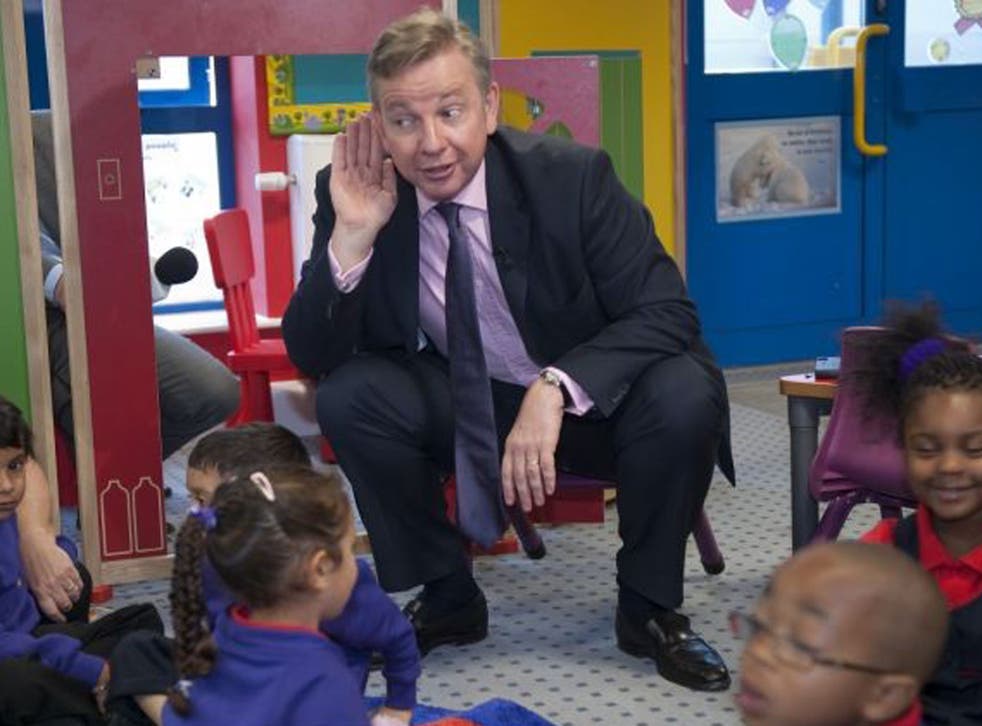 Michael Gove's sacking of the chair of Ofsted triggered one of the most serious internal coalition rows yesterday, with the Education Secretary's Lib Dem deputy accusing him of an orchestrated attempt to "politicise" the schools inspectorate.
Baroness Morgan of Huyton has been forced to step aside by Mr Gove, and there were rumours sweeping Whitehall last night that he wants to impose a Conservative donor in her place ahead of the 2015 election.
David Laws, the Lib Dem Schools minister who was previously close to Mr Gove, let it be known that he is "absolutely furious at the blatant attempts by the Tories to politicise Ofsted". Lady Morgan also expressed anger at her sacking, accusing Downing Street of being involved in a party-political attempt to oust her.
Lady Morgan, who was one of Tony Blair's closest allies when he was in No 10, but was appointed chair of Ofsted by Mr Gove, said her removal was part of an "extremely worrying pattern" of non-Tories being replaced by loyal Conservatives in top public posts at quangos such as the Arts Council and the Charity Commission.
The Labour peer told Radio 4's Today programme yesterday: "I think there is an absolutely determined effort from No 10 that Conservative supporters will be appointed to public bodies . I think that is an issue for the Cabinet Secretary to look at. It has been a quiet drip, drip. There is a lot of concern about it. I do think this is coming from No 10 [rather than] individual departments."
However, a source close to Mr Laws pointed the finger at Mr Gove rather than No 10, adding: "The decision to get rid of Sally Morgan had absolutely nothing to do with her abilities, or even education policy, and everything to do with Michael Gove's desire to get his own people on board. David [Laws] is absolutely determined not to let Michael undermine the independence of this vital part of the education system. David's primary concern now is not to let Conservative game-playing destabilise Ofsted, and he'll be working closely with them as Schools minister to make sure that doesn't happen."
A senior Lib Dem source said: "Education policy is far more important than rewarding Tory cronies. The Lib Dems will not let our children's education be dictated by some Tory donor ideologue. It's another reminder of what this Government would be like if the Lib Dems weren't in it to keep the Tories honest."
Nick Clegg is understood to have raised the issue of party political appointments to public bodies with the Cabinet Secretary, Sir Jeremy Heywood. Lady Morgan, who supported Mr Gove's flagship free schools policy, will step down from her post in the autumn. She insisted she had not fallen out with Mr Gove. Her sacking, revealed by The Independent yesterday, is the latest in an increasingly toxic row involving Ofsted amid rumours that Mr Gove wants to reform the body with tougher inspections.
Sir Michael Wilshaw, Ofsted's chief inspector, last week said he was "spitting blood" over reports that Civitas and Policy Exchange, two think tanks with close links to Mr Gove, were proposing an overhaul of the organisation. Sir Michael suggested that unnamed sources inside the department were involved in negative briefings against him, forcing the Education Secretary to deny that anyone working in his department had done so.
Rumours were sweeping Whitehall last night that Theodore Agnew, chairman of the education department's Academies Board and a Tory donor, is being lined up to replace Lady Morgan. Mr Agnew donated £134,000 to the Tories between 2007 and 2009. In 2010, he was appointed a non-executive director at the DfE. He is a trustee of Policy Exchange and was involved in the setting up of the New Schools Network, the body which has pioneered free schools.
The DfE failed to respond to our request last night for a comment on whether Mr Agnew would succeed Lady Morgan.
The latest row Lady Morgan row, has left coalition relations at breaking point. Since the New Year, the Conservatives and the LibDems have been attempting to spell out their differences ahead of next year's election, but one insider has described tensions as so bad that it is "cohabitation, not coalition".
A No 10 source said Lady Morgan's suggestion that her sacking was politically driven from Downing Street was "bizarre" and pointed out that she had been appointed by Mr Gove.
No 10 insisted that a number of Labour figures had been given roles under the coalition, including Alan Milburn, Tony Blair's health secretary, who carried out a social-mobility review; Baroness Amos, Mr Blair's international development secretary who was appointed by Mr Cameron to a senior UN humanitarian post; and Lord Hutton, who carried out a review of public-sector pensions on behalf of the coalition.
Under the Labour government, between 54 and 70 per cent of the minority of quango chiefs who declared political activity declared Labour activity.
However, since Mr Cameron has been Prime Minister, Chris Patten replaced Sir Michael Lyons, a former Labour councillor, at the BBC, while Sir Laurie Magnus replaced the Labour peer Baroness Andrews at English Heritage. William Shawcross, whose daughter Eleanor works for George Osborne, replaced Dame Suzi Leather at the Charity Commission. Dame Liz Forgan was replaced by Sir Peter Bazalgette, who had been briefly a member of a Tory commission on democracy, at the Arts Council.
A No 10 spokesman said: "Michael Gove has thanked Sally Morgan for her effective and long service as chair of Ofsted. The decision not to reappoint her was his decision.
"This Government appoints people on merit: Sally Morgan was herself appointed under this Government. We have also asked former Labour cabinet ministers to carry out independent reviews on key public policy issues, including Alan Milburn and John Hutton."
Join our new commenting forum
Join thought-provoking conversations, follow other Independent readers and see their replies