Malala and Apple launch partnership to get at least 100,000 underprivileged girls into school
'I'm just really hopeful that we can reach as many young girls and as many young advocates as possible'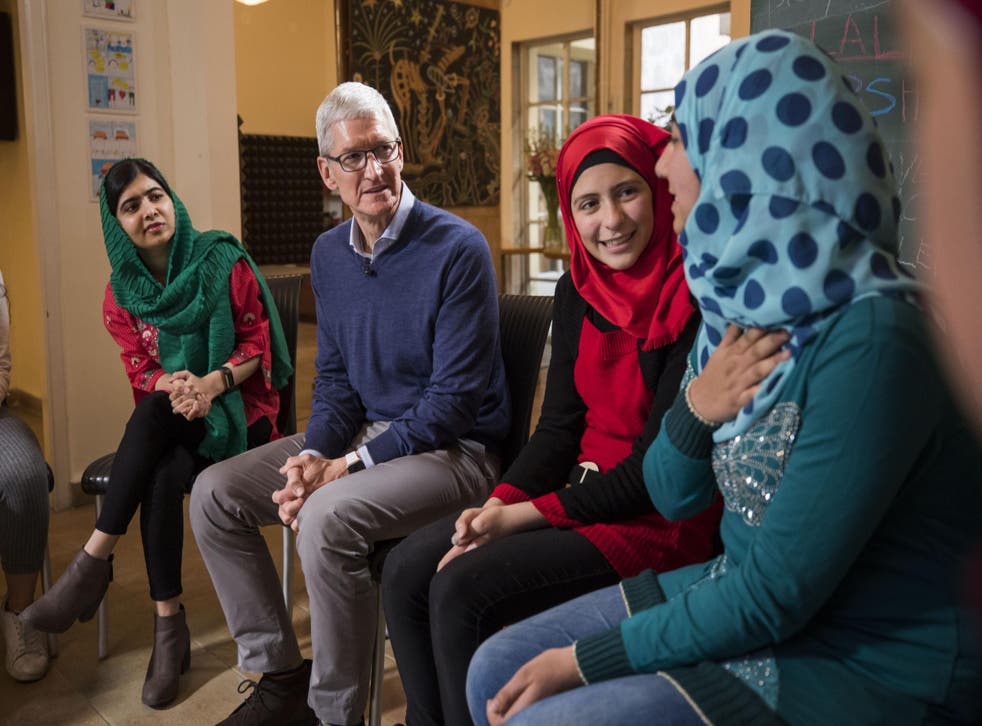 A groundbreaking new partnership has been launched between the Malala Fund and Apple to get at least 100,000 underprivileged girls into education.
In a world exclusive interview with The Independent, Apple CEO Tim Cook and Malala Yousafzai revealed that the tech giant would offer considerable funding and resources to the charity to help its goal of delivering education to girls in countries such as Afghanistan, Pakistan, Lebanon, Turkey and Nigeria.
The wheels were set in motion for the partnership when the pair met in October last year at Oxford University and had a conversation about how technology could help get more disadvantaged girls into education.
"I really wanted us to work together because Apple has expertise: they are expert in tech, they have resources and they have amazing and incredible people," Malala said, while announcing the partnership alongside Cook in Beirut.
"Then the question was how can we use that? The Malala Fund is trying to reach out to girls, how can we bring these two together to reach more girls, as many as we can, to empower them through quality education. And that was my dream.
"So, things started happening and I just can't believe it has been a few months and now we are here in Lebanon and announcing our partnership for the coming years."
In real terms, the partnership will mean expanding the Malala Fund's work and doubling the number of countries with access to Gulmakai champions, who are local advocates and education activists whose job it is to support students.
World news in pictures

Show all 50
"Many of the champions who are supporting [the girls] are using technology and finding new ways to make it easier for girls to have access to education, whether it's e-learning or getting STEM [science, technology, engineering and maths] skills," Malala added.
"So, I'm just really hopeful that we can reach as many young girls and as many young advocates as possible."
Mr Cook went on to explain that the partnership between Apple and the Nobel Peace Prize winner was in keeping with the vision held by the company's founder Steve Jobs.
"We have expertise in education," he said.
"You know, we've been serving the ed' market for 40 years; for the length of time of the company. It was a key focus of Steve's from the start and so we've built an expertise of what our products can do in a teaching environment and how they can fuel student achievement.
"We've done that in many different settings from very underprivileged schools to the polar opposite. And we have touched a significant number of people with our coding initiative, using our retail stores working with many different groups that are touching girls' organisations and students in general, but very focused on girls as well.
"And so we bring all of that. Of course, we have an expertise in scaling and we have lots of people in different countries across the world. So, it seemed like the most important thing to me is always values and the vision. And those are the same and then when I thought through this, it seemed like we could bring a lot in support of Malala's vision."
Join our new commenting forum
Join thought-provoking conversations, follow other Independent readers and see their replies