'Old habits' return to early academies as A-level results slump
Research shows tail-off in performance at the first state schools granted new status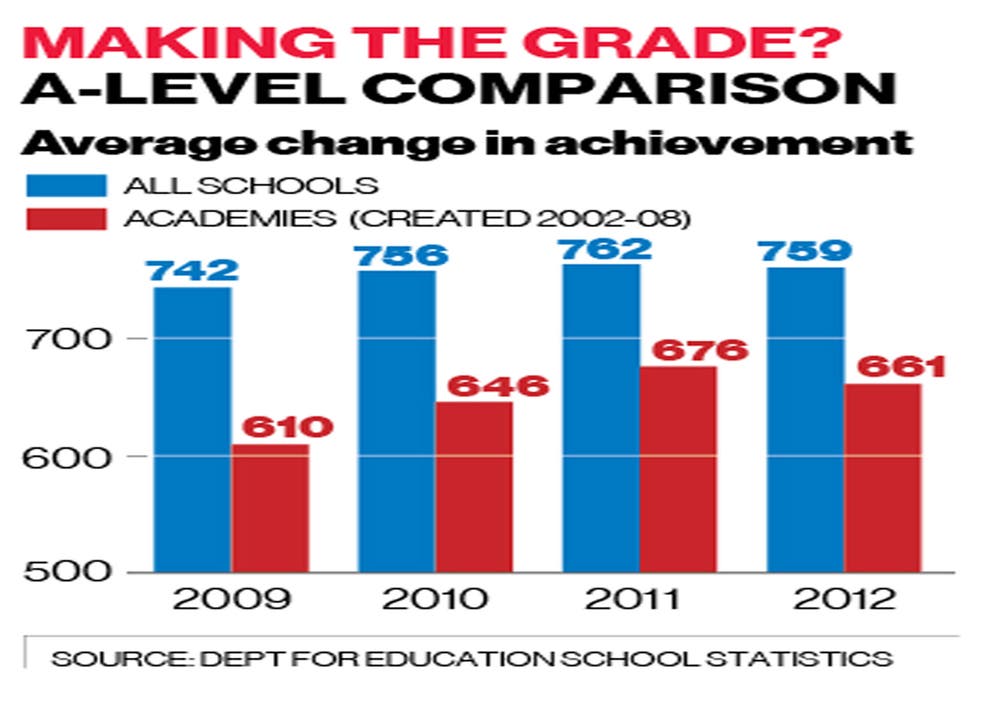 The first tranche of state schools to be granted independent academy status by the Government suffered a significant decline in their A-level performance last year, an analysis of results by The Independent suggests.
Both Labour and Conservative administrations have championed the academy system as a way of raising standards by giving schools freedom from local authority control and the backing of external sponsors.
However, a study of sixth-form results from 2009 to 2012 suggests that the early academic gains may be tailing off – with older academies performing significantly less well than newer ones and those which are still under council control.
Education experts said that the findings could be the result of "old habits reasserting themselves", as schools loose the impetus and novelty which came with a new start and often new buildings.
The analysis compared the results of 64 secondary academies created under Labour between 2002 and 2008 with those of all schools for the academic years 2009-2012.
Many of the schools in the first wave of academies were judged to be failing by the Government and were re-opened as academies to give them a "fresh start". Since the election, the Coalition has extended the programme to all schools with hundreds of new academies being created.
But the research shows that while the wave of academies continued to make gains between 2009 and 2011 last year, their average results tailed off.
Compared to all schools that put pupils in for Key Stage 5 examinations, results from early academies fell twice as far.
Overall, the average point scores of older academies fell from 676 to 661 while the average across all schools fell from 761 to just 758.
Professor Alan Smithers, director of the Centre for Education and Employment Research at the University of Buckingham, said one explanation was a natural trailing off of impetus.
"The first academies originally saw a pretty dramatic improvement in some pretty dire schools," he said.
"It could be [they have fallen recently] because there was more excitement at first because the academy is different and there is a lot of enthusiasm.
"Almost any education innovation produces an effect for a limited time, then, as it settles down, there is a chance that old habits reassert themselves. It could be it's taken to as long as 2012 for the old ways to start coming back."
He continued: "What we really need to know is whether this is a trend.
"Research like this poses interesting questions. It is important to get information like this because it is too easy for some people to just say academies work better than other schools – but that's often without evidence."
Stephen Twigg, Labour's education spokesman, accused David Cameron and the Education Secretary, Michael Gove, of "threatening school standards".
He said: "Under Labour, academies were driving up standards in some of the most-challenging schools in the country. Now, under this Government, underperformance and mismanagement are being spotted far too late."
But a spokesman for the Department for Education said the study's sample size was too small to assess the success of academies.
"Pupils in academies and free schools are more likely to achieve three As at A-level than pupils in local authority-maintained schools," he said.
"Furthermore, the proportion of pupils achieving five A* to C grades increased by 3 per cent in sponsored academies last year, compared to a rise of 0.6 per cent across all state-funded schools. This is giving more pupils the chance to continue studying post 16."
Join our new commenting forum
Join thought-provoking conversations, follow other Independent readers and see their replies