The school that really means business: UTC Reading is preparing pupils for the world of work
Corporate sponsors, suits instead of uniforms and houses replaced by 'companies' show how one of the new UTCs is putting work first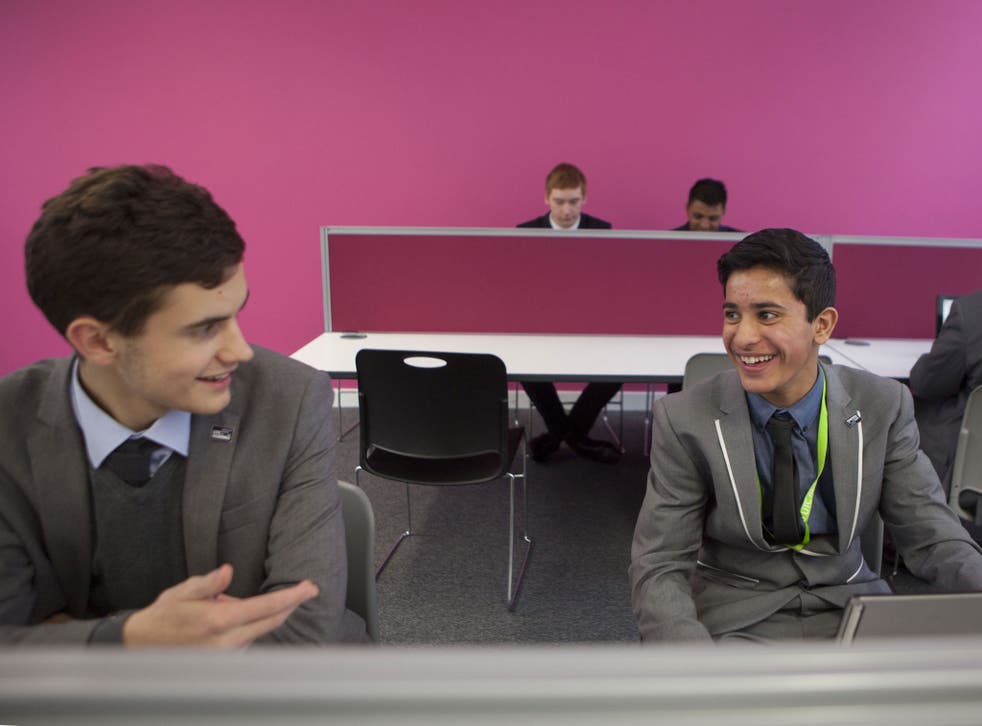 It is 8.30 on Monday morning and all the "suits" are arriving for a hard day's work.
These suits, though, are different to the City types you would usually encounter in London – not least because they are still of school age.
They are students at one of the new University Technical Colleges (UTCs) dedicated to preparing their pupils for the world of work. The colleges do not possess a school uniform – pupils are simply told they must turn up in a smart suit as if they are about to start work in the outside world.
The analogy with business does not stop there. James Weeks, aged 17, for instance, has been elected as the president of the students' "executive board".
He might be called head boy in a more traditional school – although his remit goes wider than that as he has had to act as an advocate for UTC Reading, at evening functions during which it is trying to impress locals with its commitment to the business image.
The school (its primary function is still to provide education) is also split into four companies rather than houses – named after engineers, scientists and computer terminology (Brunel, Faraday, Chips and Code). Students work from 8.30am until 5pm three days a week, and finish at 4.30pm on Mondays and Fridays.
At present, they vie with each other for projects rather than compete against each other on the sporting field. That will come later, although one boy, when asked by the principal Joanne Harper if he would like to play football, responded: "I can't do that in my suit!" He would not have thought twice about having a kick-about if he were dressed in a school uniform, she said.
The college for 14- to 19-year-olds opened its doors to students for the first time in September – and has an impressive array of sponsors ready to offer work experience or set up projects for the students to work on: including Network Rail, Cisco, Microsoft, local civil engineering firm Peter Brett Associates and the University of Reading.
There is no shortage of industry support for the project in the area. Network Rail has unashamedly told the UTC that it hopes to find young people with the skills it needs to develop the nation's rail infrastructure – skills that are too often lacking in school-leavers who have been taught more traditionally.
So far, 143 pupils have been enrolled, split between 14-year-olds and the first year of the sixth-form. The school will gradually grow until it has 600 pupils. Students study for a mixture of qualifications –BTECs in engineering or information technology, A-levels in maths, English and science, for instance.
It is still recruiting some students even though we are now into the eighth week of the school year and Ms Harper had been surprised – but impressed – that the new arrivals include students who have been at private schools for the first years of their secondary education.
James Weeks, who is one of them (and who commutes for 45 minutes from Hungerford – another similarity with the world of business), said: "I chose it purely because of the facilities – and the emphasis on computer learning that's going to stand me in good stead when I look for a job.
"After all, if I'd gone on to study medieval history at A-level at school, what's that going to get you as a job, except as a librarian?"
James hopes to get a high-level apprenticeship with one of the college's sponsors, the networking company Cisco, when he leaves college and believes that the chance to work on projects will give him a head start.
"I didn't want to choose universities – they're getting a little bit outdated," he said. "Who wants to leave owing £30,000 worth of fees and come out with no guarantee of a job?"
Joanne Harper had reckoned there would probably be a split of around 60/40 between going to university and the workplace when students leave the school. "They are very astute, and I really sense this feeling about university fees," she said. "More of them are looking to some of the companies we have here providing them with a higher-level apprenticeship."
One thing she would like to change, though, is the ratio between girls and boys at the college. At present, only 10 per cent of the students are girls and she plans to set the UTC a target of increasing that to 30 per cent within two years,
She also wants to dispel the myth that students attracted to the UTC are not academic. "I think it is a big misconception that students who are practical learners are not academically able," she said.
"Our intake here is above national average in terms of academic ability."
Jake Devon, aged 17, who is studying for a mixture of BTECs and A-levels, said: "You get treated much more as if you are an adult here.
"You have to look smart and wear the suit here but they're giving us responsibility. There are so many more opportunities at the college."
17: Number of University Technical Colleges in the country
27: The number of colleges that have already been given the go-ahead, with another 15 currently being assessed
Join our new commenting forum
Join thought-provoking conversations, follow other Independent readers and see their replies